Citizens Awareness Group with support from Consumer VOICE, Delhi is organizing Annual Road Safety Week on the theme 5 Days 5 Pledges- for Road Safety from February 1 to 7. As a part of the awareness campaign, workshops have been planned in Panchkula schools and colleges.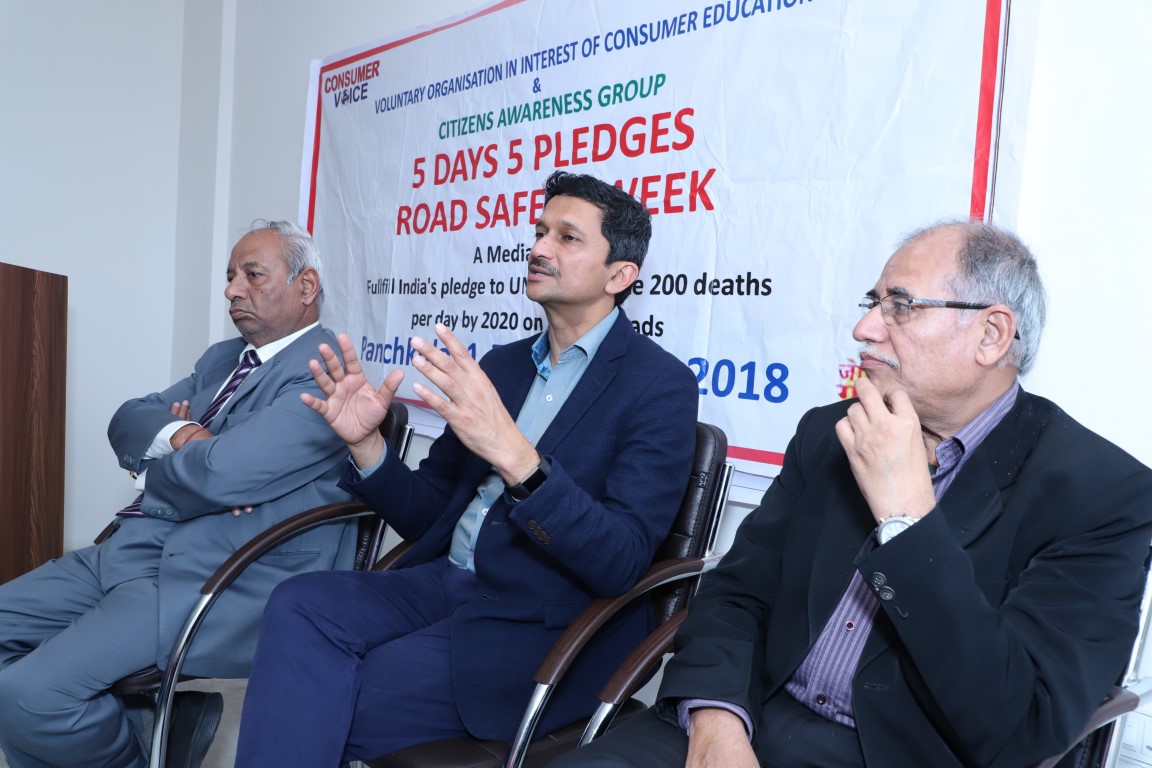 This annual event represents a significant opportunity to call attention to the road safety situation. About 1.3 million people die each year on the world's roads and between 20 and 50 million sustain non-fatal injuries. Road traffic crashes are a major cause of death among all age groups and the leading cause of death among those aged 15–29 years.
In a press conference at Vivek Career Academy in Sector 8 here, Surinder Verma, Chairman, Citizens Awareness Group said "In the state of Haryana alone 11,234 road crashes, 10,531 injuries and 5,024 road fatalities took place in the year 2016 as per the report released by MoRTH.  We are educating and spreading awareness on this crucial issue of Road Safety among the youths."
Hemant Upadhyay, Advisor IT, Consumer Voice, Delhi while speaking on the occasion said, "India had resolved and committed as a signatory to the Brasilia Declaration,  to reduce the number of road accidents and fatalities by 50 per cent by 2020 but nothing has been done so far. Motor Vehicles (Amendment) Bill should be passed to bring road fatalities under control."
Vivek Atray, former Panchkula Deputy Commissioner said, "Road Safety is a major concern for each citizen. Particularly in Panchkula and surrounding areas where there is a tendency to flout traffic rules. Prioritising road safety in each person's mind is the key."
Awareness on road safety will be made through special sessions at Chaman Lal DAV Public School, Government College in Sector 14, Community Centre Sector 12-A, and Government Middle School, Sector 25 here. Parents, teachers and members of welfare association will join road safety workshops being organised at these venues.
As per the annual publication 'Road Accidents in India-2016' released by Ministry for Road Transport and Highways total 4,80,652 road accidents took place resulting into 1,50,785, road traffic deaths and 4,94,624 injuries in a year.  Everyday 1,317 Accidents take place and 413 Persons killed on Indian Roads. "Through this road safety campaign, we are conveying/spreading the message of awareness towards importance of Road Safety among stakeholders. We have chosen the academic institutions to be a part of our campaign", informed Verma.
He added, "According to the theme '5 days-5 pledge' we will pledge to follow the safety features/rules for road safety. To connect people on this crucial issue we are highlighting 5 risk Factors namely, Seat Belt & Child Restraints, over speeding, helmetless driving, drunken driving, and use of air bags in case of a mishap. The programme highlights the importance, of risk factors and also about the provisions of Motor Vehicles (A) Bill. There will be presentation and video films about each topic at various Institutions.