9th edition of Cycle, Fitness & Outdoor Sports Expo (CFOSE) to kick off on March 1st : The 9th Edition of Cycle, Fitness & Outdoor Sports Expo (CFOSE) that will be held in Ludhiana from March 1st to 3rd in Punjab Agricultural University is expected to give a big push to the cycle industry of Ludhiana.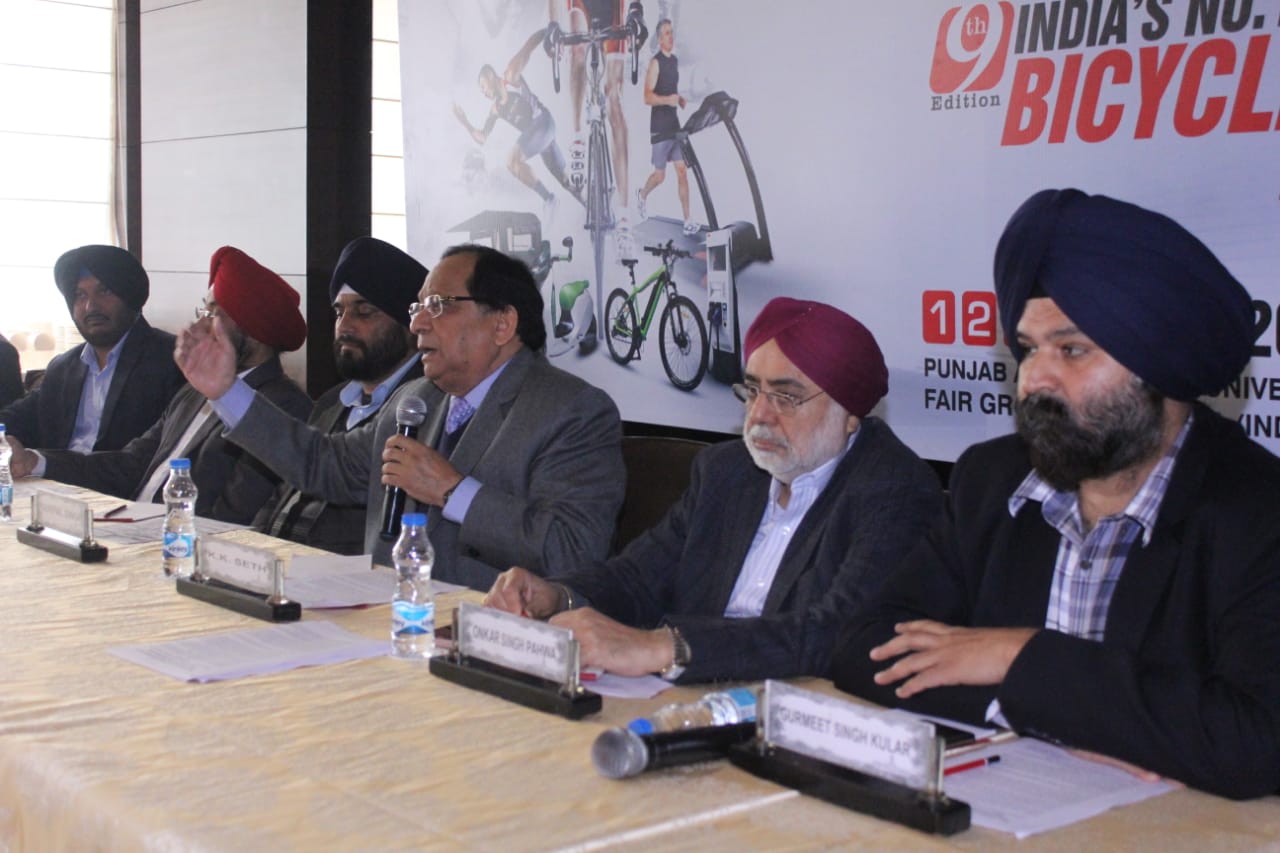 This was announced at a press conference held at Hotel Maharaja Regency Ludhiana on Tuesday.
With a single roof structure and one of the largest events ever, CFOSE is an excellent platform for traders and manufacturers of cycles. Spread over 300,000 SqFt area, CFOSE will have exhibit from around 170 exhibitors from all over India and 30 International exhibitors. Participants and buyers from other countries like China, Taiwan, Sri Lanka, Indonesia, France, Holland and even some European countries will be exhibiting their wares as well at the expo.
This expo is a great opportunity for business as dealers from all over the country visit. Apart from the business aspect, the expo will have a number of awareness activities that will help spread the word about health and fitness as well as the environment that is associated with cycling. Various products will be on display for participants to wintess like Cycles, cycle parts, Gym and fitness equipment, E-bikes, E-rickshaws and toys. International visitors are expected to throng the Expo from Africa, Bangladesh, Nepal, Europe and Canada. Major participants from Ludhiana are Hero cycles, Avon cycles, Neelam cycles, Vishalli, Kullar, K.S Munjal, Arko, Metro, LA, Big Ben, Amar.
The event will feature a cycle rally on Day 1 organized by Hero Cycles, on Day 2 by Avon cycles and on Day 3 by S.K Bikes from Ludhiana. A body building competition is also being organized by Avon Fitness Corp.
Surinder Brar, Organizer &Director, Annex Media Marketing Network Pvt Ltd confirmed that 3000 dealers already confirmed their visits during CFOSE. He said,"Ludhiana is the hub of bicycle manufacturing and it is only natural that we are holding the country's biggest bicycle exhibition here. The aim of bringing all the manufacturers on one platform is to showcase the kind of bicycle technology that has evolved over the years. Manufacturers in our very own country are manufacturing world class bicycles that can compete with those of other countries. This time we are also creating awareness amongst youth who are health conscious and advocating cycling as a conscious fitness routine."
Gurpal Singh, Head, NSIC, said,"We are supporting this industrial exhibition under the different government schemes total 89 participants are eligible &getting benefits of subsidies whereas 29 are getting 100% benefits
Gurmeet Kular, President, FICO, said,"This is a great opportunity for the manufacturers of the city to exhibit their products to a national audience. Also, people will become aware of the benefits of cycling with the various activities that will be organized."
Onkar Singh Pahwa, MD Avon Cycles said that, "The exhibition would give Indian manufacturers a good idea about what the international bicycle is going to be like in the near future. We are always looking to better our technology, and this is the best way to sample what other manufacturers in other countries are doing. This year the focus is a lot on e-bikes and health fitness equipment related to cycling," he added.
KK Seth, MD Neelam Cycles & Chairman FICO said that, "There is always a need to promote the use of bicycles. The exhibition will serve the purpose of giving people very genuine information and experiences about the benefits of cycling."
Inderjeet Navyug President UCPMA, said that, "Such a big exhibition is a boost for the Cycle and Tyre industry in Ludhiana. "The hub of cycling manufacturing has always needed the kind of exposure that the cycle exhibition is giving."
At this occasion Charanjit Singh Vishwa karma, Ex-President FICO, Avtar Bhogal,Santosh Motwani, Ashwani Nagpal, Manjinder Sachdeva, Rajeev Jain, DS Chawla & other dignitaries were also present there.