A road trip to the beautiful Hanuwantiya: This vacation we thought of hitting the road and explore Madhya Pradesh.  So as a part of our expedition, we reached Indore and then headed to Hanuwantiya in a chauffeur driven car. Let's talk a little bit about Hanuwantiya.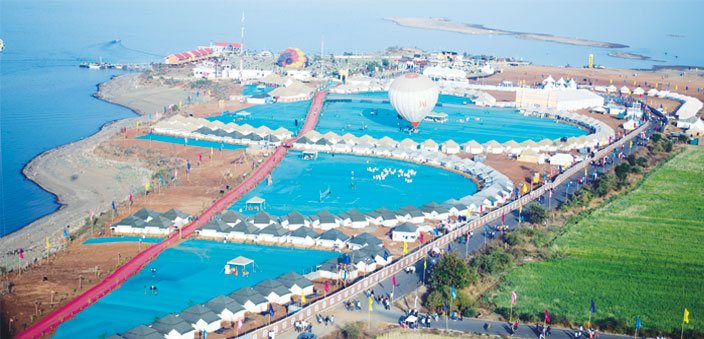 Many of us might have heard about the Jal Mahotsav. This is India's only water carnival that is held every year, by the bank of the Indira Sagar dam which is the second largest reservoir in Asia.
Travel to Hanuwantiya
We explored various options for our onwards journey to Hanuwantiya from Indore and came to know that we can easily get an affordable car on rent in Indore. We also learned that we can derive maximum mileage of this scenic road trip when we book a chauffeur driven car.  All of us wanted to sit back and relax, not worry about the terrain, or the fuel.
We just wanted to soak in the scenic drive and explore the many places to see in between.   It was a total of approximately 170 km and the expected travel time was about 4 and a half hours plus the halt time in between.  We stopped at Ujjain and Indira Sagar dam on our way to Hanuwantiya.
Your typical day in Hanuwantiya
The sight of the Narmada river here is enchanting. This water body is the backwater of the Narmada River and Indira Sagar Dam, but they actually give us the impression of a sea because of its sheer size.
The Madhya Pradesh government has developed this area as a water sport recreation place.  We reached the place early in the morning and tried our hands at various water sports available there like Para-sailing, and speed boating while some of us decided to go on a water cruise in the evening.
The cruise was great and the food they offered on board was delicious.  We did not venture out again but were told by the locals that there are many other places to explore like Boriyamal Island, that offers adventure trekking. The next day we went to explore the revered city of Burhanpur situated on the bank of the Tapti River.
While there were many temples in the proximity of this place, we chose to visit the Omkareshwar temple, which is one of the 12 Jyotirlinga temples. We soon went on to book an AC cab from Indore to Hanuwantiya.  
How to reach Hanuwantiya – Cabs from Indore
Although we went to Hanuwantiya by cab from Indore, there are other possibilities for you to explore.
Air Travel:  If you are planning to reach Hanuwantiya in a very short time, you can fly to Indore Airport and then take a cab from there to the Madhya Dweep group of islands.   The approximate distance between Indore and Hanuwantiya is 170 km.
Rail Travel: If the railway is your favorite mode of transport, you can reach Khandwa, the nearest railway station located 50 km away.  There are many service cabs to Hanuwantiya available from here.
Road Travel:  Madhya Dweep group of islands are well connected by road from Indore, Bhopal, and Khandwa.   You can decide which way to travel.
So, look no further and plan your next trip to Hanuwantiya and have a great time!