To change mindsets and encourage transgenders to be progressive, Chandigarh's Young Director Ojaswwee Sharma have produced and directed "ADMITTED" a Biographic Documentary of 45-year-old Dhananjay, a social activist who enrolled himself for a master's degree in human rights and duties at Panjab University last to last session.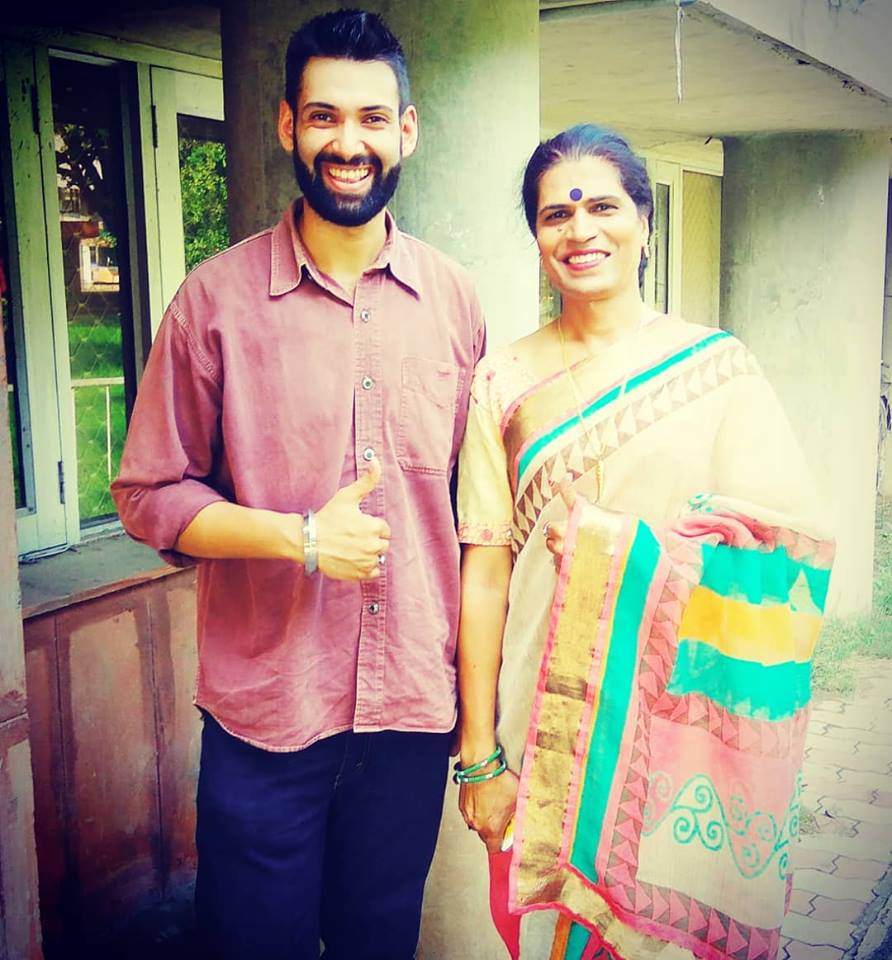 Dhananjay is first transgender student at PU since the varsity changed its admission form to admit the 'third gender' in 2015.
Dhananjay, who already holds a master's degree in social work, graduated from Government College, Sector 46, in the 1990s under the male category.
"Even now most of our citizen and even transgender remain secluded , even common people were not even aware of the term transgender. Transgender's could not walk  out in the open and talk about their identity," says Ojaswee.
"Education is the best way to change the outlook of the society. While studying human rights, Dhananjay tried to bring awareness about the transgender community and Ojaswwee dittoed in Admitted.
Transgenders should not suffer or feel inferior. Social acceptance is a must to ensure that they are not looked down upon, mocked or judged. Their body and identity does not match but that gives nobody the right to judge them," commented Ojaswwee.
Thank God Change is visible at Punjab University even in Class, Dhananjay was not treated differently by any of his classmates. Sharing Dhananjay's story, Ojaswwee says that his parents used to think that he was a shy boy and would happily help his mother in household chores. He adds that his parents married him in the hope that it would transform him into a 'normal' man.
"However Dhananjay thinks and behaves otherwise , Dhananjai is  a woman from inside trapped in a wrong body," Ojaswwee adds.
Dhananjay is also associated with a community-based organisation Saksham Trust, that has around 3,000 members and works for transgender rights.
"I believe transgenders should come forward and get education in colleges and universities like others to progress," he adds.
Dhananjay, who was born to a driver,  have two children, son (23) and daughter (20). His kids and wife have supported him throughout and always stand by him."
Meanwhile, Delhi University had also introduced an option of choosing the transgender category in its admission form for post-graduate courses. Bangalore University too, had modified its application form to include the category.

Dhananjay is also represented Chandigarh at the Lesbian, Gay, Bisexual and Transgender (LGBT) parade  in Netherlands in 2016. He has been organising LGBT drive in th koe city for last five  years.
Admitted is a A striking, uplifting journey of five decades to become the first Transgender student of Panjab University.
Admitted is a biographical docudrama on the controversial life of Dhananjay Chauhan – the first transgender student of Panjab University – her life journey with thrust on education along with gender identification, dilemmas and expression in personal life.
Based on, and featuring Mx. Dhananjay Chauhan, the docudrama has been directed by Ojaswwee Sharma, and is his major roll-out to film festivals this year.
An inspiration for the present and upcoming generation of transgenders, the film features eminent Ex-Consul General of Canada in Chandigarh; Ex- Addl. Deputy Commissioner of Chandigarh; Ex-Vice-Chancellor of Panjab University; eminent Department Heads of Panjab University; Government Colleges and Schools; popular and notable RJs and Journalists of Chandigarh from various media houses; academicians; researchers; and the common observant man.
What the film talks about? (Issues)
Coming out of the closet

Self Identification, Gender Expression, Gender Role

Acceptance by the family, society and institutions

Enabling environment of the Panjab University so far

The road taken to live life with dignity – education

Why is education important?

Measures taken by institution, the government and the people.

"A wonder-woman on a mission" to education

Education alone can help solve a lot of problems; this can be made possible only when everyone comes together

Outlining Human Rights

All encompassed through Dhananjay's self-narrated journey
"This docudrama is close to my heart as this testing journey unfolded right in my home town. Everyone chants about an all-inclusive society but do we give even a fraction of choices and rights we enjoy to the third gender? Being 'different' is a handicap in itself. 'Admitted' explores the journey of a 'different wonder woman' who rose above stigma, self loathing and self denial aiming at the life of dignity for herself and also hundred thousands more who just because of their orientation are denied a respectful living. Panjab University is the first in the country to recognize and 'admit' third gender in their own right to give them the right to education that alone can solve a significant volume of challenges faced by the transgenders. At 2 hours 06 minutes, its one riveting tale of courage, determination and the will to become what you want to be!", said Ojaswee.