newznew (Chandigarh) : It was a 'Mushkil March' for Trideviyaan indeed! The trio has been busy facing all the challenges and solving cases where they found the truth behind a mysterious ghost, dealt with a fake incarnation of dadaji and finally defeated an evil magician 'Kilmish'. However, their quandaries do not stop here, now the Trideviyaan, Dhanu (Aishwarya Sakhuja), Tanu (Samaira Rao) and Manu (Shalini Sahuta) will have to fight against an Adivasi queen called Katappi and her entire tribe.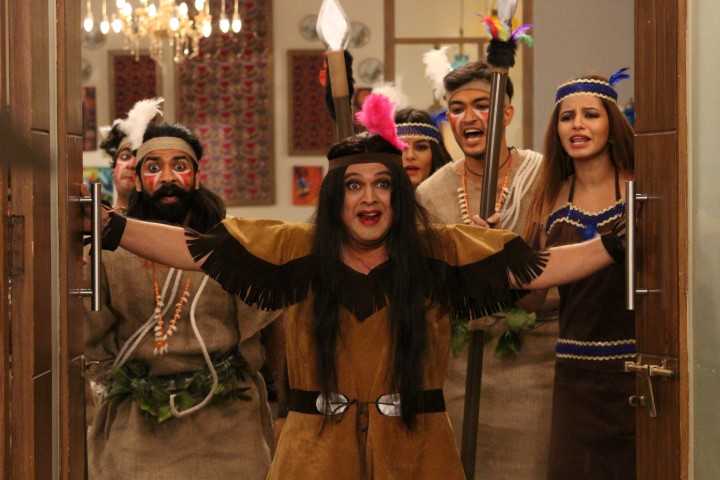 Renowned comedian and actor Ali Asgar who is known for his comedy will now entertain the viewers on SAB as an Adivasi woman in the show 'Trideviyaan'. Ali will be seen in yet another interesting character as Katappi. In reality, he just poses to be an Adivasi, because he has an hidden agenda which no one is aware of, for which disguises as the alpha queen of an adivasi tribe. He stays with the tribe and leads them towards his personal mission for seizing their hidden treasure. He gets involved with Trideviyaan as they happen to have the key to the treasure that he is after. It gets more interesting when these adivasis come to Mumbai to get hold of Trideviyaan and the key under Katappi's command. They put themselves in various hilarious situations when they fail to understand how to use urban products in Mumbai.
How will Trideviyaan solve this case? Will they find out who is the man in disguise? Watch Trideviyaan unravel this mystery only on Sony SAB, Mon – Fri at 9:30pm!
Commenting on his role, Ali Asgar who plays the character of Adivasi woman says, "This character is very different from my previous characters. This is a cameo role as a Police constable who turns into an Adivasi Women. This time it's a task for the Trideviyaan as they don't know why I am behind them and what my real Identity is. It will be exciting for the viewers as they watch me donning the look of an Adivasi woman. I am very happy to be a part of Trideviyaan as this show has an unique story-line. I have worked with Sony SAB in the past and I am glad to work with them again."