Alia and Ranveer reached Chandigarh to promote their film 'Rocky Aur Rani ki Prem Kahani': Fans and audiences have been eagerly awaiting the release of 'Rocky Aur Rani ki Prem Kahani' for a long time.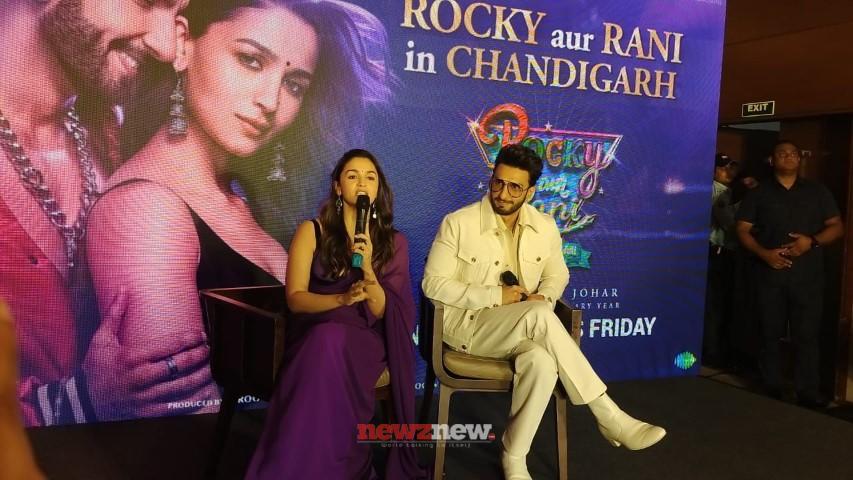 With the film's release date approaching, the promotional activities are in full swing, intensifying the excitement even further.
As part of their promotional journey, the film's cast, featuring Bollywood stars Ranveer Singh and Alia Bhatt, recently arrived in Chandigarh after visiting various cities. Throughout this promotional tour, they engaged with the media, and talked about their roles and experiences in the upcoming movie, where they play the lead characters.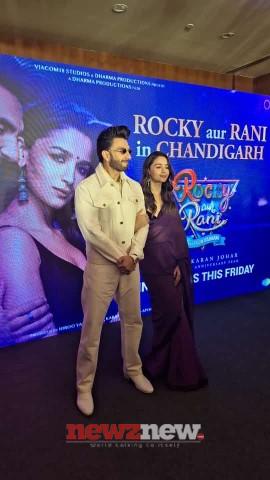 Alia Bhatt expressed her admiration for the climate of Chandigarh, stating, "I love the greenery in Chandigarh. The air carries a unique freshness that gives the entire city a welcoming feel. Whenever I visit this city, it feels like home because the people here share a wonderful camaraderie that resonates with me."
Ranveer Singh expressed his excitement about working with Dharam ji, saying, "One of the most special aspects of the film is collaborating with Dharam ji. It's truly an honor for me to have had the opportunity to work with him. During the shooting, I learned a great deal from him, and it has been an invaluable experience."
The film 'Rocky Aur Rani Ki Prem Kahani' is set to release in theaters on 28th July. Produced by Dharma Productions, the movie features Ranveer Singh and Alia Bhatt in captivating roles. This film also marks a significant milestone for Karan Johar, as it completes his memorable 25 years in the film industry.
The trailer of the film beautifully showcases the essence of romance and has garnered a lot of love from fans. Besides being romantic, the movie promises to be filled with drama, fun, and entertainment, making it a complete package for the audience to enjoy.
The excitement among fans and audiences is bound to soar as they will witness Ranveer in a distinctive avatar in 'Rocky Aur Rani Ki Prem Kahani'. Ranveer's portrayal in this role is quite different from his previous ones, adding an element of novelty to the film. Additionally, Alia Bhatt's performance is also creating a unique impact, especially since this is her first film after becoming a mother, making it a special moment for her and the audience.
Alongside Ranveer and Alia, the film boasts an ensemble of renowned stars, including Dharmendra, Jaya Bachchan, and Shabana Azmi, promising the audience a powerful and star-studded cinematic experience.