American Gandhi Bernie Meyer joins local youth in a Campaign against single use plastic:  The American Gandhi Bernie Meyer, who has been the star attraction of the peace festival all these years, joined students of Peace Club students of St. Joseph's Sr. Sec. School, Chandigarh Hotel Management Institute and Members of Chandigarh Beopar Mandal at Sector 44 market to promote the message of 'Discard Single Use Plastic'.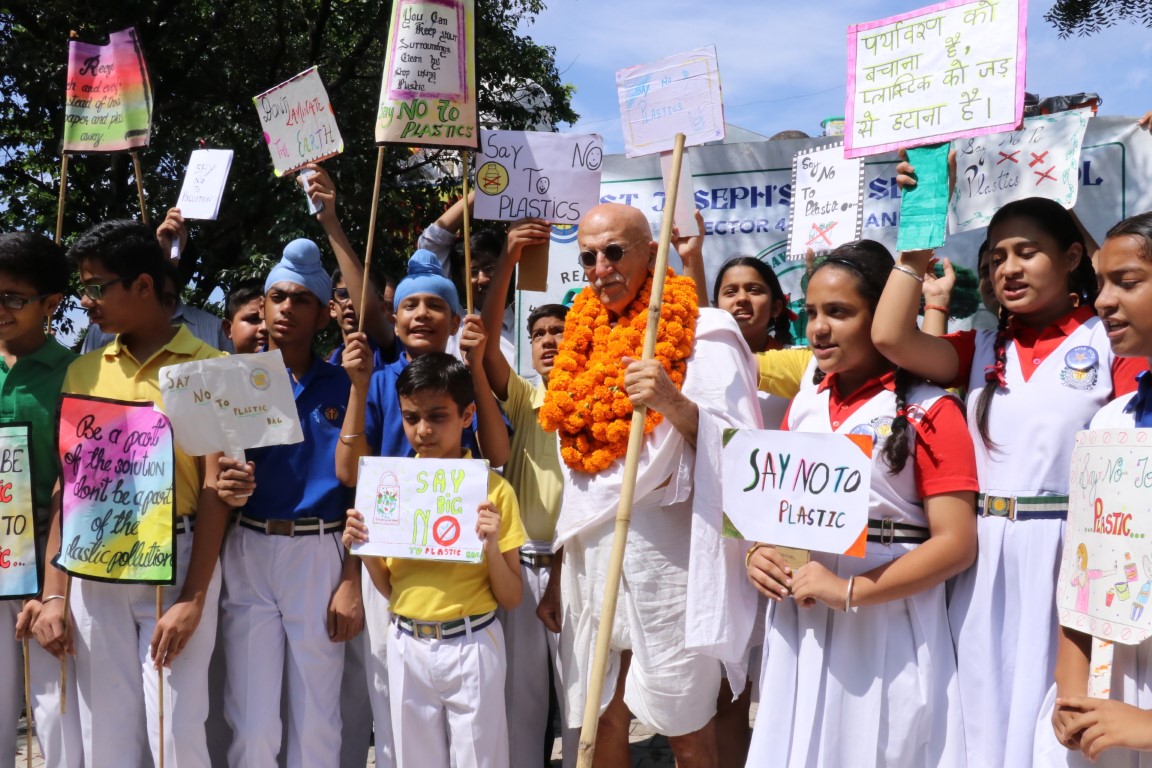 He was at the curtain raiser event of the Global Youth Peace Festival (GYPF) 2019.
Their group of 100 students and senior members supported by Department of Environment, Chandigarh Administration went from Shop to shop in market of Sector 44-C and 44-D motivating the people to shun single use plastic items for green and clean Chandigarh. Mr. Anil Vohra, President of Chandigarh Beopar Mandal honoured American Gandhi Bernie Meyer with garlands on the occasion. A street play on 'Say No to Single Use Plastic' was also staged on the occasion.
Read Also: Trends signs up Vicky Kaushal and Janhvi Kapoor as brand ambassadors
Motivated by the ideals of the apostle of peace Mahatma Gandhi, who himself took a great deal of inspiration from Ruskin's Unto the last, the Global Youth Peace Festival (GYPF) has been held in the city beautiful for the past 13 years. 14th Global Youth Peace Festival from September 30 to October 2 commemorates the 150th anniversary of Mahatma Gandhi, to whom the festival is dedicated.
Pramod Sharma, founder-coordinator of Yuvsatta-NGO informed, "The theme of the 14th Global Youth Peace Festival-GYPF 2019 is "Leave No One Behind". The festival will bring together 200 young people from 20+ countries and would have activities that would serve as a reminder to the Gandhian talisman. This includes discussions and deliberations and other creative activities around peace, inclusion, reaching the unreached, environment and sustainable development."
As part of the national drive to weed out single use plastic from public life, a Global March has been organised on October 2, 2019, from Open Hand Monument to Parade Ground with theme of 'Planet or Plastic'.
Read Also: The Knowledge Bus School organised Recitation Competition
GYPF 2019 is majorly supported by the Indian Oil Corporation Limited-IOCL, Indian School of Business-ISB, Mohali, Chitkara University, State Legal Services Authority, Chandigarh, Department of Environment, Forests & Wildlife, CREST and Tourism of Chandigarh Administration, State Legal Services Authority, Chandigarh Institute of Hotel Management, Sector 42, Ahmadiyya Muslim Jamaat, State Cell NSS, Peoples Convention Centre, Trinity Hospital and Medical Research Institute.
Apart from its overarching theme, the GYPF 2019 will witness discussions and deliberations on four major themes – Biodiversity Conservation & Sustainability Action, Interfaith Harmony, Peace building and role of the youth in achieving sustainable development goals and disable friendly cities.
American Gandhi Bernie Meyer who has been consistently coming to the annual Global Youth Peace Fest from last 10 years, said that "The World and its inhabitants are in a crisis. The climate has been disrupted by human burning of fossil fuels. As Gandhi would say, we must act NOW — not tomorrow – as it would be too late. Listen to the millions who stopped school and work on September 20 as a way of non-violent protest. ACT NOW. Humans are making more nuclear weapons, missiles, planes, submarines. Nuclear war will destroy all life. While people die due to drought, forests fires, floods, typhoons, wars and hurricanes, made more powerful due to climate disruption and nuclear weapons." 
Read Also: HDFC Bank and Indian Oil launch fuel credit card
One of the major partners of GYPF 2019, Debendra Dalai, Chief Conservator of Forests & Wildlife and Director, Department of Environment, Chandigarh Administration and CEO, CREST commended the GYPF and said it feels good to be part of a global youth initiative in Chandigarh. "We look forward to more youth engagements and action on burning environmental issues of single use plastic, biodiversity loss, climate change, and water and air pollution."   
The inauguration of the 14th GYPF on October 30 at Chandigarh Institute of Hotel Management will witness young people from participating countries deliberating and discussing their ideas of a sustainable world keeping Gandhi's talisman in mind and how they can form partnerships among themselves. Some of the participating countries include Afghanistan, Australia, Austria, Bangladesh, India, Indonesia, Nepal, Malaysia, Myanmar, Philippines, Syria, Sudan, Sri Lanka, Sudan, USA and Vietnam etc.
Coinciding with the 14th GYPF 2019, a senior artist from Philippines Ms. Anna Karina Jardin will conduct a three day art workshop at Carmel Convent School, with local youths who will prepare posters and also paint a 100 feet wall inside the School campus on theme of 'Living in Harmony with Nature'. Another professional Rangoli Artist and Social Art entrepreneur from Raipur, Chattisgarh Mr. Pramod Sahu will create a rangoli portrait of 8X8 feet on theme of "Mahatma Gandhi & Nelson Mandela", at  the Indian School of Business, Mohali Campus.
At the inaugural ceremony, a special folk cultural group from Ashram Gandhi Puri, Bali in Indonesia will perform and Punjabi folk artists from North Zone Cultural Centre, Patiala will showcase rich Indian music and dance for international delegates at the valedictory function on October 2, 2019.
Sharing his thoughts on this initiative, Sujoy Choudhary, Executive Director of Indian Oil Corp Ltd Punjab, J&K, HP and Chandigarh said that "I am pleased to note that 14th edition of Global Youth Peace Fest 2019 is being held in Chandigarh to remind ourselves of the Gandhian ideals".
He added that as a dominant player, Indian Oil recognizes protection of environment and sustainable development as a core commitment of its business.
"And by further supporting the organization of this year's 14th Global Youth Peace Fest-GYPF2019, we would actually be nurturing the seeds of sustainable development goals in the hearts and minds of young people thus going beyond corporate social responsibility hand nurturing the foundations of sustainable business," he further said.