ASSOCHAM officials met Hon'ble CM Punjab: On the occasion of completion of 100 days of his tenure as Chief Minister of Punjab, ASSOCHAM delegation under the leadership of Mr Kulwin Seehra & Mr Simarpreet Singh met and felicitated Sh Charanjit Singh Channi and discussed matters pertinent to industrial growth in state.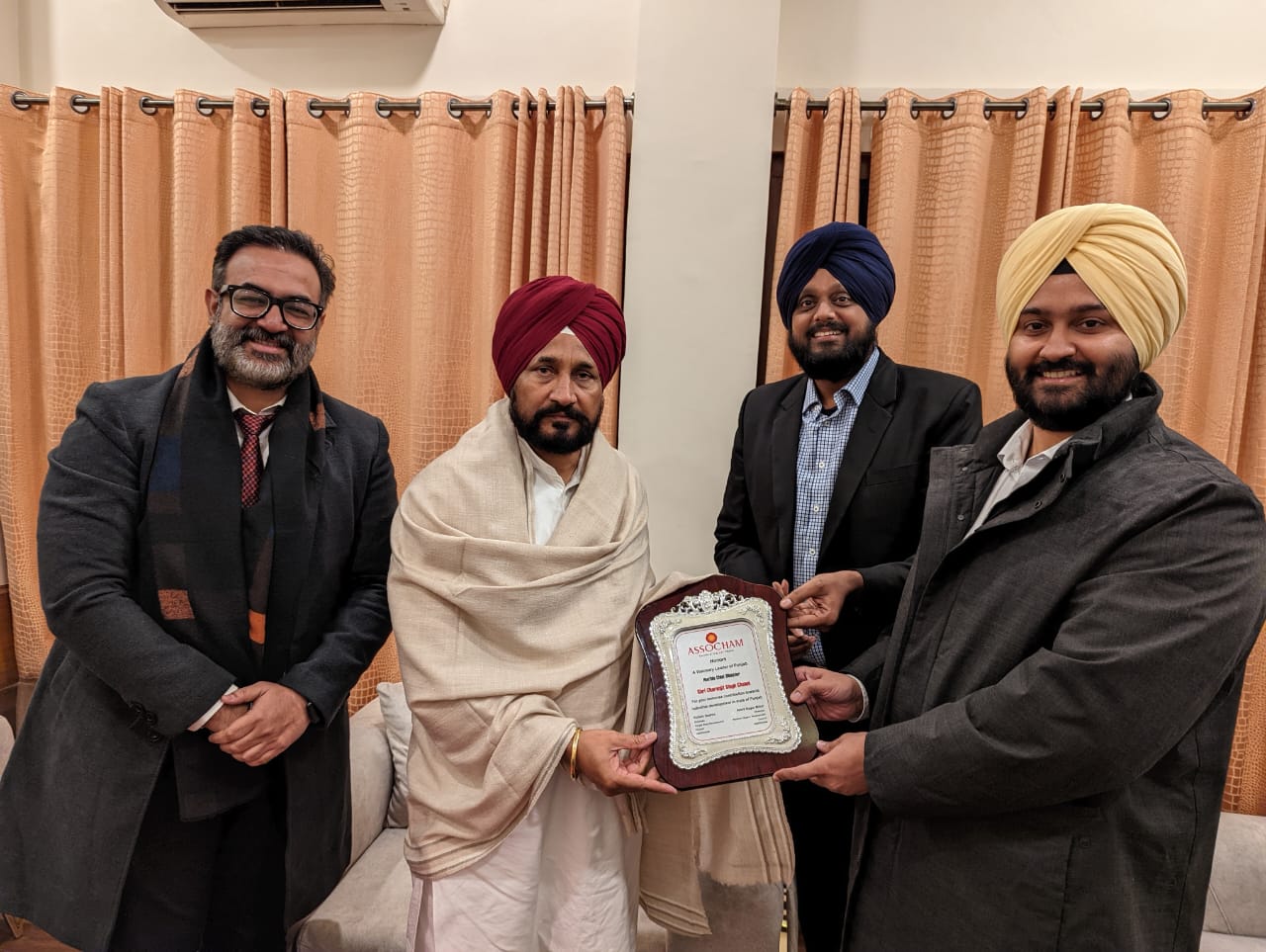 Key Issues Discussed during the Meeting.
– Building a robust ecosystem for job related skills and entrepreneurship development.
– Connecting tourism with agricultural strength of the state.
– Seeking state level support for export promotion.
– Promoting Punjab Film Industry and giving it a full status of an industry.
– Promotion of scrappage policy.
Hon'ble Chief Minister stated – 'We are committed to establish Punjab as a competitive and favoured investment destination, achieve regional development, export diversification and augment livelihood opportunities for its people through resilient economic development.
Mr. Kulwin Seehra, Chairman Punjab State Council ASSOCHAM requested for government's support and action on: Benefit to Exporters of Punjab-Freight upto Mundra & Mumbai Ports, for eg. INR 3~4/kg subsidy on transportation
Power-Reduction of wheeling charges in electricity, especially for offsite solar or thermal plants. This can promote the use of bio waste into biofuel with equal distribution in all regions of the state.
Vehicle scrapping centers to be encouraged by the government near mandi Gobindgarh Ludhiana area, or develop a new region to promote employment in the region. This will make the steel, plastic, and rubber industries in the state more competitive compared to other states; because of low input costs from recycling and added advantage of less transportation.
ASSOCHAM office bearers:
Mr. Kulwin Seehra, Chairman Punjab State Council ASSOCHAM and Executive Director GNA Axles Ltd.
Mr. Simarpreet Singh, Chairman Chandigarh UT Development Council ASSOCHAM and Director, Hartek Group
Mr. Gourav Mahajan, Regional Director- ASSOCHAM Northern Region Development Council
Anshumali Bajpai, State Head-ASSOCHAM Punjab State Development Council