Godrej Appliances improves food safety for consumers with advanced Nano Disinfection Technology in its frost free refrigerators: Godrej Appliances, part of Godrej & Boyce, the flagship company of the Godrej Group, has been strengthening its product offerings in line with the consumer shift towards more health and hygiene consciousness.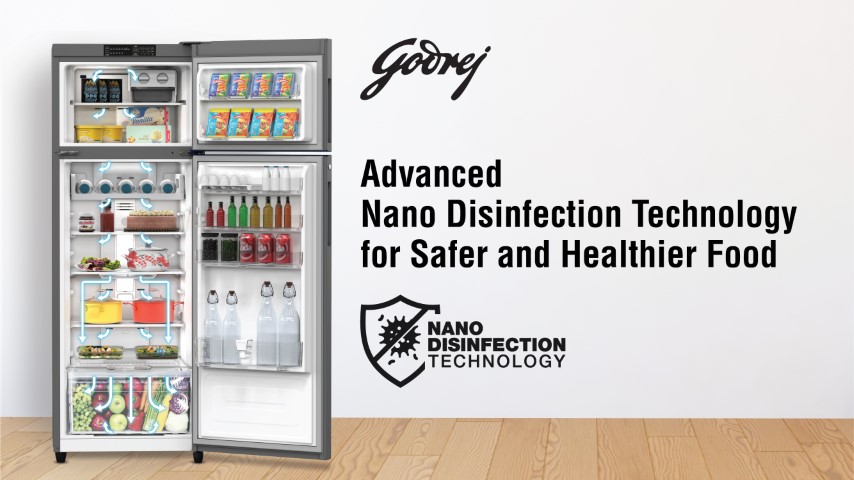 To cater to this increasing demand, the brand has introduced advanced 'Nano Disinfection Technology' to its range of frost-free refrigerators, for which the company has also filed a patent.
The environment we live in today is prone to germs and consumers are increasingly concerned about it.  Godrej Appliances wants to ensure that the food people are consuming is as healthy as possible, especially in today's scenario where our food changes many hands before it reaches us and even the air around is prone to germs.
The Nano Disinfection Technology uses a special Anti-Germ Nano coating in the air flow duct of the refrigerator. The air passing through this duct gets disinfected and as it circulates, it controls microbial activity in the enclosed refrigerator compartment, further disinfecting food surfaces in the refrigerator. This technology has been tested to deliver 100% surface sterilization at the duct and an average of 95%+ food surface disinfection against germs.
The clear reduction in microbial activity helps ensure better food preservation, keeping it fresh and healthy for longer. Unlike regular refrigerators which reduce microbial growth with cooling, the disinfection technology goes a step further in sanitizing the air in the refrigerator and therefore the exposed food surfaces against any germs which may be present on it.
The technology was tested at an NABL accredited lab. The 24 hour food surface disinfection lab tests were conducted against select set of commonly found germs like eColi, Salmonella etc and on different foods – exposed tomato, exposed bread, curd and cut apple – things which one commonly finds in the refrigerator. This advanced technology is proprietary to Godrej Appliances.
Commenting on the new launch, Kamal Nandi, Business Head and Executive Vice President – Godrej Appliances, said, "We are committed towards offering our consumers better health and hygiene solutions across all our appliances portfolio and have been exploring technologies. Since the last year, we have introduced multiple products with cutting edge technologies for germ protection. Encouraged by the response on these offerings and our continuous consumer interactions which reveal a clear need for food disinfection inside refrigerators, we launched the Nano Disinfection technology in our refrigerators. With this technology, we aim to strengthen our market position and increase our health-oriented solutions to 30% of our overall portfolio by next year."