NewZNew (Feature – Kulbir Singh Kalsi) : An Open Letter to PM against Drugs/Alcohol abuse in Punjab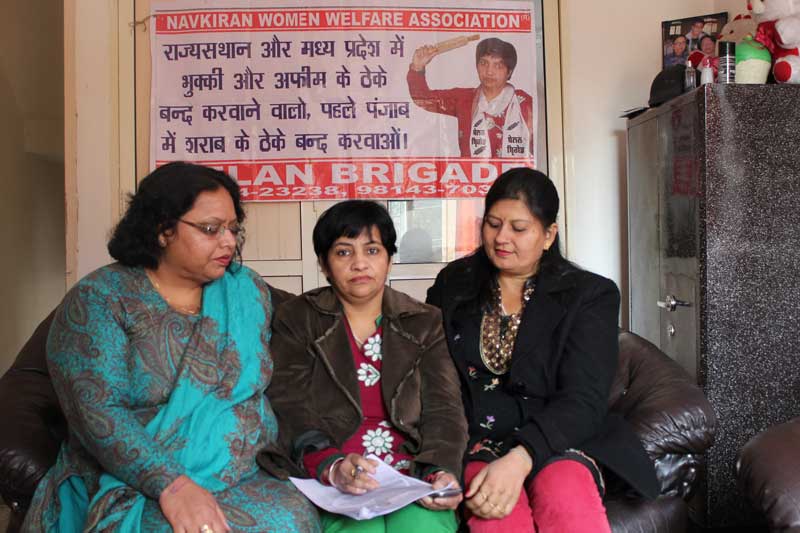 Dear Sir,
I Anita Sharma do hereby request in this Letter for your kind information and action against Drug abuse especially in Punjab state. Where thousand of youth has been lost their life in drugs addiction and their family has been shattered.
I started a campaign against drugs abuse in the election period on 8th march 2014 from Ludhiana on women's day, since then I have held more than three hundred,  road show, seminar & press conference all over rural & urban areas' of Punjab state.
Now-a-days the menace of drugs abuse in Punjab is a serious matter and thousand of youth has been addicted of drugs, there is not proper treatment of drugs addicted in civil hospital.
Last year in the parliament election, the defeat of Akali candidates was the main result of drugs abuse.  After the election Punjab Government took immediate action against the drugs terrorism and arrested thousand of drugs addicted people from here and there to show that Punjab govt. has put grip over the drug smugglers. But the real scenario of drugs terrorism is different as per the government record. Till now govt. could not disclose any major culprit of smugglers due to bad governance of Punjab govt. It has put all responsibilities of drugs smuggling over the boarder security force of India.
Actually due to wrong policy of Punjab Government in Punjab there is sixth river of alcohol that is flowing speedily in the life of people. Punjab government is running on the wheel of sale tax of excise department. To promote alcohol/wine Punjab Government has opened a number of alcohol/wine shops at every nook & corner of urban & rural area's street. As a result when a labor person return home after hard work in night, in the stress  wherever he looks a wine shop at the road side near his home he purchased a wine bottle & drink it and reach at home empty hand.
In morning when a school going children looks a wine shop at every nook & corner of the street, where from his father daily purchased a alcohol bottles, imagine, what will be the affect of all it on the brain of a innocent child whose father daily return home after working in late night with boozy condition.
Many drinking problem start when people use alcohol to self soothe and relieve stress. But the affects of getting drunk after every stressful day, have an agreement with spouse, children & old parents, it also damages marriage, making depression worse of causing health problem but a man continue to drink anyway, as a result a poor laborer who is stricken with the daily need, poverty, medicine, education of child, struggle with an employment to escape from his own miserable, monotonous, boring, pitiful, in comprehensible existence.
Alcohol addiction causes many changes in the body & brain, long- term alcohol abuse can have devastating, causes serious health complications, affecting virtually every organ in body including our brain. It also creates cancer, heart problem & liver disease.
Problem drinking can also damage emotional stability, finances, career and our ability of build & sustain satisfying relationship, get divorced, have problem with domestic violence. Alcoholism & alcohol abuse can also have an impact on family & friends. There are many alcoholics who became addicted to other substances like heroine smack, cookie, over all the behaviors is quite similar drugs addicts and alcoholics are known for being proved to lying, deception, self serving practices and manipulation.
Punjab govt. has opened alcohol shop to generate fiscal to do welfare of the public. With the income of alcohol Punjab government has announced a number of schemes for the welfare of poor family children, govt. has Shagun scheme, distribute cycles to girl, cheap ration, old age & widow pension.
That is the policy of Punjab Govt. to generate money from the poor to sale them alcohol at their door step and return this income to poor under the banner of welfare schemes. It is welfare scheme or destruction scheme for the poor.
Most of people have never seen & do not know what is the heroine, cookie & smack drugs but the sweet poison alcohol is every where available at the door step in Punjab.
Punjab Government must clear this point that Alcohol is the curse or boon for people?
If Government wants to make Punjab drugs free first of all it should have to take appropriate step to stop the sixth river of alcohol in Punjab as:
(1)   Reduce every year 20 percent wine shop.
(2)   Close wine shop on dated 7 & 22 every month when people get salary.
(3)   Without consent of area's resident, excise department does not open wine shop.
(4)   Health dept time to time may check the quality of wine and its ingredient.
(5)   Excise department may put all detail on his website, sale & purchase of all wine shop.
(6)   On the bottles level in 80 percent space must be written in the regional language what is the bad affect of alcohol on the body part.
(7)   If a long term alcohol addicted dies below 50 Years. Punjab Government must provide a government job to his legal heir.
(8)   At the time of attendance every morning must be checked all Govt employee with mouth analyzer, if any govt. employee found alcohol addicted, must be suspended immediately.
(9)   Cancelled the driving license of drunk driver.
I hope to save the life & welfare of people you will take appropriate action against drugs & alcohol abuse in Punjab.
Sincerely,
Architect Anita Sharma President NGO NWWA
Belan Brigade Punjab, 809/2A, Prem Nagar,
Bindravan Road, Civil Lines,
Ludhiana 141001 Punjab India