Best Monthly Investment Plans & Options with High Returns: Investment is an acquaintance, which if carefully selected can help during any exigency. The money kept in your pocket or lockup doesn't grow at all and the money kept in your bank account grows at a slow pace.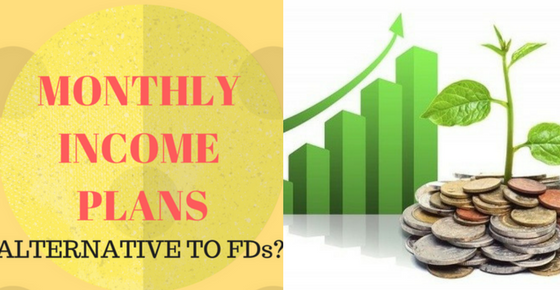 But a solid investment would help your money to multiply by itself and provide you with an alternate source of regular income.  
In the financial world, there is a myth that investment schemes with a high rate of returns along with low risk are a rare species. According to the experts, risk and returns are inversely proportional. Hence, under normal circumstances, in any instrument of investment, higher is the risk, higher would be the returns. 

We would apprise you with few options of monthly income plan to ensure an alternative source of income with high s returns.   
Corporate Fixed Deposits
Fixed Deposit in the bank is one of the most popular ways of investment but is not a lucrative option. If you have a desire to earn high returns, you can opt for another variant of fixed deposit which is called company fixed deposit. The condition in this type of investment is that you cannot withdraw your deposit before maturity. These investment options are outside the control of the Reserve Bank of India. Usually, these are offered and operated by housing finance companies and Non-Banking finance companies. It can prove to be a good option for the longer term. Most of them offer a higher interest rate than bank deposits, but it also depends on the standing and credibility of the companies. The payment terms are also adjusted and modified according to the investor's preferences.
Real Estate
Real Estate has been a conservative and frequently used option for investment for many generations in India. This is partly because the price of plots, land, flats, farmhouses and other properties have seen exponential growth in the past decades. Today even commercial property owners like malls, shops encourage you to invest and derive regular rent.  
Direct equity
An instrument of investment that has consistently delivered high returns over a long period is direct equity. It is considered an unstable investment class as there is no fixed rate of returns. It requires a great deal of research and expertise to select the right stock, buy it at the right time and also sell it at the right time. The equity market also depends on global conditions, war, political instability, natural disasters and other micro and macro-economic factors. Therefore, you run the risk of losing a large portion of your capital investment. Once you get the hang of the various operating factors in the market, you will learn to minimise your loss and maximise your profit. You can diversify your capital across sectors, apply stop-loss, and invest when the conditions are favourable. If you want to know the past trends, seasoned investors have earned returns of around 12-13 % over a 3-5 year period. 
SIP with Mutual Funds
This is a very popular instrument of investment wherein you can invest your money in Equity mutual funds, and that is SIP or Systematic Investment Plan. It is a particular type of mutual funds wherein at least 65% per cent the capital is invested in equities and equity-related stocks. The portfolio of the mutual fund can be actively managed, and the rate of returns depends on the fund manager's capability and expertise. Presently, the rate of returns has been in the range of 15-20 per cent over a 3-5 year period, which is significantly higher than other investment.

Unit Linked Insurance Plans (ULIP)
Unit Linked Insurance Plan is an intelligent type of investment as it combines insurance and investment into a single product. Even after incorporating the adjustment due to inflation, Unit Linked Insurance Plans have generated high returns. You get to choose a different type of ULIPs like debt, balanced or equity. The insurance clause is designed in such a way that a portion of your premium is invested in stocks and bonds, and the remaining is used for life insurance. When you foresee that the share market is going up, the Unit Linked Insurance Plans can be cashed out at for revenue. Unit Linked Insurance Plans also give you the flexibility to partially withdraw from your investment, after completion of the lock-in period.
IPO
When you choose equity shares as an instrument of investment, more often not you will earn higher returns than that of any other assets. In an IPO or Initial Public Offering, the shares are offered in terms of the face value, prevailing in the stock market. You must deep dive and do thorough research before investing in an IPO, and analyse the performance of the company or sector you intend to pick. This will ensure that the profits on your shares are in line with your expected investment and goals. If you plan to stay in the market for a longer term, for example, 5-10 years, you're most likely to generate a high amount of returns, making this an eye-catching option.
Treasury bills
When you choose this as an instrument of investment, you can opt for a shorter period or stay even like 5-10 years. This is a method by which the Government raises money by issuing Treasury Bills or Bonds. The differentiating factor is that the instruments for a shorter period are known as Bills, and the ones with a longer period are known as bonds. The various lock-in periods in the case of Treasury bills is 91 days, 182 days and 364 days. They are issued at a discount and are redeemable at face value on maturity. Presently the bonds that are available for investment are issued in multiples of Rs.25,000, which at times can discourage an investor. Nevertheless, the returns they offer are quite good.
Gold
One of the oldest forms of investment, gold has traditionally been very popular in the Indian framework. The reason for this popularity is the ready availability and consistent increase in the price over a period. While it lost some of its shine in recent years, it nevertheless holds an important place in the investor's mindset. The present markets will also offer you new ways to invest in gold. These are commonly known as gold deposit scheme, gold ETF, gold bars and gold Mutual Funds. The period of investment can résumé from 3 months and go up to ten years.
The list of investment is never complete, and these are only some of the options which can help you generate high returns. The average individual always wants the ideal investment option, as they want to get the most out of their hard earned money. Know your short term and long term needs, the amount you can invest every month or year, and hunger for risk before selecting your investment plan.