NewZNew (Chandigarh) : Betty Holistics & Skincare is set to empower 10000 women in wellness industry. Company is in talks with National skill Development Council to start courses in wellness.  "We have been in this industry for last twenty years, though largely our expertise has been in manufacturing. However this time we are scaling up operation in regard to empowerment of women in wellness sector, "Betty Holistics and Skincare-MD Betty Nangia says.
Sharing about the expansion plans, Betty Holistics – Managing Director Betty Nangia Says, "We have already started the manufacturing at our Barwala unit and are in the process of finalising dealers in Northern states. Plan is to have some 100 outlets in next two years pan India. We will have shop in shop; company owned Exclusive Brand outlets as well."
Further sharing on the funding part, "We are in talks with some of the leading investment bankers and it would not be apt for me to disclose all details at this moment. But we are eyeing to raise Close to Rs 40- 50 crore soon.  Considering that I have a long association with Goldman Sachs, we are getting all the right signals." She adds that Company also has plans to open 100 "Herbal Cosmetics" outlets pan nation in two years. It recently Started its manufacturing unit at Barwala (Panchkula ) in Haryana.
Betty's is in talks with country country's leading Investment bankers. Likely to invest Rs 50 crore in next one year. In talks with investment bankers to raise funds.
 The winner of Goldman Sachs -Indian School of Business "10000 women" initiative is eyeing the e- commerce route to tap domestic and international clients.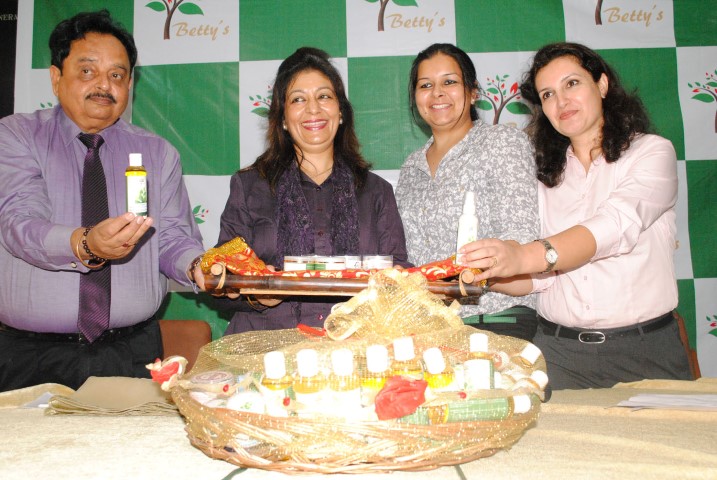 Betty's – winner of Goldman Sachs-10000 women initiative, in collaboration with Indian School of Business, Gained an entrepreneurial panache, at the Goldman Sachs – ISB, programme to cultivate entrepreneurship among women. Betty's now has eyes fixed on capturing the domestic and global markets.
Betty Nangia– proud owner of her brand "Betty's" secured license for 100 herbal products from Ayush- Haryana so far.  Having faced challenges while on way to become an entrepreneur, Betty aims to empower 10000 women, by recruiting them in her company's programmes in a span of two years.
Reminiscing the old times while she was in the first leg of her business venture, Betty says, " The idea of starting my venture sounded very alien to many , however as some women around started to use products word spread by mouth. And Betty's was born.  We did have challenges before us and more so as women in those times were not rated that well for their business acumen. Now we have a full range of products and adopting E-commerce model to launch products online."
Betty's products today are going as far as USA , Europe and Australia through exhibitions, seminars and business to business meetings. Her entrepreneurial spark hasn't gone unnoticed and even foreign based investors have shown keenness to collaborate.
Betty started her entrepreneurial journey from a small shed at the top of her house. Finding, answers to most of her queries related to cosmetics at the same small corner, where she experimented and discovered the cures to skin ailments through organic healthcare products. Her quest to find alternative cures in the burgeoning cosmetic industry that uses high chemicals to show immediate results on skin, met with huge success, once people realized the benefits associated to handmade organic cosmetics.