NewZNew (New Delhi) :  Alleging a witch-hunt against Bhagwant Mann after a Lok Sabha panel probing his parliament house videography was given an extension, AAP today said BJP was doing "vendetta politics."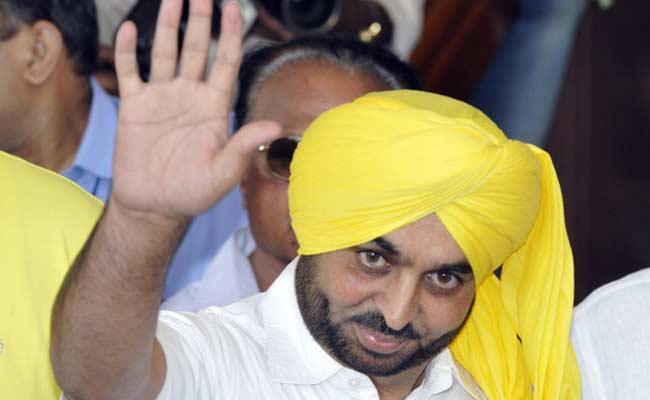 "What has Bhagwant Mann done for which the Committee has been seeking extension repeatedly? This is a conspiracy by the BJP. The vendetta politics is resulting in Mann not being able to raise the issues of his state in Lok Sabha for the last three weeks. This is nothing but a witch-hunt," AAP leader Ashish Khetan alleged.
Mr Khetan said Mr Mann wanted to raise the issues of grain procurement, farmers suicide and drug abuse in Punjab. Lok Sabha Speaker Sumitra Mahajan has given extension to the Committee on Conduct of Bhagwant Mann till the end of the first week of next (winter) session, the panel's Chairman Kirit Somaiya said.
In view of seriousness of the matter, the AAP MP from Sangrur has been asked by the Speaker not to attend the sittings of the House until a decision has been taken.
Mr Khetan asked what action was taken by the BJP against the then Rajya Sabha VP Singh Badnore, who is now the Punjab Governor, when he allegedly tried to enter Parliament using a "forged" sticker on his car.
"( VP Singh) Badnore had then claimed that he wanted to do a sting, but the Ethics Committee found his claim to be untrue. He did the same thing which the terrorist did while carrying out the attack on Parliament," he alleged.
A defiant lawmaker from Sangrur had maintained that he did no wrong and his intention was to make people aware of the parliamentary procedures.
In his response to the committee, Mr Mann had also demanded that Prime Minister Narendra Modi be also summoned before the panel for "inviting" ISI to Pathankot air base, referring to the Joint Investigation Team of Pakistan that visited India to probe the attack.
"Why does the BJP not want Mann to raise the issue of ISI and PM in his response. This is a classic example of how the BJP is using every means to suppress opposition," Mr Khetan said.