newznew (Chandigarh) : We are pleased to inform you that New Theatre (Regd.) is organizing Bhangra Utsav 2017 – A unique initiative that unites youth, senior citizens, students with special needs, children from slum, working professionals, legendary folk dancers and musicians all under one roof. Bhangra Utsav is scheduled to be held on Thursday, 1st June 2017 from 6pm to 9pm at Tagore Theatre, Sector 18, Chandigarh.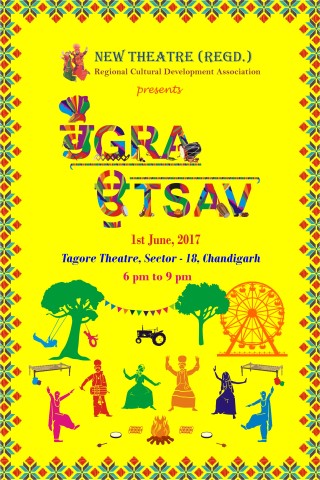 The event is being organized by New Theatre (Regd.), a not for profit folk dance regional development cultural association working in the field of talent, heritage and cultural promotion from past 20 years. From the past two years, the group has been working with different stratas of society conducting various dance workshops that has helped them understand and imbibe the cultural heritage of the folk forms of Punjab. The enthusiasts have performed at various events in the tricity and have earned accolades from the media as well as various stakeholders. Art & Cultural Affairs Department, Haryana has partnered with the Event.
Bhangra Utsav is a unique initiative to promote the folk dances of Punjab and connect us to our roots. The dance forms of Punjab give a delightful experience to the participants as well as the audience, and also acts as a therapy. The purpose is to promote the Punjabi folk forms and help the people live and rejoice to their true potential. The event has impacted lives of almost all members of the New Theatre (Regd.). Some of them got rid of many physical ailments whereas it worked as a great stress buster for the people working for long hours in offices. Bhangra Utsav is not the celebration of one day but it's the celebration of everyday as all the family members gather and celebrate each and every moment of life.
Hon'ble Cultural minister of Punjab, Mr. Navjot Singh Sidhu has kindly consented to be the Chief Guest during the Utsav. Mr Balbir S Sidhu, MLA, Mohali and Ms Satinder Satti, Chairperson, Punjab Arts Council will be the Guest of Honour.
The highlights of the Utsav will include:

Demonstration of Yoga and meditation by special students
Performance by students of slum
Giddha by youth and senior citizens
Harvest Dance
Special performance by legendary folk dancers of Punjab who have immensely contributed towards the dance form of bhangra in the past 4 decades including Master Harbhajan, Channi Takulia, Avtar Rana, Peter Sodhi, Gill Surjit, Pammi Bai, Jasbir Pannu among others
Other than this, there will be a performance by Raunak Band followed by collaboration of the folk instruments which are on the verge of extinction by the legendary artists. Some of the very sweet and special children which includes down syndrome children and autistic children will be performing a group dance.
The occasion is marked in the form of a festival cum celebration so that each individual can take the advantage of this initiative. The event is supported by Free Fragrance Tuition, Discover Ability, Chandigarh Sangeet Natak Academy and Swaraj Engines Ltd.