Bharat Vikas Parishad (E) to hold mass marriages of 12 needy girls : Bharat Vikas Parishad, East (BVP-E), Chandigarh is going to organise it's 10th Samuhik Saral Vivah (simple mass marriages) at Community Centre, Sector 20- A, Chandigarh on February 10 (Sunday).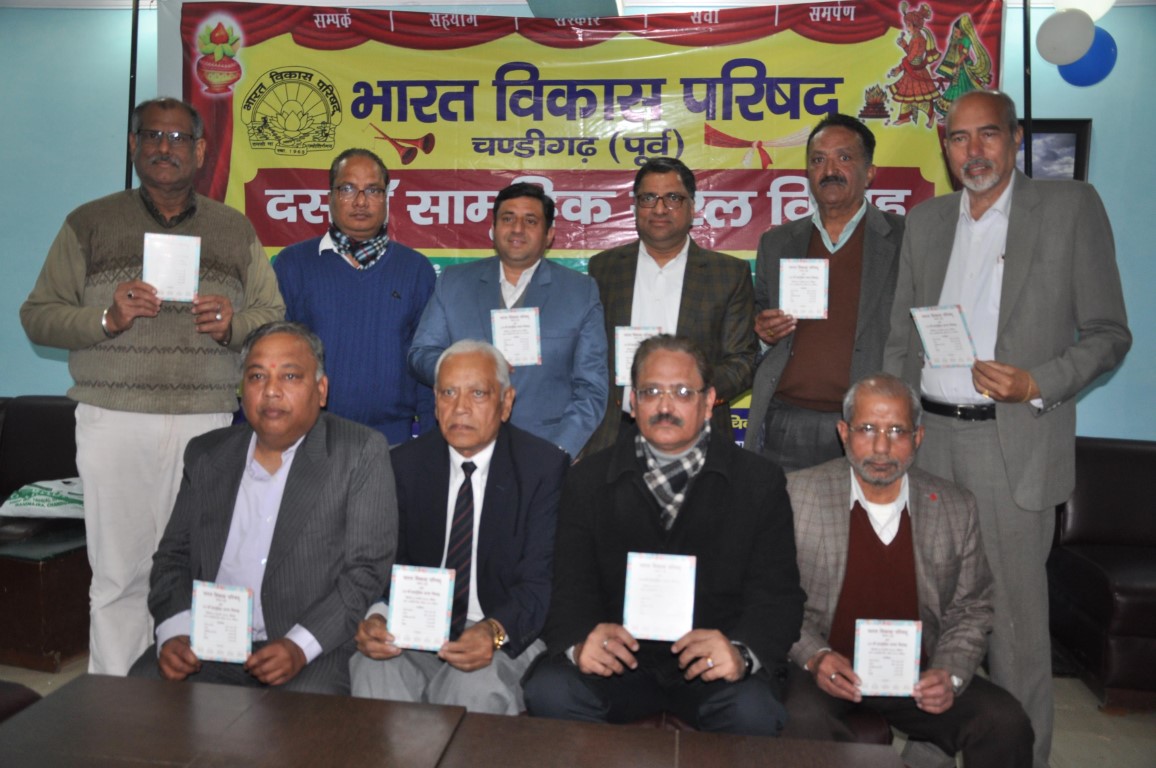 This was announced by senior office bearers of the social service oriented, non-political, socio-cultural voluntary organisation at a press conference held at Press Club here.
BVP-E's Project Director Navneet Gaur said, "The mass marriages of needy girls irrespective of caste creed or religion will be held with full grandeur. Welcome of 'Baraat' or the 'Bride groom party' will be held at 9 am. Breakfast will be at 9.30 am and Lunch at 1 pm. Marriage rituals will be held at 12 o clock. The Parishad has taken up this project at national level. Sonu Sethi who is a well known social worker of tricity and is known for singing Gurdas Maan songs, will perform at the event, his team will also carry out a plantation drive."
It is noteworthy that BVP – E is actively working for genuine social development programmes and welfare activities for the community. It was informed that simple mass marriages of poor young girls and boys  are being performed by many branches and states  regularly for the last many years.
Ashok Goyal, Parishad President said, "The idea behind holding this press meet was not only to provide details of the upcoming mass marriage of needy girls, but also to invite members of general public to bless the newly-wed couples by participating in the ceremony. We are giving an invitation to all."
It is pertinent to mention here that BVP-E is dedicated to the development and growth of the country in all fields of human endeavour – cultural, social, academic, moral, national and spiritual – by promoting a sense of patriotism, national unity and integrity.
Bhushan Thakur, Co-ordinator, BVP – E said, "With the increasing dowry demand and ostentatious style of marriage celebrations, the daughter's marriage has become a heavy burden for parents of moderate means. The Parishad therefore selects families who do not have financial means to hold such functions and organises marriages in  the case of  needy families collectively. Hundreds of brides and bridegrooms and their relatives participate in one celebration."
It was informed that BVP-E's ideology is based on five simple aspects: community outreach (sampark), support (sahyog), training (sanskar), service (sewa) and commitment (samarpan).
Secretary Pravesh Gupta said, "Like previous years this year too, as required under the norms of BVP, all the essential items to start the new household such as double bed, steel trunks, utensils and clothes and others will be gifted to each couple for which members of branch and other distinguished residents have contributed liberally."
Ashok Ghai, Secretary (Finance) said, "Apart from organising mass marriages for needy boys and girls, we also hold activities like blood donation camps, tree plantation drives, free blood and medical check up camps, free special counseling sessions for girl students, social and cultural events like 'Teej' and 'Ek Sham Bhole ke Naam' are also organised regularly.
BVP – E has also adopted two government schools and holds free counseling sessions for school children. The office bearers said that next year they wanted to conduct a bigger mass marriage, involving many more couples. The panellists at the press meet therefore appealed to people who are finding it difficult to organise marriage of their son or daughter due to financial constraints, to contact them for help.