Bhoomi Poojan & Ground Breaking Ceremony of 'Downtown Mohali' Held:  To initiate a pioneering real estate project in tricity, a real estate organisation 'Icon Group' held the bhoomi poojan & ground breaking ceremony of a four-side-open plaza- 'Downtown Mohali' , which will be spread  across over 5 acres in the heart of Mohali at Sector 62, Ram Leela Ground here.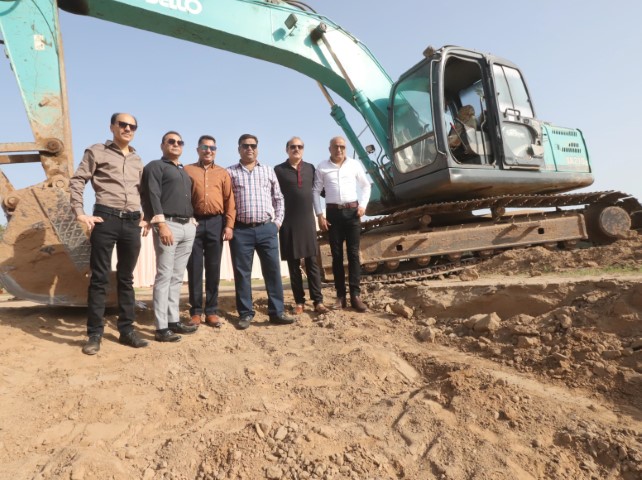 Rajesh Puri, a Director in the Icon Group said, "Downtown means a central part or main business and commercial area of a town or city. It will be a perfect amalgamation of work and entertainment, which tricity residents will experience for the first time in their hometown. The project is one-of-a-kind due to its unique four side-open design. This will set it apart from other plazas. This quadruple side-open architecture will be customer friendly."
Puri further said, "Besides this new architectural design, we are also introducing within the plaza a shopping high street 'Icon Street', which is designed on lines of international patterns.
Gurjeet Malhi, Vice President of the Icon Group & who is also a Canadian citizen said, "This is the first time that a Canadian 'Downtown' concept is being brought to the region. There will be sufficient parking spaces, sidewalks, dining areas and plazas which will be developed without any curbs, thus giving the place a 'pedestrian mall' feel."
Pardeep Kumar, another Director said, "We have conducted the bhoomi poojan and expect the project to be completed in 3 years. Once functional one can expect all the luxury international brands to set up shop here, we will have rooftop restaurants, an entertainment zone, options of SOHO -which is a home cum office space, co-shared working offices etc. People can also buy a commercial space at affordable prices, and make their offices functional at the premium location."
Added Ajay Sehgal, another Director of the Icon Group, "Inspired from western architecture. 'Downtown Mohali' is conceptualized to upscale the shopping culture and 'provision of working space' in the tricity. Unlike regular and traditional malls, Downtown Mohali is a unique concept, which is different in many ways. Its basic infrastructure is well designed and has beautiful eye-catching features."
Sanjay Seghal, another Director said, "The plaza will also uplift the physical shopping culture, which has been impeded by the COVID 19 fear. Due to the project being four sides open, and with utmost attention to cleanliness & sanitation, the ambience will allow customers to shop freely without any fear of the virus."
The project will also give a push to the economy and generate employment for thousands of people in nearby areas the directors informed.
Amar Prabhu Goyal, another Director summed up, "Keeping in mind the environment, we have planned to build this 'Downtown Mohali' as a 'green project'.  In  this endeavour, solar panels will be installed at the rooftop of the building and smart lights & taps will also be put up in order to save the energy and water."