NewZNew (Chandigarh) : As shuttler PV Sindhu clinched the silver medal in the women's singles competition of the Rio Olympics, Bollywood celebrities like megastar Amitabh Bachchan, Karan Johar, Sridevi and Rishi Kapoor lauded the 21-year-old's historic feat.
They called her the "golden girl" as she has made "all Indians very proud".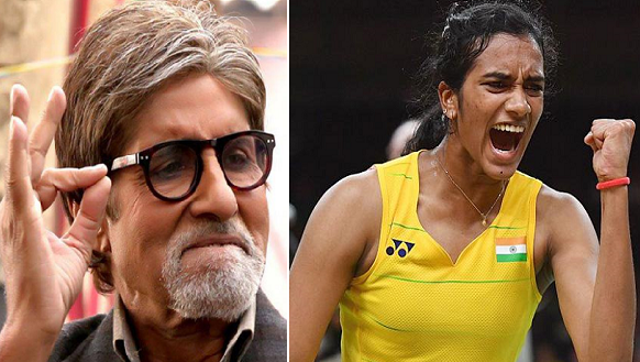 Here is what the celebrities had to say:
Amitabh Bachchan: PV Sindhu look what you did. You had 1.25 billion people rooting for you! That is no mean achievement! Proud of you! You played your heart out. All of India is so so proud of you… Thanks for giving us that moment of pride!
Mahesh Bhatt: PV Sindhu creates history! Girl power rules. Bravo!
Sridevi: Congratulations on your achievement. You have made all Indians very proud.
Anupam Kher: Landed back in Mumbai to the great news of PV Sindhu's silver medal. Will be proud to take selfies with both Sakshi and Sindhu. Icons.
Rishi Kapoor: Jeete RIO. God Bless! PV Sindhu. Badminton. Women's silver.
Karan Johar: The golden girl! Huge congratulations to PV Sindhu. India's heart beams with pride today!
Anushka Sharma: What a game. Congratulations on the Silver. Much much respect for your spirited performance and sportswomanship.
Farhan Akhtar: Congratulations, so happy for you and your corner. This silver medal is just the beginning. Shine on!
Richa Chadha: You didn't lose the gold, you won the silver.
Hrithik Roshan: I was on the edge of my seat. What a game and what an athlete. You have won our hearts. Proud.
Varun Dhawan: PV Sindhu has brought so much happiness to an entire country. Hard work and determination always pays off… so much to learn from her.
Sidharth Malhotra: Proud of PV Sindhu for winning us the silver. More power to you. Respect!
Hansal Mehta: PV Sindhu stretched the world champion… Such an outstanding player. Inspiring play by both women.
Alia Bhatt: You go girl! Making every one of us proud! Congratulations.
Arjun Kapoor: For us you are a true champion and winner. You have inspired a generation today and how!
Shirish Kunder: So proud of PV Sindhu. But what I love about Carolina Marin is — she always bites and checks if the gold is real.
Huma Qureshi: You are a champion PV Sindhu!
Aditi Rao Hydari: Shining silver lining!
Boman Irani: Satellite photos will show an entire nation giving you a standing ovation. You showed class, grace and grit!
Dia Mirza: India will not forget this match. What spirit! Absolutely awesome.
Goldie Behl: Great match super sprit well played. Congratulations. true Desh ki Beti making us all proud.
Vishal Dadlani: PV Sindhu you megastar! What a fight! A silver to treasure, and a match to remember! Congrats, Marin, but Sindhu is the new pride of India!
Kabir Bedi: PV Sindhu played like a tigress for the glory of India, and won all our hearts, which matters most. Salute.
Adnan Sami: A silver that is more dear than Platinum.
Rajkummar Rao: Thank you for giving us this wonderful match. You are an inspiration to all of us. So proud of you. You've made history today.