Bihar TET Result 2017 Out At Bsebonline.Net : The result of Bihar Teacher Eligibility Test (Bihar TET; also termed as BTET) 2017 has been declared here today on September 12, 2017.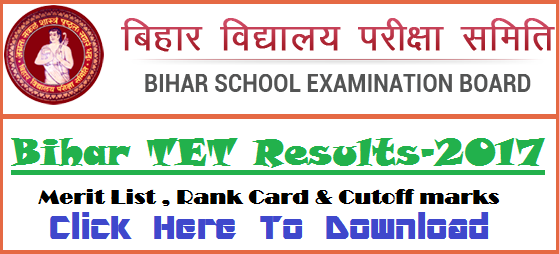 The Bihar School Examination Board (BSEB) which conducted the written test 'BTET 2017' on July 23, 2017, published the results on it's official website www.bsebonline.net, which, the candidates who took the test may check by entering their roll number or application details.
Reportedly, near 2.5 lakh aspiring primary and secondary teachers took the test, which is compulsory to qualify to apply for jobs advertised as primary or secondary teachers in the government schools in the state. A total of 49,488 candidates appeared to take Bihar TET for paper 1, and near 1.64 lakh took paper 2.
The announcement that Bihar TET result 2017 or BTET result 2017 has been declared, was made in a press event held earlier today where Anand Kishore, the BSEB Chairman revealed that only 7338 qualified the paper 1. The number of candidates who qualified the BTET paper 2 is 20,113.
All in all, mere 20% qualified the Bihar TET 2017