Bikers on their pan India tour for raising Tibetan cause reaches Chandigarh: Two Tibetan youth on their pan India tour for raising Tibetan cause reached Chandigarh on Tuesday to draw attention for Free Tibet movement to bring national and international attention.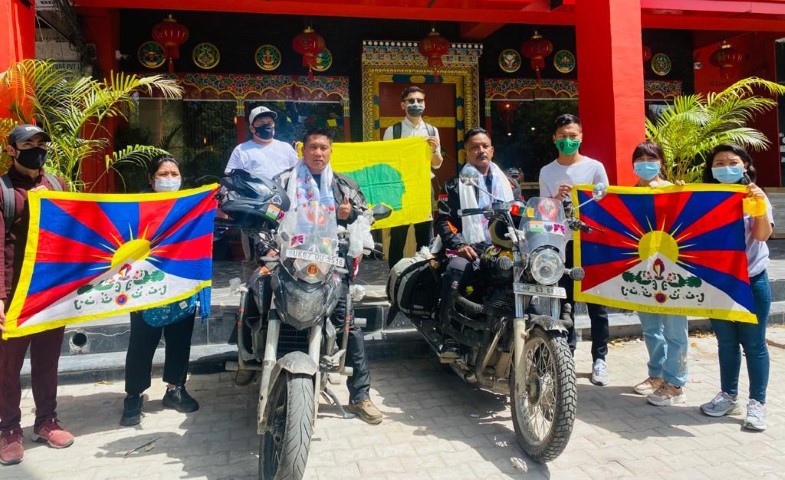 Duo was traditionally welcomed by local Tibetan residents and students at Kalsang Restaurant, Sector 8. 47-year-old Tsering Yeshi and 46-year-old Chimi Tamdin left Mcleodganj (Dharamsala) on March 22 and will travel across the country for the next two months on a motorbike to embark on the Tibet issue.
According to both the bikers, the purpose of their mission is to mobilize support for the His Holiness Dalai Lama to be awarded the Bharat Ratna, India's highest award. But on Tuesday morning, in a communication with the secretary of the private office of the Dalai Lama in Mcleodganj, he called upon them not to pressurize the Government of India for this.
India has always been grateful to Tibet and Tibetans since beginning and nominating for the award is entirely the decision of the Government of India on which it is not appropriate to put any pressure on it. Bikers said with respect to their decision they will continue their 'Ride for Pride' so that the locals will be appraised to the complexities related to Indo-Sino relations and continuing threats by China.
According to Tsering, the border between India and China is approximately 3500 kilometers from Leh to Arunachal Pradesh, over which China has been claiming its occupation from time to time. In the future, this attention of China can create a big problem for India's security, for which it is necessary to change India's attitude towards China.
Tsering said that along with the government, the common people will also have to play an important role in this campaign. People will have to shun Chinese apps as well as Chinese goods because the purchase by Indians directly benefits the Chinese economy. China is a huge market for India and now it's the high time support 'Boycott Chinese Goods' campaign to strengthen 'Make in India' movement

Chhimi said that in his two-month-long campaign, they will reach out to more and more people by joining local Indian Tibetan support groups and Tibetan settlements. They will also call upon the people to bring this issue to their public representatives and politicians, so that the issue of Tibet's Freedom will also arise in the Indian Parliament.
He said that as a result of China's aggressive stance by India, India's annual defence budget could be spent in the country's progress which would lead to the all-round development of the country. That is why people should strongly voice for the independence of Tibet.