Blue Dart encourages the 'Bonds of Solidarity' thanking COVID-19 warriors with a special 'Rakhi Express' Offer: Blue Dart, India's leading logistics service provider and part of Deutsche Post DHL Group (DPDHL), announces the launch of its annual 'Rakhi Express' on the occasion of Raksha Bandhan. Straying from tradition, Blue Dart aims to go one step beyond the celebration of the bond between siblings.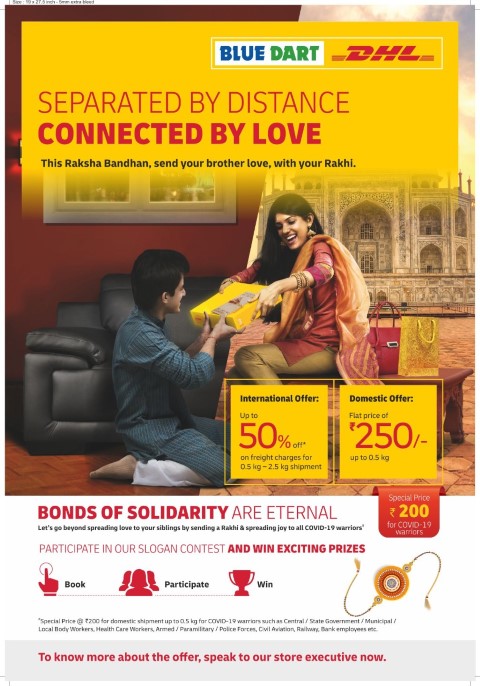 This year, Blue Dart encourages the 'Bonds of Solidarity' to ship rakhis, not just to siblings within India and internationally, but to go one step beyond and send your love and spread the joy of the festival to all protectors including our COVID-19 warriors who have safeguarded the nation through the Coronavirus Pandemic.
Blue Dart's 'Rakhi Express' is a unique opportunity that has been loved by customers for years. Through its widespread Indian domestic network, Blue Dart will deliver rakhis to 34,000+ locations across India and to 220 countries and territories across the globe, as part of the DPDHL Group's 'Express Easy Rakhi'.
Customers can avail a special rate of ₹200/- to send rakhis to COVID-19 warriors and ₹250/- to send rakhis to their loved ones between 10th July, 2020 and 05th August, 2020. The special rate applies for up to 0.5kg for domestic shipments (anywhere within India). These offers can be availed at any of the Blue Dart – DHL retail Hey hey stores across India or by calling 1860 233 1234. Customers can send their rakhis through a specially designed 'Rakhi Envelope' and a greeting card for their personalized messages.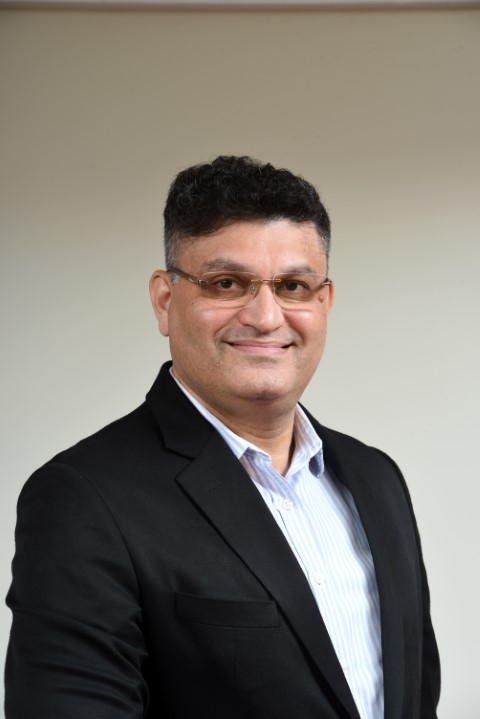 Speaking about the initiative, Ketan Kulkarni, CMO & Head – Business Development, Blue Dart said, "The year 2020 was different on every vertical. This year, the world crumbled around us, giving way to a Pandemic that shook businesses and individuals across the world. The only common underlying theme across industries, cities and nations was the 'Bonds of Solidarity' amidst people. While most of us stayed in the safety of our homes, our COVID-19 warriors geared up at their action stations to ensure the health and safety of all.
Our goal during this festive season is to ensure that Raksha Bandhan 2020 is more than a festival for sisters to send brothers their love; rather, it is to ensure that Raksha Bandhan 2020 is a festival that celebrates love in all its forms – to parents, to friends and most importantly to send gratitude to all our protectors including our COVID-19 warriors.
This initiative is a tribute to every Government Worker, Health Care Worker, every Armed / Paramilitary / Police Force personnel, every Civil Aviation / Railway / Bank employee who has tirelessly worked through the pandemic for the greater good."
He further added, "We want to give families that live apart, the opportunity of experiencing Raksha Bandhan to the fullest by staying connected across the country and globe. In the world of social media, the Rakhi and personal note from a loved one delivered with care, holds a very special place. We strive to provide a hassle-free, accurate and timely delivery so that people may enjoy their Raksha Bandhan without any worries."
Customers can register for the Rakhi Service at any of Blue Dart's conveniently located stores across the nation. At the store, the customer needs to verbally confirm that the sender or receiver is a COVID-19 warrior. Blue Dart staff then offer the Domestic Rakhi Express at Rs.200/- on domestic Rakhi shipment up to 0.5kg. The Rakhi the customer brings is then inserted in the rakhi envelope along with the Blue Dart greeting card where the sender can write their personal message for their unwavered fighting spirit.
To avail our service or for any further enquiry, customers can call us on Customer Care Number – 1860 233 1234 or email us on – [email protected]. To find a nearest Blue Dart counter near you, click on our website – www.bluedart.com.