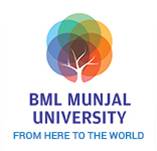 NewZNew (Chandigarh) : BML Munjal University (BMU), founded by the Hero group and mentored by  Imperial College London has announced the  setting up of a Centre for Research on Operational Excellence to conduct research and consultancy in the sectors of service and manufacturing. In collaboration with Imperial College London, the centre was inaugurated by Mr. Nelson Phillip, Acting Dean of Imperial College Business School, Mr. Kalyan Talluri, Professor of Operations Management in the Department of Management at Imperial College  London, Mr. Akshay Munjal,  President of BMU and Prof. Tapan Panda, Dean, School of Management at BMU, at the BMUcampus earlier this week.
The state –of- the-  art research facility will focus on the  areas of: Service, Process and Network Design, Bureaucracy and Technology, Supply Chain Management, Smart Transportation and Infrastructure, Energy, Pollution Reduction, Environment, Climate Change and Healthcare Operations Delivery. The centre will work actively with  Indian industry to help them achieve operational excellence at par with or exceeding world-leading organizations. BMU will be hiring experts in the field to conduct research at the centre.
Addressing the faculty and the students, Prof. Tapan Panda, Dean, School of Management at BMU said, "At BML Munjal University, it is our endeavor to nurture talent and instill in them the abilities to execute their ideas with courage and perseverance. The research centre, under the guidance of Imperial College, will provide our students an international perspective in  Operational Excellence in service and manufacturing and develop cutting edge management practices and technology relevant to industry."
BML Munjal University is highly focused on research and innovation and to achieve the same the University started the  Siemens Centre of Excellence which offers seven labs in different fields such as Robotics, Process Instrumentation, Energy, Mechatronics, Pneumatics and Hydraulics, CNC, Automation. It integrates enterprise level applications with manufacturing operations and plant engineering with shop floor automation.