Emerald Motors is Mercedes-Benz's new3S dealership in Ahmedabad, and the 8th outlet across Gujarat
Emerald Motors also boasts of having an exclusive 'S Lounge', only the second such exclusive lounge in the entire country and the first one in Gujarat
Emerald Motors is first Mercedes-Benz dealership in the country to inaugurate an exclusive Pre-Owned car section as well on the same day
Emerald Motors' 3S luxury dealership is located in the posh CG roadarea and is spread over an area of 34,600sq ft. with superlative facilities like spares, sales and servicesall located under one roof
Cumulative investment of over INR 12.5 crores | 94 professionally trained staff at Emerald Motors to ensure the renowned Mercedes-Benz brand experience and hassle free vehicle ownership experience
The showroom boasts of a11 car display that showcases a versatile range of Mercedes-Benz cars | The workshop has 18 bays for maintenance and repairs
The showroom and the workshop were created in a span of one year |The workshop can service over 450 cars in a month's time
Ahmedabad is known as a business hubwhere demand for luxury cars have increased substantiallyover the last couple of years
Mercedes-Benz will launch 12 new models and 10 new outlets pursuing the 'Winning' strategy in India, aiming at winning the hearts and minds of customers
Mercedes-Benz India's second dealership in Ahmedabad and the 85th outlet across 40 cities, making it the densest network in the country for luxury cars
NewZNew (Chandigarh) :Pursuingits philosophy of 'Winning' in 2016, India's largest luxury car maker Mercedes-Benz further strengthened its network presence by inaugurating its second state-of-the-art 3S dealership in Ahmedabad.Emerald Motors, the new Mercedes-Benz showroomis the largest 3S luxury dealership located in the posh locality of CG Road.The 3S luxury car showroomwas inaugurated by Mr.Roland Folger, Managing Director & CEO, Mercedes-Benz India and Mr.Kanaiyo M. Thakkar, Executive Director,Emerald Motors.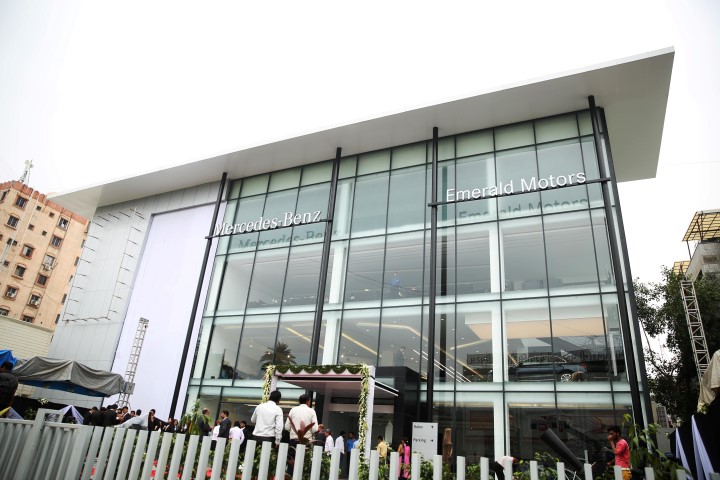 Speaking on the occasion, Roland Folger, Managing Director & CEO, Mercedes-Benz India said,"Western India is an important market for us as we have witnessed substantial demand coming from this region. With the inauguration of this second 3S luxury dealership in Ahmedabad, we will be able to further strengthen our foothold in Gujarat and capitalize on the growing demand for luxury automobiles. This is our 8th outlet in this prosperous state and reiterates the market's significance for Mercedes-Benz India and underlines our relentless 'Go to customer' strategy. We are glad to have found a trusted partner in Emerald Motors that understands our brand philosophy and has invested in this luxurious venture. Their rich automobile expertiseand market experiencein the state makes them the ideal partner for Mercedes-Benz. Emerald Motors will be our fourth dealership launch for 2016 and it is a privilege to connect with our elite customers in the 'business city' of Ahmedabad. We have further consolidated our deep network reach in the country, now with 85 outlets across 40 cities."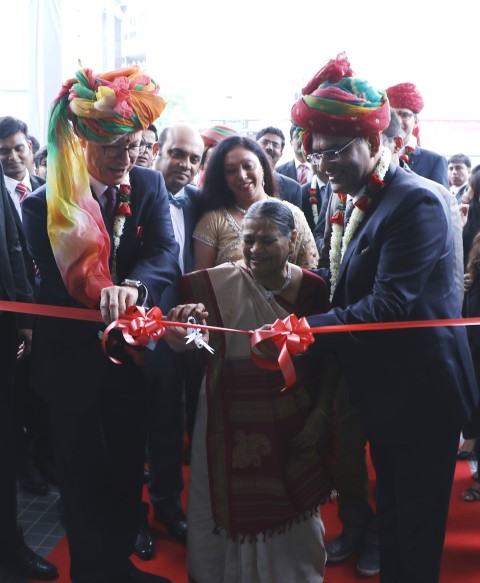 Folger further elaborated, "Our philosophy for 2016 is 'Winning' as we strive to create newer avenues to create proximity with our distinguished customers. Strategic network expansion drive is an integral part of our growth strategy. We have already launched dealerships in Pune, Vijayawada and Nagpur. With this inauguration in Ahmedabad, we have six more dealership inaugurations planned for this year.We want to engage with our customers by offering our versatile products and our world-class services. It is our continuous endeavor to give the best to our customers across all spheres and this effort is towards the same goal. We are confident that Emerald Motors with such a splendid infrastructure and highly accomplished manpower will make owning a Mercedes-Benz a truly memorable experience for our customers."
The state-of-the-art3S dealership of Emerald Motorsis spread over a cumulative area of34,600 sq. ft.,making it a lavish luxury destination for car enthusiasts. The 3S dealership is located in the premium locality of C.G.Road at Plot No. 4, ShantisadanSadanSociety, nearParimal Cross Road.Emerald Motors boasts of showcasing the entire range of Mercedes-Benz cars by creating a massive 11car display. Emerald Motors also houses a fully equipped service facility in the same premises. The workshop is spread over an area of about 21,500 square feet and has a capacity to service 16 cars per day. The body and paint shop is also integrated in the workshop in addition to the 18 bays meant for maintenance and repair. With more than94well-trained staff working in the showroom and the service centre, Emerald Motors has put together a team which is dedicated, motivated and eager to set new benchmarks in customer delight. The staff is trained in Superior quality repair work and Mercedes-Benz values of PRIDE (Passion, Respect, Integrity, Discipline and Excellence) in business dealings with customers.
Kanaiyo M. Thakkar, Executive Director, Emerald Motorscommented, "Emerald Motors is proud to partner with an iconicbrand like Mercedes-Benz for the first time. With over 130 years of automobile magnificence, our association with the Three Pointed Star is truly inspiring and we are zealous to take this partnership forward. We are in complete alliance with the Mercedes-Benz's 'Winning' philosophy that aims at connecting closely withour discerning customers. At Emerald Motors, it will be our consistent endeavor to make customers for life through our superlative brand experience and unwavering commitment to service excellence. While our fascinating showroom will ensure a wholesome luxury brand experience, our state-of-the-art workshop will ensure that our valued patrons enjoy a seamless ownership experience for their precious Mercedes-Benz.We, at Emerald Motors, are confident of delighting our customers with an unparalleled luxury purchase and ownership experience."
The inauguration of Emerald Motors will see Mercedes-Benz expanding its footprint with the 85thoutlet across 40 cities in the country.Mercedes-Benz India continues to be the market leader in the luxury segment in India has the densest and most qualitative network of any luxury car maker in India. The network expansion is well-strategized bringing the company closer to the established customers, potential patrons as well as offering all visitors the opulence of the Mercedes-Benz world.