NewZNew (Chandigarh) : A book 'Bhagat Singh's Jail Note Book: Its Context and Relevance' which contains Bhagat Singh's jail notes has released by Mr. Justice Ajay Tewari,  Mr. Justice Deepak Sibal, Baldev Mahajan, Advocate General Haryana, Prof. Harish puri, Prof. Ronki Ram and Prof. Jasbir Singh at Chandigarh Press Club today. The book has been edited by Malwinder Jit Singh Waraich and Harish Jain and published by Unistar Books, Chandigarh.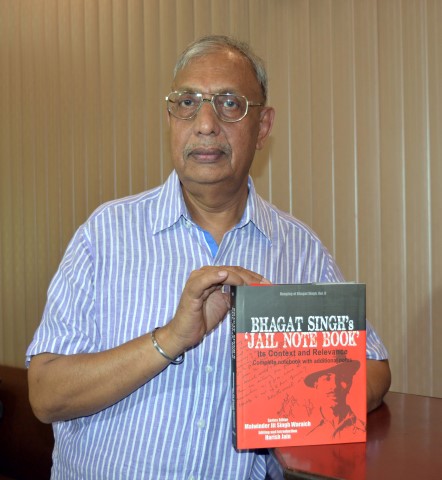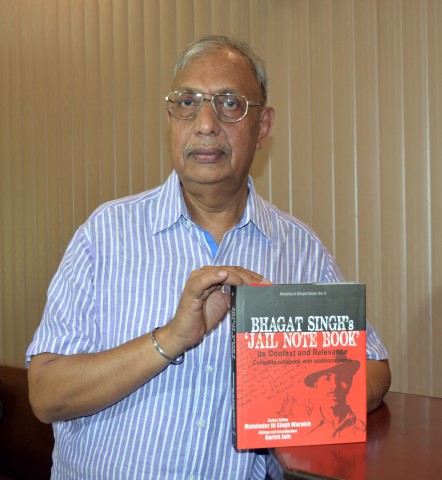 Interestingly, even more than eight decades after Bhagat Singh's martyrdom, one question that has remained central is how a 23-year-old young man was able to deal with such complex ideas? How he was trying to understand the contemporary society. How he was able to answer many questions.
Answers to the many of above questions can be found in the Notebook, in which Bhagat Singh jotted down the notes during last days in Lahore Jail. Thus the book opens a window into his exploration of ideas of distinguished thinkers and philosophers.
Prof Harish Puri, the former head of Department of Political Science at GNDU, Amritsar who has extensively worked on Punjab's freedom movement said that that well-known among his comrades as an avid and voracious reader, Bhagat Singh managed to procure during his imprisonment in jail a large number of selected books by prominent authors of his choice. The excerpts, notes and quotes from those books which he wrote down in his jail notebook reflected not only the seriousness with which he studied the books but also his intellectual sophistication and social and political concerns."
This work helps one understand why the authors Bhagat Singh was quoting in his Notebook mattered to the martyr. Besides discussing the ideas central to the books, an attempt has been made here to explain the import of the quotes he chose to copy. Another debate that this book almost settles is that Bhagat Singh's Jail Notebook comprises notes from 46 books not 400 books as so far has been known. The book also carries a list of the books he consulted in jail, maintained Mr. Harish Jain.
"Bhagat Singh was citing original author in his quote, even while he picked the same from secondary source," said Jain. He says that main intention behind this work was to make Bhagat Singh's world of books spirited and vibrant for the reader so that they may also be his fellow travelers and also get a chance to open a window into his times."
This book notes that Bernard Shaw was most profusely quoted, followed by Jack London and Oliver Goldsmith; all others generally did not have more than one quote.
One more important fact to be noted was that most of the quotes from creative works appeared in miscellaneous pages. These were the pages which are believed to have been written before he received the Notebook. Quotes on liberty, justice, crime and punishment are many, in fact, are spread over a good part of the Notebook. The book notes that Bhagat Singh's interest in poverty, crime, justice, punishment, imprisonment, prison and criminology was natural.
In majority of the quotes from Bernard Shaw's plays, and his preface to English Prison, and Eveyln Ruggles-Brise's seminal work on 'English Prison System', all had, the same implication for him, these made more sense of what was happening around, remarked Jain.
Several editions of Bhagat Singh's Jail Notebook have been published in different Indian languages in the last two decades. But the current edition with a detailed introduction also traces the entire history of the Notebook from September 12, 1929, asserted Jain.