newznew (Chandigarh) : British Paints, established in 1919, and amongst the leading paint companies in India organized a Dealers Meet in Jalandhar in Cabbana Resort for its dealers from Chandigarh Tri-city and Himachal region. During the meet, British Paints also announced the launch of Sheer Class SplendorLuxury Interior Emulsion.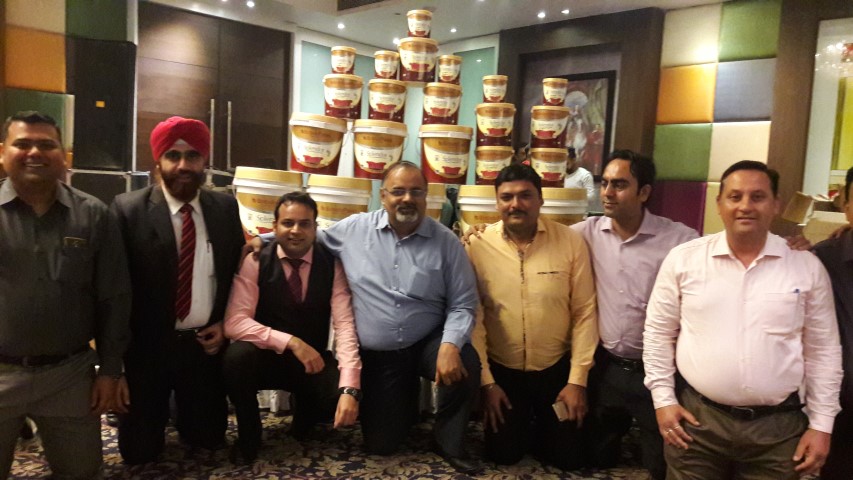 Speaking on the occasion, Mr. Naveen Pal Singh (Regional Manager, Chandigarh & Himachal) said that"Splendor Luxury Interior Emulsion is auniquely formulated luxury paint, with multiple attributes, designed purely for the discerning consumer. The product is not only environment friendly, but also has superior sheen, stain resistance, antifungal, antibacterial capabilities. This interior emulsion is rightfully positioned as best performing emulsion on interior walls which gives us the confidence to offer an unmatched7-year warranty. In addition to that, the product is low VOC, low odour & provides excellent washability."
British Paints organizes such interactive meets atregular intervals to ensure that there is no communication gap between the brand and dealers who work closely with them. Chandigarh Tri-city& Himachal being potential markets for the brand, they intend to increase their market share, both in terms of sales and reach. Specifically, in Chandigarh, Mohali, Panchkula and Parwanoo, where they have strong presence, British Paints is planning to improve their connect with the end consumers, through exciting offers and promotions.
As per Mr.Rahul Sharma (Chief Manager – Marketing),"This is our fourth grand launch , after Jaipur , Kota & Punjab region. We are looking forward to a series of launches across the length & breadth of the country in the months ahead. We are very optimistic that Splendor would get us good space among the premium emulsion brands in the country, and would further consolidate our position in this segment."
British Paints constantly aims to strive to connect with all their stake holders, be it architects, interior designers, channel partners, applicators and the consumers.