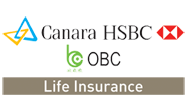 NewZNew (Chandigarh) : Canara HSBC Oriental Bank of Commerce Life Insurance has launched a unit linked protection product for High Net-worth Individuals (HNI) . The product has been designed keeping in mind the fulfillment of customers' dual goal of Investment & Protection. The Platinum Plus plan  aims to provide favorable investment performance to HNI customers' through lower charges, by providing loyalty additions & wealth boosters and by offering unique investment management features for wealth optimization in this ever varying market conditions. The product comes with host of flexible features which can be customized as per the changing goals and requirements of customers.
In this plan, the customer can design his/her investment pattern with combination of upto 6 unit linked funds ranging from 0% to 100% equity exposure. The customers can also utilize switch and premium redirection to take advantage of the market movement or align it with changing risk preference. The Company has also introduced a New Fund, India Multi-Cap Equity Fund, which seeks to provide favorable returns by investing through the breadth of the equity market.
Anuj Mathur, Chief Executive Officer, Canara HSBC Oriental Bank of Commerce Life Insurance Company Limited said, "
The new addition to the product range enables us to serve customers from diverse profiles along the dimensions of income, life stage needs and risk. We believe in offering products through need-based approach and we will continue to intensify our range of offerings so as to allow our customers to opt for solutions that best meet their needs".
Key Benefits of the Platinum plus Plan
ü  Flexibility of Premium Payment for limited or entire period of Policy
ü  Multiple Investment Management Options to enable optimized returns from the Policy:
Self Managed Option (SMO): Choice of investing upto 6 different Unit Linked Funds with equity exposure ranging from 0% to 100%  basis risk preference;
Systematic Transfer Option (STO): Enables customer to enter volatile and unpredictable equity market in a systematic manner;
Return Protector Option (RPO): Helps customer in protecting their gains of equity market by automatically moving such gains into low risk fund to avoid future equity market volatility;
Auto Funds Rebalancing Option (AFR): Helps customer maintain allocation of  their investments in a specific proportion across funds, irrespective of market movements; and
Safety Switch Option (SSO): Enables customer to systematically move your investment into low risk fund near maturity to safeguard returns.
ü  Loyalty Additions & Wealth boosters during the Policy Term as additional allocation of units to boost returns on investment
ü  Flexibility of switching and redirection between the fund options to take advantage of market movements or change in risk preference
ü  Liquidity to take partial withdrawals to help customers meet unplanned contingencies or meet changing needs of their family
ü  Tax benefits on Premiums paid and benefits received during Policy Term under Section 80C and Section 10(10D), as per the Income Tax Act, 1961, as amended from time to time