Cancer survivor creates fashion collection using unique techniques: A city based fashion designer Rashmi Bindra (53) did not let her spirit down during her life's most difficult phase but instead found true love for her passion, when she was diagnosed with breast cancer in 2017.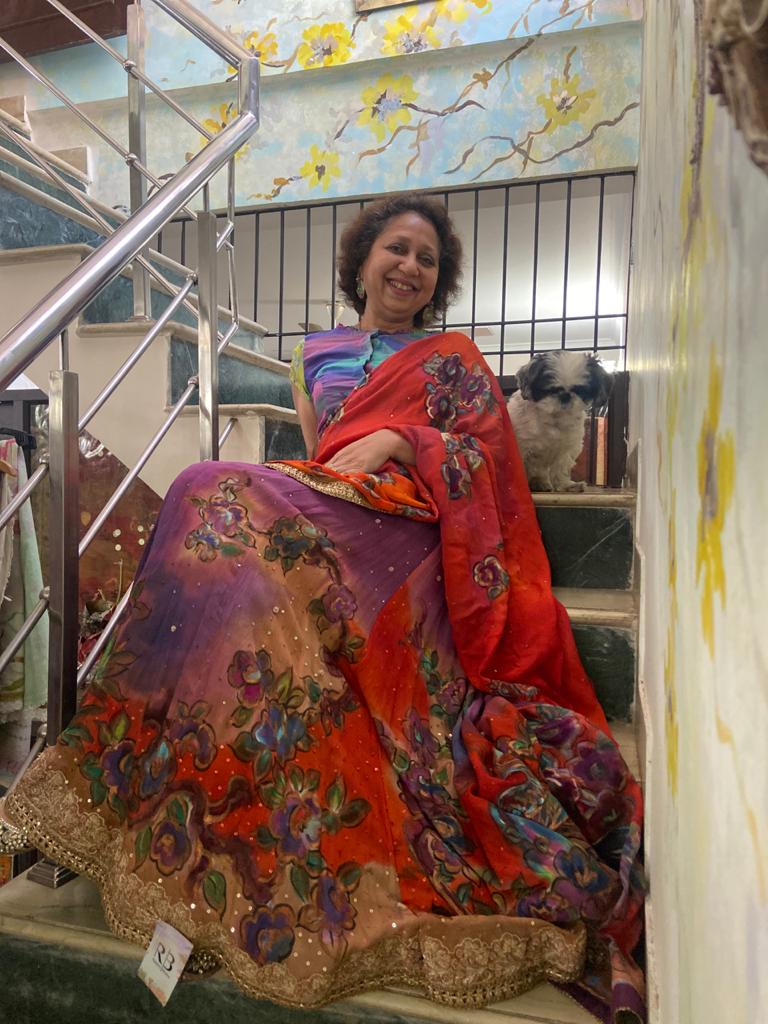 It was a tough time for her as  she had to undergo a mastectomy followed by as many as 8 chemotherapies and 20 radiations.
Rashmi Bindra said, "You never know how strong you are until 'being strong' is your only choice. I embraced the challenge, God threw at me . It was during this phase that I found supreme solace in designing and painting which helped me calm my nerves. I found a new creative energy flowing within me and it is because of this that some wonderful creations came out. These in turn helped me know that life is beautiful and we must enjoy every bit of it and pursue what we like. I was able to beat cancer with the right treatment and a positive outlook."
Rashmi further said, "Starting this October – which is also observed as 'Pink October', the month of Breast & Cervix Cancer, I thought of sending out a message which could motivate women suffering from breast & cervix cancer and even survivors. I wanted them to know that there is a treatment for cancer and life after it. To meet this objective I have created a collection named 'Tapasya', which is in a way my soul's connection with my 'hand painting technique'." Rashmi's collection is supported well by a 'hand knit' collection by her mother 75-year-old Santosh Juneja. 
Elaborating more on the collection Rashmi said, "Every piece I have made in this showcase is different, I have resorted to different techniques of hand paints using  wax, organic colours, leaves, flowers  etc on different genres of fabrics like chanderi, cottons , satin, chanon, chiffon, kota , Kashmiri silks, organza , monga and banarsi silk."
It is noteworthy that Rashmi Bindra is also associated with Sahayata Charitable Welfare Society, for spreading awareness and fundraising.
Rashmi added, "My association with Sahayata has given me hope that there is a beautiful life after cancer. I also help lots of weavers and artisans dependent on handicrafts by working on their weaves and even finding a market for their creations to give them a livelihood. I appeal to cancer patients and survivors to find meaning in life and pursue their dreams. These will surely give them  success."
Going back to her latest collection Rashmi said, "There are three special features of 'Tapasya', one is its totally based on handicraft, be it paints or blocks, secondly it features hand knitted ladies cardigans , caps , stoles and new born babies cardigan sets with buttties, caps and leggings by my 75-year-old mother , Santosh Juneja, from whom I have learnt a lot and hope to pass it on. Thirdly it has hand crafted weaves , direct from the weavers , be it cotton banarasi dupattas or fabrics ."
From October 28th till October 31st  October , 11.30 am till 7pm.
At : 439 / 15 A , Ground floor , Chandigarh.
Make a call or connect on whatsapp for further details 9815499702.