Chandigarh zone leading in compliance under GST system : Chief Commissioner, Chandigarh Zone
E-way bill functional on optional basis in Punjab : ETC Commissioner, Punjab
Government has issued 280 notifications and 47 circulars and constituted 18 Working Sectoral Groups & 9 Committees, including law and fitment Committee to address the industry pain points, said Mahender Singh, Member – GST, CBIC while addressing at the CII- CBIC Open House on GST today at CII Northern Region Headquarters at Chandigarh. Anticipating the concerns being faced by the industry in the GST regime, Central Board of Indirect Taxes & Custom (CBIC), as part of its out-reach to trade and businesses, has ushered in a series of Open House forums across the country to address the teething troubles resulting from transition into a new tax system, he added.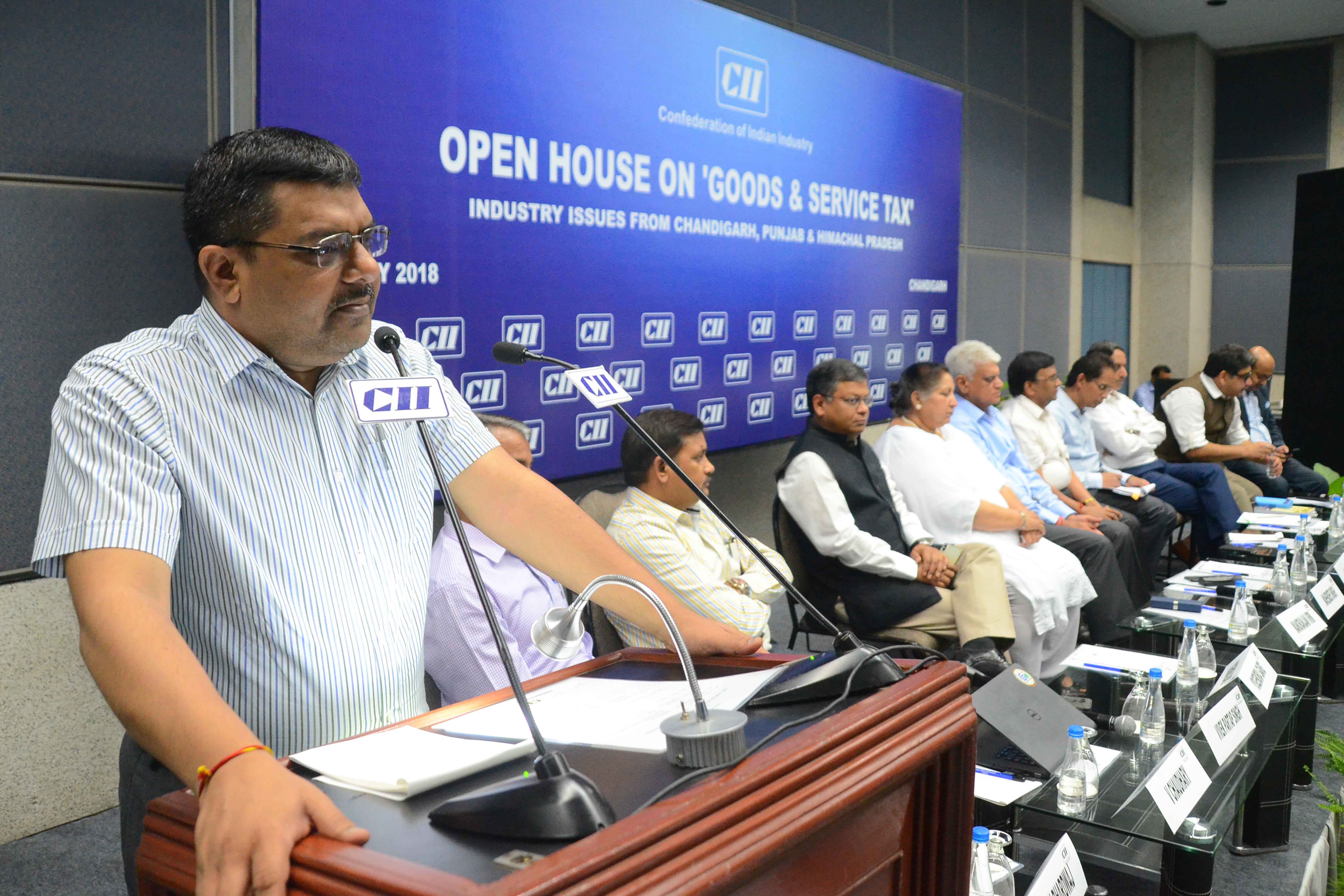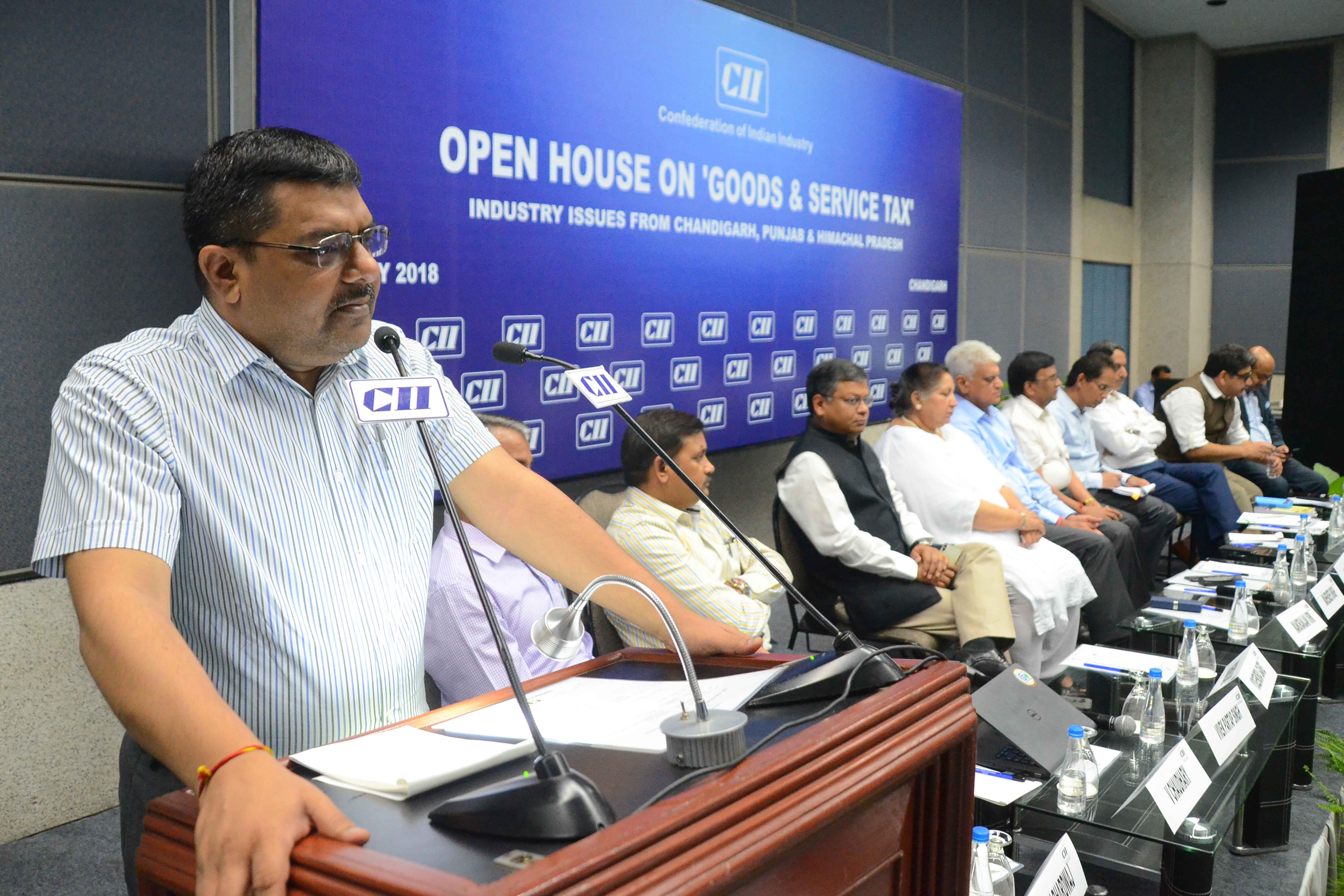 Although till now, around 6 crore e-way bills have been generated, there are certain technical glitches being faced by the industry, and through these open house interactions, CBIC expects to understand and resolve the issues being faced by the industry, said Singh.
On the compliance in the Northern Region, Singh expressed his satisfaction and shared that the Chandigarh zone, including Punjab, Himachal Pradesh and Jammu & Kashmir is spearheading the nation in the GST compliance.
Manoranjan Virk, Chief Commissioner, Chandigarh Zone, CBIC expressed that during the course of last one year, the Chandigarh Zone CBIC has endeavoured to be a responsive, transparent and responsible tax administrator, connecting with the industry at the individual level to resolve their GST related issues. As a run up to smooth working under the GST regime, GST Helpdesk and around 25,000 outreach programmes have been organised across the country. Chandigarh zone has emerged as national leader in compliance under GST system, with Punjab having 92 per cent filling of the assessment, she added.
Vivek Partap Singh, Excise & Taxation Commissioner, Punjab highlighted the Punjab State Government's commitment towards smooth implementation of the GST. He assured that all the technical issues related to GST process like refund etc are being resolved and soon the refunds will be issued in a time bound manner. He also shared the e-way bill on optional basis have been functional in Punjab recently and invited the industry to adopt the same for ease of doing business.
A very well attended open house, covering large area of GST regime, no wonder the region is leading in GST compliance, cited Yogendra Garg, Additional Director General – GST, CBIC. He further added that more such useful interactions should be organised in future. Echoing Mr Garg's thoughts, S K Rahman, Additional Director General – GST, CBIC also shared that these kind of GST open Houses bridges the gap between trade expectations and government policies, becoming beneficial to both the stakeholders.
Sanjay Bhardwaj, Excise & Taxation Additional Commissioner, Himachal Pradesh, sharing the progress made by Himachal Pradesh informed that the State has made progress in terms of registration, return filling etc.
CBIC officials, including P K Jain, Director General – Audit, CBIC; Yogendra Garg, Additional Director General – GST, CBIC; S K Rahman, Additional Director General –  GST, CBIC; Shashank Priya, Joint Secretary, GST Council and Vashishtha Chaudhary, Senior Vice President, GSTN addressed a host of industry issues on GST related to filling, technical glitches, GST rates, returns, rates etc during the session.