NewZNew (Chandigarh) : Age of 16 is the sweetest time of one's life. In 2016 Connect Broadband urges us to be sweet 16 again. "What would you do to be 'Sweet 16' in the coming year?" Connect broadband, market leader in broadband and fixed line services invites its customers to participate in an exciting New Year contest 'Sweet 16' on Facebook, and a chance to win a brand new Tablet. To participate in the contest, customers just have to post their photograph with friends, explaining what they will do to be sweet 16 again in 2016. The photograph with maximum Likes and best write up will win a Tablet from Connect Broadband.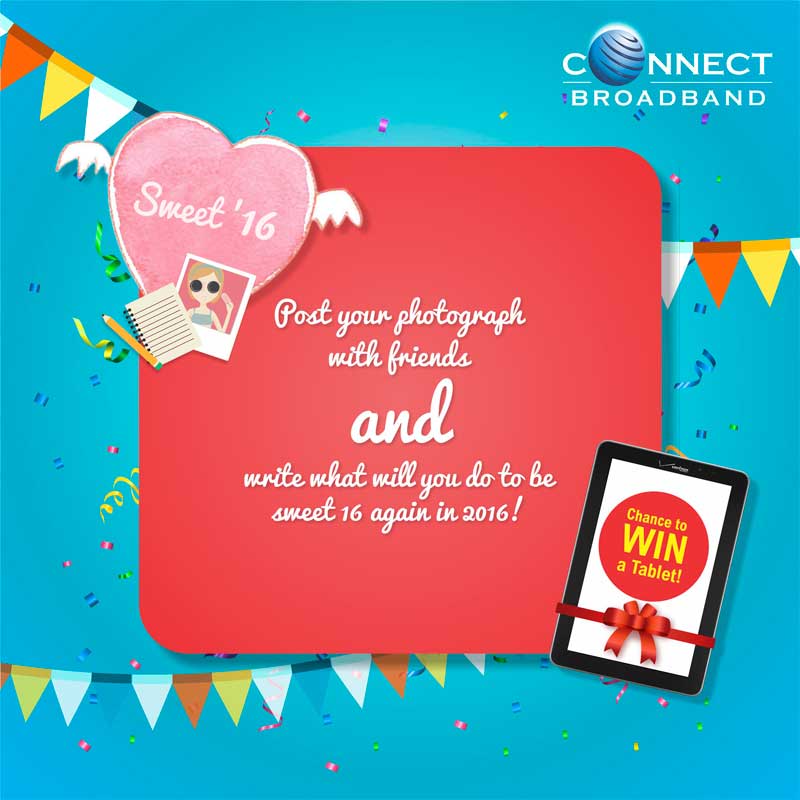 Connect 'Sweet 16' Facebook Contest inspires people to embrace the New year's spirit and share their own stories of celebrating this season as Sweet 16. The Contest will kick-start on December 30, 2015 and will culminate on January 5, 2016. Customers and fans can post their photos to www.facebook.com/connectpunjab. The teleco has also made a special video titled 'Sweet 16' for the New Year. You can watch the video on teleco's Facebook and You Tube channel.
Speaking on the occasion, Mr Arvind Bali, Director and CEO, Connect Broadband and Videocon Telecom said, "Just as Connect inspires customers with great value added services, this holiday season, we want our fans to share what inspires their greatest giving moments. The Contest is a way to engage with them and celebrate their lives with them".