Witness the speed faster like never before with Celkon' s new 8inch & 7inch , 4G Tablets
Super-fast 4G LTE connectivity ensuring speed for information & entertainment on the go
4G Tab-8 & 4G Tab-7 supported 1.3GHz Quadcore processor & enabled with 1GB RAM and 8GB ROM
NewZNew (Chennai) : Celkon Mobiles (www.celkonmobiles.com), With the intention to expand the nascent 4G market with the best in class technology, Celkon Mobiles today announced its endeavor to offer superfast 4G LTE connectivity on Tablet PCs' to the Indian consumers. To build on to the leadership position in the Indian smartphone market, the company launched its flagship product 4G Tab-8 and Tab-7 in the hands of his Excellency The Governor of Tamil Nadu Dr. K. Rosaiah.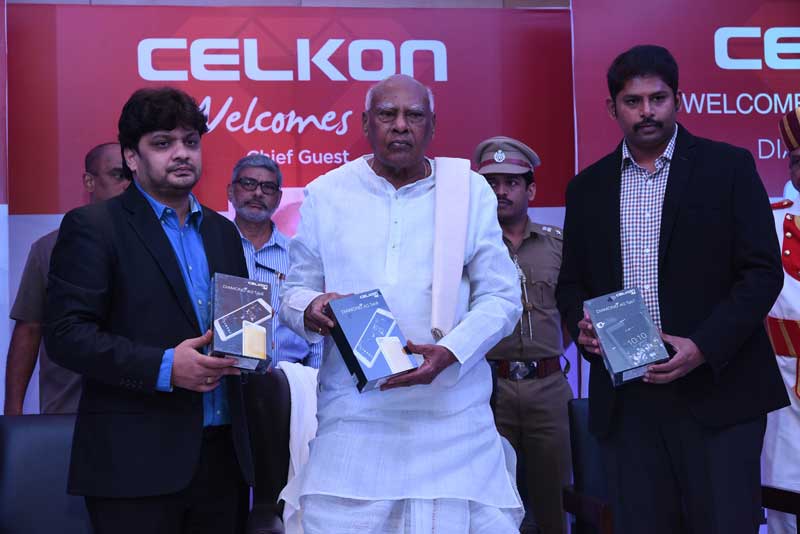 The company has been consistently revolutionizing the 4G market with the launch of some compelling affordable smartphones and aims to help the Indian consumers experience the true potential of 4G with this new launch.
Diamond 4G Tab-8: Packed with delightful features and exciting specs in the 8inch tablet range. The Android Lollipop 5.1, powered by the 4xCortex A53, 1.3GHz Quad core processor comes with 1GB RAM and 8GB ROM and 32GB expandable memory. This dual Sim supports (LTE, WCDMA & GSM) 4G, Quad Band GSM 850/900/1800/1900, WCDMA 2100HSPA+(3G). This model also supports LTE 1800/850MHz (B3/B5) FDD, 2300 MHz (B40) TDD (4G) DATA 4G – Cat-4 DL 150Mbps, UL 50Mbps. 3G HSPA+ – 42.2 Mbps & 11.5Mbps. A 3.2 MP Rear camera with flash, HD IPS Display with full lamination, 5-point Capacitive Touch and a 4000mAh battery. This performance beast, 4G Tab-8 tablet pc is affordably priced at Rs.8333.00. Exclusive offer for college students: Get Rs.1000 discount.
Diamond 4G Tab-7: A 7inch dual sim 4G+4G(LTE, WCDMA & GSM), is a 1.3GHz quadcore cortex A53 processor Android 5.1 lollipop having 8GB ROM , 1GB RAM | 32 GB expandable memory supported by 3.2MP Rear Camera with Flash and front camera also supports OTG is a beast with 3000mAh is affordably priced at Rs.6333.00. Exclusive offer for college students: Get Rs.500 discount.
Commenting on the launch, Mr. Y Guru, CMD, Celkon Mobiles said, "India is at the stage of revolution and we expect 4G technology to push internet usage to an exceptional level. Consumer demand is constantly shifting towards devices offering multi-tasking capabilities. Over the next few months, we are all set to launch a series of 4G LTE enabled devices across a range of price points each addressing unique needs of the Indian consumer. Our popular series of Millennia & Campus will gradually move to 4G offerings. With a complete portfolio of quality 4G LTE enabled devices, we are confident of thrusting the next wave of mobile technology ecosystem in the country."
Mr. Murali Retineni, Executive Director-Celkon Mobiles said, "We are pleased to introduce yet another exciting model in the Tablet PC segment. The 4G Tab-8 is the best in line in its category with matching those of high-end Tablets Pcs in the 4G segment. Moreover, the device is a performance beast as one can push boundaries with performance with Speed and processing data at the speed of light. With the launch of this 4G Tab-8, Surfing on 4G networks is said to be at least 5 times faster than any other 3G Tab and enables the consumers to download movies, stream video and music, share photographs, surf internet and achieve much more out of their gadget with great ease."
The 4G Tab-8 with its superfast 4G internet gives the consumers all the tools right at their fingertips to conquer the world be it your presentations or finding the perfect night stops. Heavy web downloading, hard-core gaming, high-quality premium video viewing without any lag ensures the users are on top of everything.
Celkon Mobiles has constantly launched innovative offerings in Tablets, smartphone and feature phone categories. The company pioneered the Android Kitkat model in sub 3k category; the first ever by an Indian Brand with its Campus A35K. Celkon Mobiles is present in 10 international destinations including Africa, Sri Lanka, Nepal etc., apart from India.