newznew (Chandigarh) : Chandigarh Di Kudi Growing  Bollywood/Tollywood Actress Samaira Sandhu today visited Perfect Smile Dental Clinic in Sector-35C, Chandigarh, where she expressed that her smile could be maintained due to very great care of my teeth by Dr.Sarabjeet Singh, great Dental Surgeon, who is expertise in his jobs.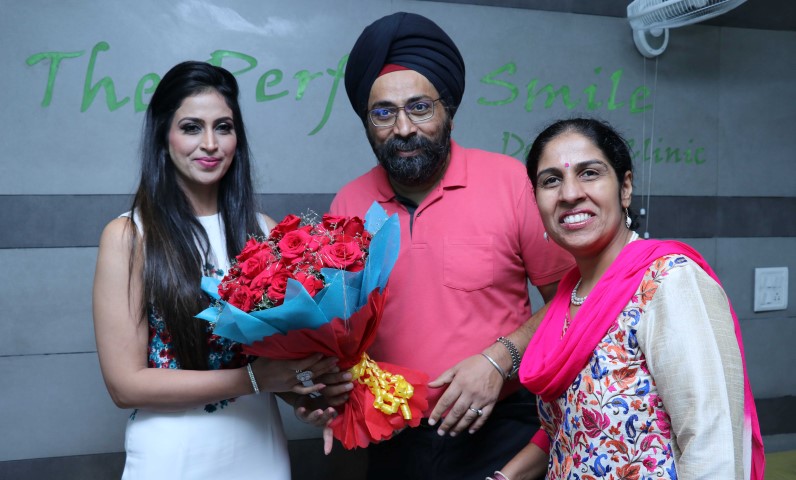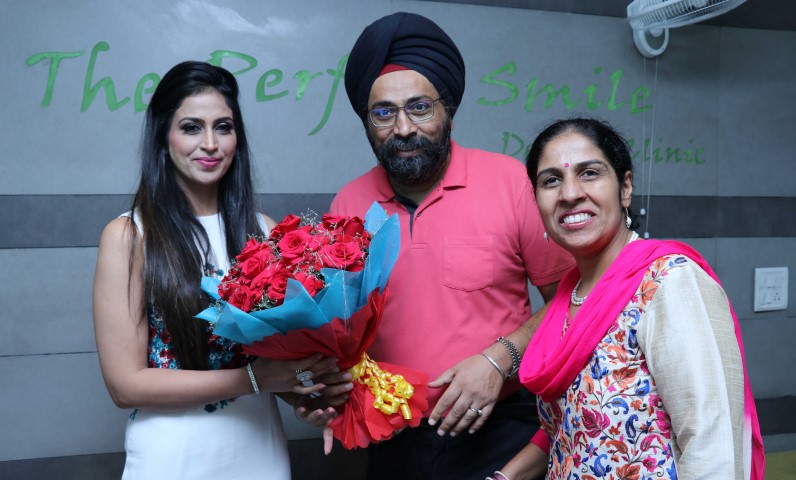 Further Samaira Sandhu shared her experiences, story of long journey from Chandigarh to Mumbai with Chandigarh Media, She expressed that despite great struggle, she began successful in being in casted as heroine in the recent Movies i.e. DHAYAM(Tamil) AND DAMAYANTHI (Telegu)
Samaira Sandhu further said that she is the daughter of Sandhu Family, was born at Ferozpore, a city on Punjab Border. After completion of her schooling and college tenure she qualified Software Engineering and subsequently did her MBA in HR. She served one of the prominent MNC as Software Engineer, but she was always on the look out to create something extra-ordinary.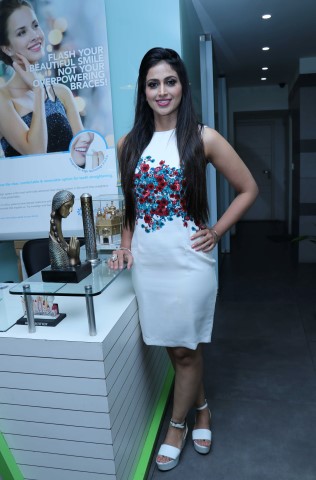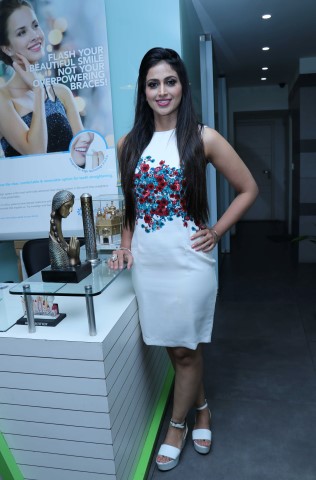 As she was very outstanding in Extra-Mural activities like writing, acting, modeling & theatre since her college days, which could help her in achieving her goals of life. Her novel HEAVEN IN A HELL and association with famous BOLLYWOOD Singer Jaspinder Narula, brands Like "Geetanjali Jewellers", NYKAA,  and "Cleopatra" earned her good respect and mileage and always proved her a worthy face for them.
Currently she is also working behind the camera in the direction of one Hindi project starring Sharman Joshi, to learn more perfection and technical aspects of a movie. She believes that such efforts would help her emerge as a perfect actress as she would be more refined in her shots and it would be a boon to her directors in her upcoming projects.
This way life is marching ahead with lot of struggle, but after the struggle when success of life salutes it is an enjoyment, which gives utmost satisfaction.
Dr. Sarabjeet Singh is a renounced Dentist and founder of Perfect Smile Dental Clinic. The impeccable dental services provided by Perfect Smile Dental Clinic in Tricity went a step higher recently with the launch of their new certified Invisalign treatment. With this, Dr. Sarabjeet Singh became the first even dental surgeon in the Tricity region to provide this 'one of its own kinds' dental services. It is remarkable that Dr. Singh, along with Dr. Navreet Sandhu, earlier won the 'National Dental Excellence Award' for the consecutive year of 2014, 2015 and 2016. Dr. Sarabjeet upgraded his existing skills to Invisalign certification on 12 February, 2017 at Delhi. Within the span of just few years, Dr. Sarabjeet has provided the ultimate solution for dental care and oral hygiene in the region. The idea of encouraging oral hygiene, providing comfortable dental experience, and delivering excellent solutions to the unique dental needs of patients is the mission behind his dental team. The two astute gems of Tricity, Dr. Sarabjeet Singh and Dr. Navreet Sandhu, have evidently proven their mettle in the field of dentistry.