Chandigarh Urban Festival '19 on Feb 24 : In order to promote a feeling of togetherness & solidarity among the people of tri-city -Chandigarh, Mohali and Panchkula, Chandigarh Urban Festival (CUF)  -2019 will be organised  on February 24.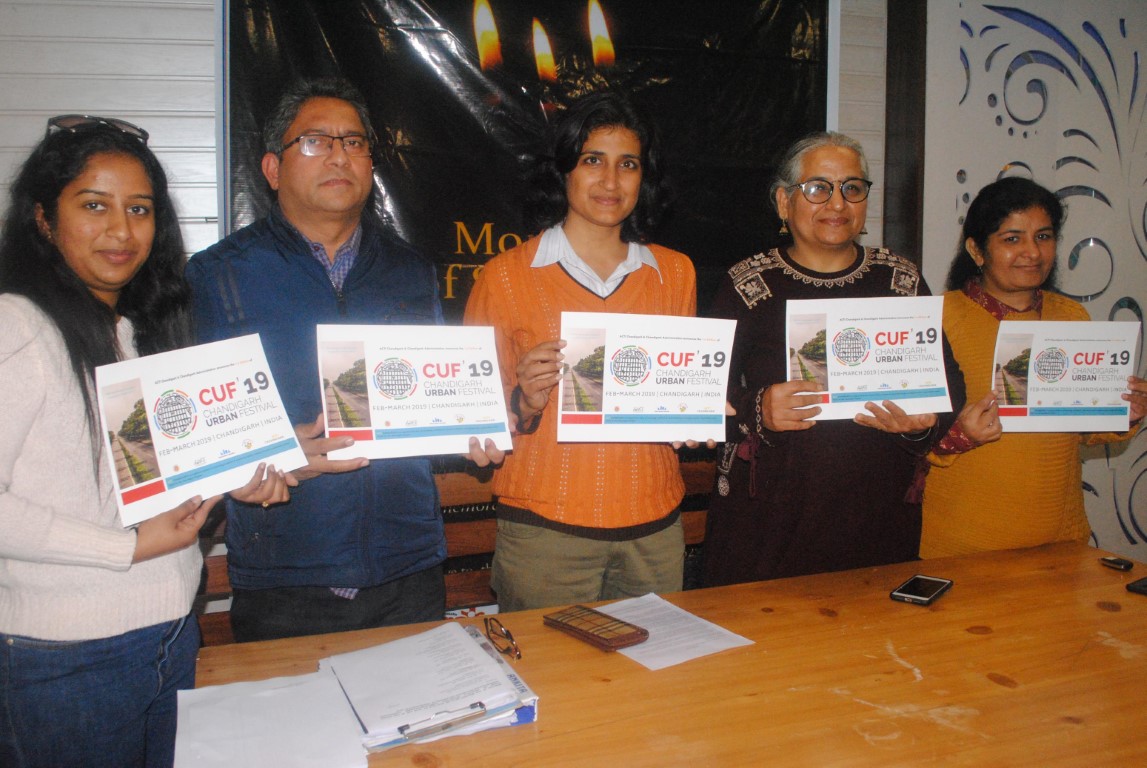 CUF is an annual event revolving around connecting the city  with its citizens.
The festival is being organised by ACT, Chandigarh, a registered not- for- profit society of practicing architects. To share details of CUF 19, a press meet was held by senior office bearers of the society at press club here.
Dr Prabhjot Kaur, Vice President, ACT Chandigarh said, " CUF '19 will showcase 25 cultural performances, a children's parliament, solidarity march and release of Sky lanterns. The children's parliament will be held at Capitol complex, Sector -1. The programme will begin at 10 am. Solidarity march will begin at 2 pm from Jan Marg Sec 9-10 intersection opposite Sec 9's UT secretariat. The festival will culminate with release of sky lanterns at 6.30 pm at Capitol complex. The last event will be a tribute from residents of Chandigarh to the Pulwama martyrs."
The cultural dance performances will be held along the route from Sec 10 till the end point of the march which will be  just before the Capitol complex. Seating will also be created for  residents to sit and enjoy the fervour along the march's route.
Ar Shilpa Das, Organising Secretary, ACT said, "The objective of the festival will be 'celebration of our city'. A unique exhibition will also be witnessed along the route of the march, with creative exhibits posted on trees along the road. Our city lacks  cohesiveness primarily because it takes a long time for anyone to develop a bond with the neighbours. We hope to break this barrier through CUF and unite everyone towards this goal of achieving solidarity."
Ar Rashmi Sharma, Founding Member, ACT said, "The neighbourhood initiative will provide an opportunity and a reason to everyone to take a first step and hold interactions in the common/shared spaces towards letting a bond develop.
Also a people's celebration at a city level can play an important role in developing a sense of belonging, which can be instrumental in taking ownership and participation of the citizens in the common issues of the city."
Fr. Reji Tom,  Member, ACT and Director, Don Bosco Navjeevan Society said, "We invite the youth, the citizens and organisations that will like to play a role in strengthening this movement. In this year's event on February  24,  we will express  our solidarity with the families of our brave soldiers who lost their lives in a cowardly terrorist attack at Pulwama. We unite in our strength and we unite in our grief."
CUF is supported by Chandigarh administration. The event will also see participation of students from 13 colleges and  universities of tricity.
"We would also like to announce a competition for photojournalists of Chandigarh. The photographers can take pictures of the festival and submit them to us. An expert panel will then choose the best photo and an award will be given to the photojournalist." Summed up Ar Shilpa Das.
Ar Shaifali , Member , ACT was also present during the press meet.