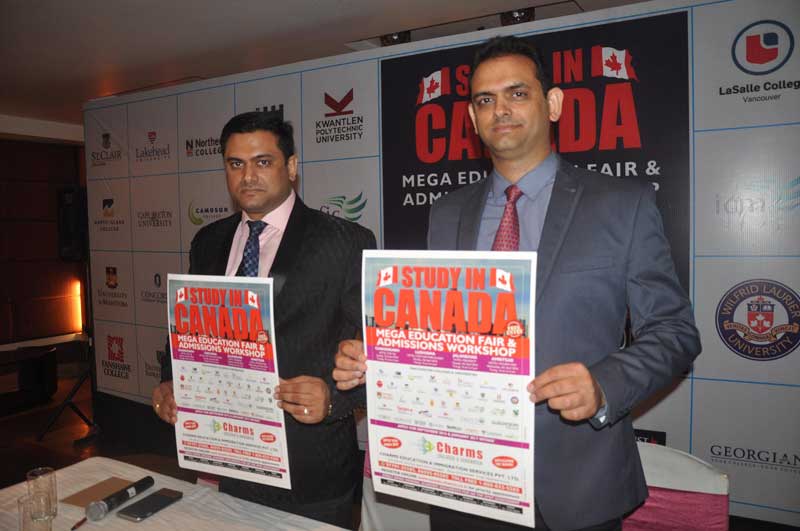 NewZNew (Chandigarh) : Higher Education in Canada has been in demand by Indian students in General, and Punjabi ones in particular. A Press Conference was convened by Canadian Education experts of Charms Education & Immigration Services, to talk about developments in this field. It was announced that Charms is organizing Mega Canadian Education Fairs in Chandigarh & Punjab for the benefit of prospective students who want to pursue their Canadian education dreams. "The fairs will bring on a single platform Recruitment Heads of 45 top government approved Colleges & Universities of Canada. Students will get a chance to interact with official representatives of Colleges & Universities face-to-face through a fair in Chandigarh on 3rd April at Hotel Taj, Ludhiana on 4th April at Hotel Fortune Park Klassic, Jalandhar on 5th April at Hotel President & Amritsar on 6th April at Hotel Holiday Inn." Said Rahul Paitka, MD Charms Education & Immigration Services Pvt Ltd.
Students will know right from the horse's mouth, about the appropriate college & course of study. Some special offers for students like scholarship, application fee waiver & on the spot admissions etc. will also be made. Latest information on student visa processing, minimum English language requirements will be shared. It is noteworthy that Charms Education & Immigration Services guides students find the right course, Institute & in provision of consultancy services for turn-key student visas for Canada.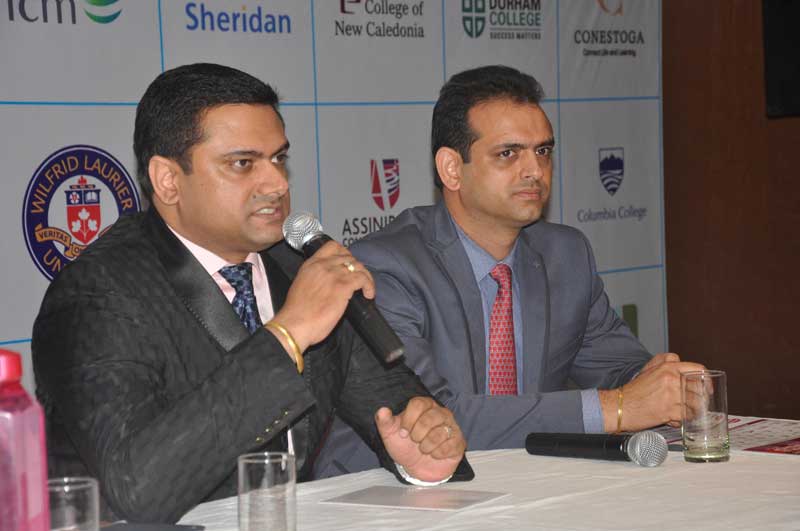 Experts shared facts related to some new rules in Canadian Higher Education. It was informed that while no old funds are required to be shown; a student going to Canada from India has to deposit $ 10,000 in GIC (Guaranteed Investment Certificate) account through his or her own saving bank account for admission in a college coming under Students Partners Programme(SPP). The good news is that this has now been extended to even non SPP Colleges & Universities. "In Canada an institute comes either under SPP ,General or University category. Now students applying for admission in even Colleges & Universities in general category have the option to apply with GIC. This is set to push up the growth of students going to Canada from India."  Said Manish Paitka, CEO, Charms Education & Immigration Services.
The province of Nova Scotia has launched new rules favourable to International students.The province will nominate candidates through the provincial nominee program for the federal government's new express entry system, which cuts down wait times to about six months.This new development will be helpful to the growth seen in the number of Indian students going to Nova Scotia , Canada. Some interesting statistics were shared. In total, the flow of number of Indian students to Canada is growing at a quick rate of 25 per cent year on year. ".With genuine and dedicated advice, Charms has one of the highest success rate in student visa numbers in Chandigarh and Punjab." Added Manish Paitka.
The Student Partnership Program (SPP) Canada has added new institutes recently and the students will be able to meet them in this fair. ICICI Bank Canada is the first Indian bank to be authorized by Canadian High Commission to accept GIC from Indian students and the great advantage for the students will be that ICICI Bank(Canada) officials will provide on the spot information for GIC requirements in the mega event.