Charmsukh Tapan Part 2 Ullu Web Series: Cast | Trailer | Release Date: Charmsukh Tapan Part 2 features Kajal Jha, Noor Malabika, Gaurav Rokde, and Neha Gupta in the main roles.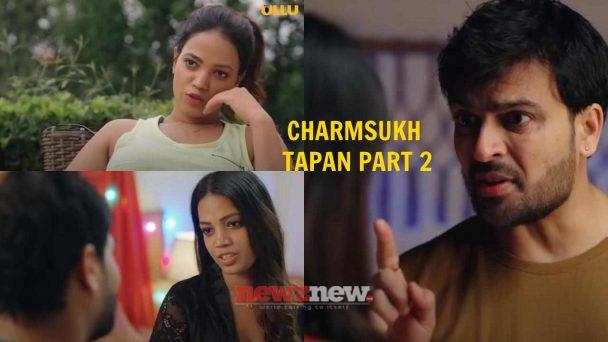 Directed by YKO, the sequel continues the plot with twists and turns from its previous season.
You can stream Charmsukh Tapan part 2 episodes online on Ullu on September 27 (Tuesday).
Charmsukh Tapan Part 2 Ullu Web Series Cast
Have a look at some important cast of Tapan part 2 web series from ullu
Noor Malabika (Rashmi)
Kajal Jha (Riya)
Gaurav Rokde (Vaibhav)
Neha Gupta (Payal)
Charmsukh Tapan Part 2 Ullu Web Series Story
The series centers around the love triangle relationship, in which Riya helps to quench with Payal for Vaibhav in a striking deal of her own quench and personal needs.
How To Watch Charmsukh Tapan 2 Series Online
Ullu app's Charmsukh has a unique collection of stories and episodes with different casts. Tapan is the latest episode of the Charmuskh series that is exclusively available on Ullu. It is available for both Android and iOS. You can subscribe to the platform based on your preference and prices like Rs. 333/Year, Rs 198 for 4 Months, and Rs 99 for 15 Days.
Tapan Part 2 Web Series Full Details
An overview of Ullu's Charmsukh Tapan Part 2 web series 2022,
Series Name: Tapan
Season: 1
Part: 2
Type: Web Series
Online Video Platform: ULLU
Language: Hindi, Tamil, Telugu, Malayalam, Bengali
Release Date: September 27, 2022