Chitkara University accelerates fight against Covid19: Chitkara University has launched a massive vaccination drive for the staff at the University campus.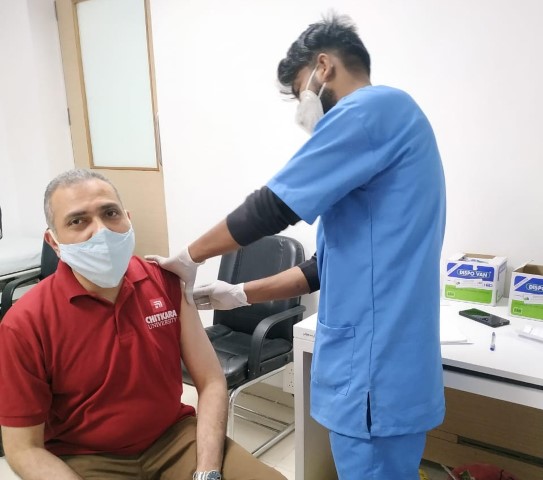 On behalf of the University & leading from the front, the Vaccination campaign was led by none other than Dr. Ashok Chitkara himself, Chancellor, Chitkara University and Dr Madhu Chitkara, Pro Chancellor Chitkara University.
VC, Deans, faculty and staff all followed the footsteps and participated in the drive. The university has also borne the vaccination cost for the support staff.
Chitkara University has been in the forefront in the fight against COVID 19. The University has made all attempts to adhere to all COVID protocols as set out by the Government and has been stringently following all the SOPs.
The University, in accordance with the Govt directions, has taken up vaccination drive with utmost sincerity and is making all efforts to ensure that the entire staff at the campus is vaccinated so that the chain of transmission can be broken.
Dr Madhu Chitkara, Pro-Chancellor, Chitkara University has reiterated on numerous occasions that "Vaccine is the best weapon to combat COVID19 and earnestly urged all to get vaccinated as per policy".
She appreciated the efforts of "YUVSATTA" to spread awareness and thereby instill confidence amongst citizens and was pleased to be part of their campaign.