NewZNew (Chandigarh) : SAEINDIA, a professional Society of Automotive Engineers, and Chitkara University today announced the MoU signing for hosting the virtual round of the upcoming BAJA SAEINDIA editions from 2017 to 2019. Mahindra & Mahindra is the title sponsor and the event is known as Mahindra presents BAJA SAEINDIA 2017.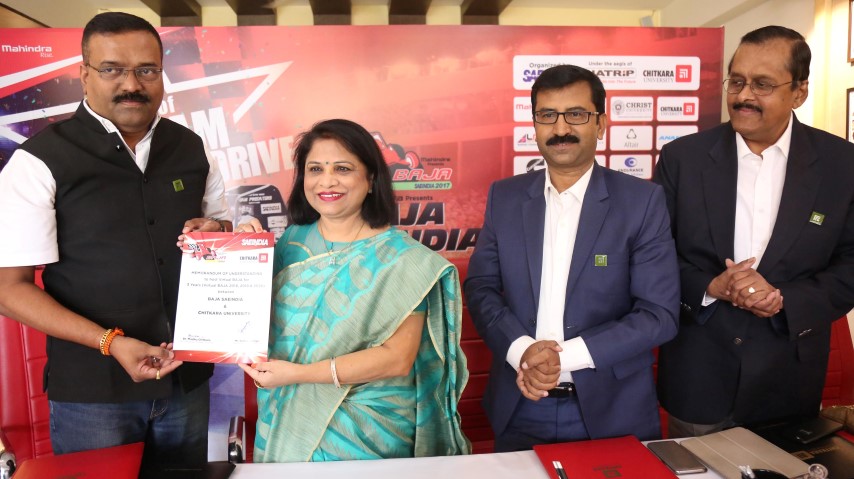 Chitkara University is known for its unassailable reputation for strong academic and industry connect. In order to expand the interaction of academia within the various industries, Chitkara University signed a
Memorandum of Understanding with BAJA SAEINDIA, a professional Society of Automotive Engineers. As a part of the MoU signed, Chitkara University will host the virtual rounds of the upcoming edition of BAJA SAEINDIA from 2017-2019.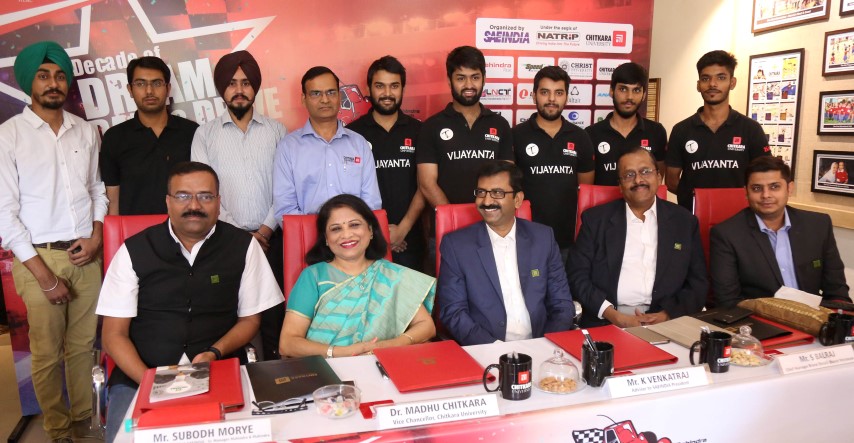 Commenting on the collaboration, Mr. Subodh Y Morye- Head Marketing & PR BAJA SAEINDIA – Senior Manager Mahindra & Mahindra said, "BAJA SAEINDIA is dedicated towards providing the next generation engineers a platform to showcase their knowledge and skills before the leaders of automobile industry. Chitkara University is amongst the well-known and esteemed institutions which have a strong academic heritage, state-of-the-art infrastructure and unmatched technological support required for an event of this stature. We are elated to join hands with Chitkara University and hope to successfully conduct the upcoming virtual BAJA SAEINDIA in the future."
In this two days event, the registered teams will be scrutinized for their knowledge and capability to participate successfully in the main event. Like last year, all the teams at the Virtual BAJA event will have to make a presentation on their design, followed by an online test, which will carry equal weightage in their final selection. The evaluation process will test every participant's knowledge on Rulebook and General Mechanical and Automotive Engineering questions. Based on the performance in Virtual BAJA, the teams would be selected for participation in the main event to be held in NATRiP, Pithampur near Indore.
BAJA SAEINDIA tasks the students to conceptualize design, build, test and validate a single-seater four wheeled All-Terrain Vehicle (ATV) to take part in series of events spread across a course of 3 days. The finale will be held at the NATRIP facility at Pithampur near Indore, from 15th to 19th February 2017 followed by the HR meet on 20th& 21st February 2017.
Ravi Kharul, Convener BAJA SAEINDIA 2017 & Chief Technology Officer, Endurance Technologies Ltd. also added, "Congratulations to Chitkara University for taking up this opportunity of conducting the Virtual BAJA event for the next 3 years. This is the first time such an association has taken place for 3 years between SAE India and any university.  Virtual event for BAJA 2016 was conducted at Chitkara University and the association with the University was excellent, thus delighted about this association.  Virtual event at Chitkara will help spread awareness of BAJA and also boost participation of colleges across North India, where there is enormous potential."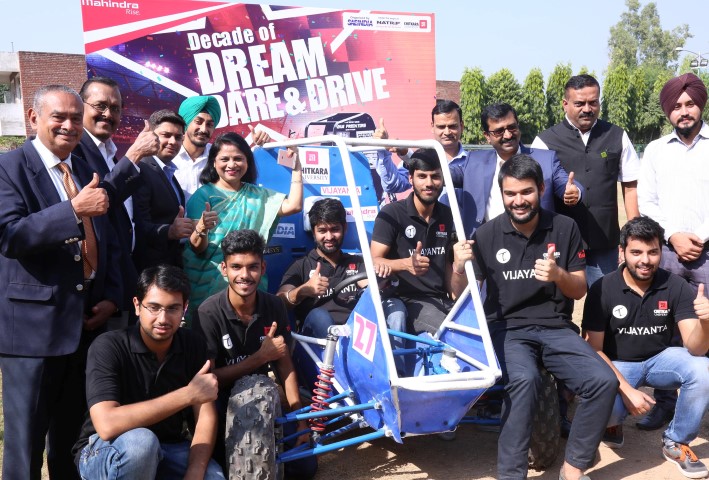 Adding to this partnership, Dr.Madhu Chitkara, Vice – Chancellor Chitkara University said, "I am delighted to see that over the years, BAJA has grown in popularity and has become a bigger event nationally signifying its increasing popularity. I have seen the enthusiasm of our students who have been participating in this annual competition. I must say it is an apt platform for the young engineering talent to showcase their skills and acquire a real life experience. We are glad to extend our support and look forward to contribute more to this competition".
BAJA also serves as a platform for young engineers to be recruited by some of the best companies in India. In the last 5 years, 326 engineers have been recruited through BAJA. The HR rounds held during BAJA is open to students in the final and pre-final year. Some of the companies which have been part of this recruitments are, Anand Group, ARAI, Cummins, Eaton, EMITEC, Endurance, GM, ICAT, John Deere, Mahindra & Mahindra AFS, SAE India, TVS Motor Company, Varroc Group, Xitadel, Eleation, CM Overseas etc.
BAJA SAE Series® is an event for the undergraduate engineering students, organized globally by the Society of Automotive Engineers, USA. The event spread like a wildfire since its inception in the year 1976 and broaden its horizon in the countries like USA, Mexico, South Africa, Korea, Brazil & India.