Inaugurated by Mr Viswajeet Khanna, Financial Commissioner – Forests and Wildlife & Principal Secretary, Punjab at Himachal Bhawan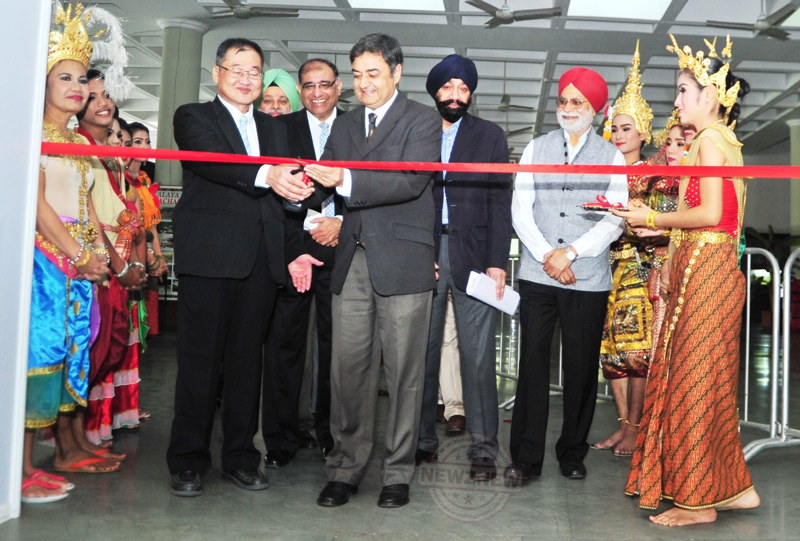 NewZNew (Chandigarh) : The Thailand Trade Show, being organised by the Confederation of Indian Industry (CII) and Department of International Trade Promotion (DITP), Ministry of Commerce, Royal Thai Government, started off in a colourful style, attracting huge crowds, especially women at Himachal Bhawan in Sector 28, here today.
Mr Viswajeet Khanna, Financial Commissioner – Forests and Wildlife & Principal Secretary – Civil Aviation, Labour, Housing & Urban Development, Punjab and Dr Chavalit Rojjanaprapayon, Minister – Counselor, Royal Thai Embassy formally inaugurated the 5-day Show.
Mr Khanna shared that "The people of tricity have really welcomed the Thailand Show and are attracted to their amazing products immensely; it is obvious from the huge response that the Show has evoked even on the morning of a working day in the middle of the week. Such fairs lead to rapid rise in the trade and cultural cooperation between various countries as also boost in economic ties."
Dr Chavalit Rojjanaprapayon, Minister – Counselor, Royal Thai Embassy shared that the trade and cultural ties between India and Thailand is growing particularly through the ASEAN community. Today, Thailand is one of India's important trade partners in the ASEAN region, with an aggregate bilateral trade expected to reach USD 16 billion by end of 2015. More than 1 million Indians visited Thailand in 2014-15, majorly from Punjab region".
"It has been CII's endeavour to showcase the finest quality and best variety of products from various parts of the World at a common platform for tricity's residents. The ongoing CII – DITP Thailand Trade Show is one such initiative", shared Mr Pikender Pal Singh, Regional Director, CII NR.
A Thai cultural troupe showcased some exquisite dance forms, which would be a highlight thrice a day on all five days at Himachal Bhawan.
Traditional Thai dresses, jigsaw Thai lamps, flowers, a big hit
All the stalls attracted huge crowds on the first day of the fair itself. The Thailand show brings a huge array of products for Tricity residents. Ranging from Rs 100 to 30,000 this show has something for every member of your family in its kitty.
A large number of women were fascinated by a good variety of ethnic Thai outfits of Premium Corner Ltd. Its variety of exclusive Thai silk gowns and one-piece dresses range from Rs 1000 to 3000. Its traditional Thai gemstone jewellery also attracted female shopaholics. Besides these products, Premium Corner brings a special range of ceramic fragrance dispensers for your cars.
Visitors also bought a lot of jigsaw Thai lamps made from recycled plastic and cloth at various stalls. The amazing range of these lamps comes up with 1+1 offer at an affordable price of Rs 250 -350. These lamps in various shapes like pumpkin, heart, big ball and sticks are break resistant and washable.
The artificial polyester flowers and trees of ginger orchids, banana, papaya, cactus, lily, cherry, tiger orchids (ranging from 250 – 1000), jewellery, herbal cosmetics, ladies' handbags made of Thai silk in leopard skin colours ranging from 400 – 1000 and jute bags, hair colouring shampoos, mugs, hot cases; children's doormats with interesting themes; rubber flip-flops, wooden carvings including wooden stools for kids with cartoons engraved, wonderful wooden and ceramic candle holders, namkeens and eatables like coated peanuts, peas and dried guava; and golden portraits of Lord Ganesha and Lord Buddha were major attractions, especially among the women.
Thai fruits like Thai guavas, Mangosteen, Dragon fruit, Rambutan and lychees were being feasted upon by visitors. The Thai foot, neck and shoulder massages proved to be quite rejuvenating, as there were queues of people waiting for their turns, with free demonstrations being provided by Thai specialists.
Other attractions which caught the fancy of the tricity residents included ceramic wind chimes, Thai doll key-chains, solar wood flowers and illuminating vases.
The special Thai Food Court serving Thai specialities like Thai Salads, Stir Fried Rice and yellow Noodles, Red & Green curry chicken and vegetables, for the first time in Chandigarh was another major highlight of the show.
The fair which is featuring 50 stalls commenced on Wednesday and is on till Sunday at Himachal Bhawan, sector 28, Chandigarh from 10 am – 8 pm.