CII-Yi to organise 3rd Edition of Corporate Premier League: Promotion of Sports across all spectrums of the society not only ensures inclusivity but also creates employment opportunities for its people.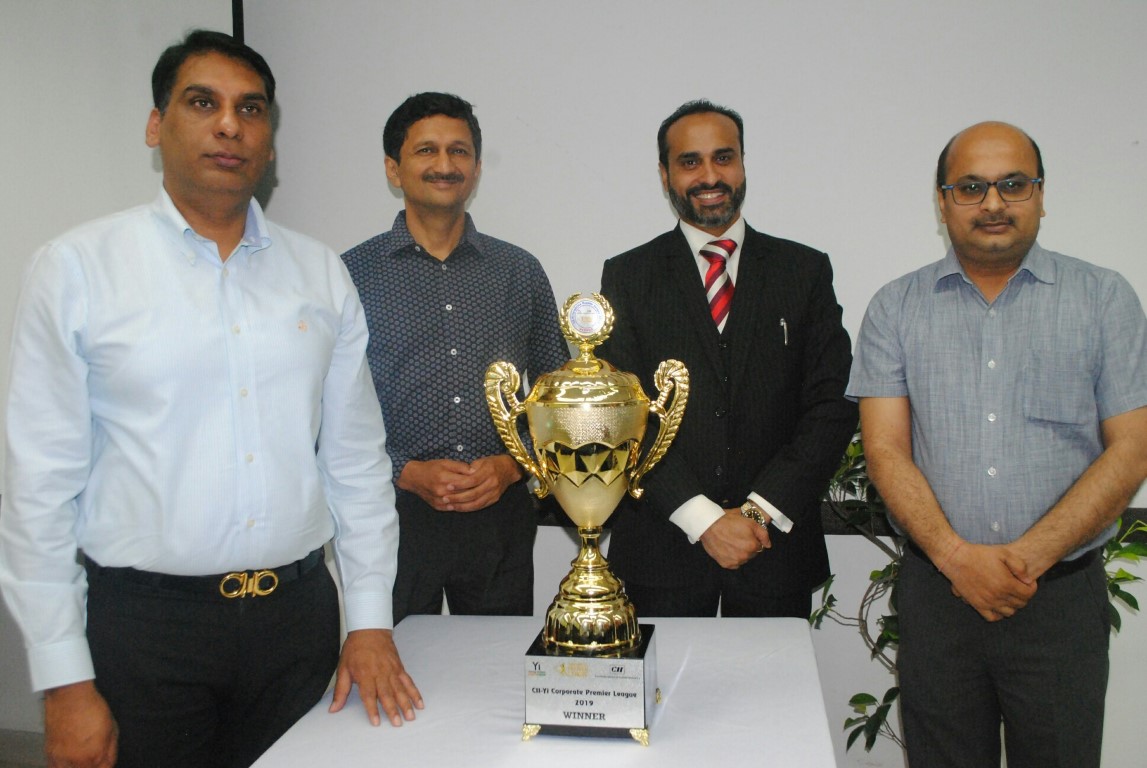 As part of its vision, CII – Yi has developed a plan to broad-base sports in the Northern region. CII – Young Indians Chandigarh Tricity Chapter is back with the third edition of one of India's biggest sports leagues – 'Corporate Premier League' (CPL) encompassing Cricket discipline, as announced in the Press Conference today held at CII northern Region headquarters at Chandigarh.
CII – Yi Corporate Premier League aims to reach out to the Corporate Cricket lovers who apart from their busy schedule spare some time for fun and want to show their talent in the sports field. As many as 10 teams are participating in the Corporate Premier League. The participating teams includes Luminous, Gabriel India Limited, Claas India, Tt Consultants, CII- Young Indians, Federal Mogul, Hyatt Regency Chandigarh, Finvasia, Ambrozia Warrior and Dabur.
The tournament will begin on 4 May 2019 and the final match shall be played on 28 May 2019. The teams are distributed into 2 groups/pools and draw of lots for grouping & fixture of matches was conducted today during the Press Conference.
There will be 4 League matches to be played by each team which will be followed by Semis and Final.  There will be three matches per day at different locations adjoining Chandigarh area and they are scheduled only on Saturdays and Sundays to avoid any productivity losses to the industry.
Every match will be a 20 over game and rules & regulations for every team shall be same as per BCCI guidelines. In every match there will be PCA approved Umpires and Scorers for an unbiased judgement.
Vivek Atray, Author, Advisor, Mentor, Motivational Speaker & Ex IAS also graced the occasion and said that "Not only children and people who have leisure time, but professionals with a busy schedule need sports too." Many of us forget to take time for ourselves to rejuvenate and balance our lives, he added. Mr Atray congratulated CII for this unique venture and appreciated the organizers for their efforts.
Anupam Gupta, Director, GBP Group also addressed the media and showcased his keen interest in the upcoming Corporate Premier League. He also facilitated the Pool Draw that determines the corporate teams and unveiled the Winner's Trophy along with Mr Atray.
Sarvjeet Singh Virk, Chairman, CII Chandigarh, said, "CII strongly believes that the role of sports in holistic development and social inclusion has a ripple effect on the socio-economic growth. It has been a transformational phase for sports in India with the launch of a 'unique innovative product' IPL in 2008 which showed the way for many sports and challenged the notion that sport in India can't thrive and prosper."
Arvind Kanwar, Chair, Yi Chandigarh tricity Chapter opined, "Through continued engagement and dialogue with corporates, Young Indians Chandigarh Tricity Chapter is enabling an environment that will be focused on promoting a sporting culture in the region and one that will place a special emphasis in recognising sports as an industry. One of the biggest benefits of participating in a corporate sports league is the bond it creates between co-workers. By being on a sports team together, co-workers are able to network and converse in a much more casual environment."
The Corporate Premier League is being supported by GBP Group, Ambrozia Corporate Catering, Cricketershop.com and RKM Housing.