Following the Prime Minister's clarion call on 2nd October 2014 for each individual to devote at least 100 hours to 'Swachhata' through the year The NCC Air Wing of P.G Government College Sector-11 is all set to to begin their ''SWACHH BHARAT  SUMMER INTERNSHIP''[SBSI] under the able guidance of their Nodal Officer Dr, Rakesh Thakur. 1 Chandigarh Air Sqn NCC on Thursday launched 'Swachh Bharat Summer Internship – 100 hours of Swachhta' under the supervision of Commanding Officer Wing commander M R Pandeya and Dr. Rakesh Thakur, NCC Caretaker and Nodal Officer NCC (Swachh Bharat Summer Internship) from Post Graduate Government College, Sector 11, Chandigarh.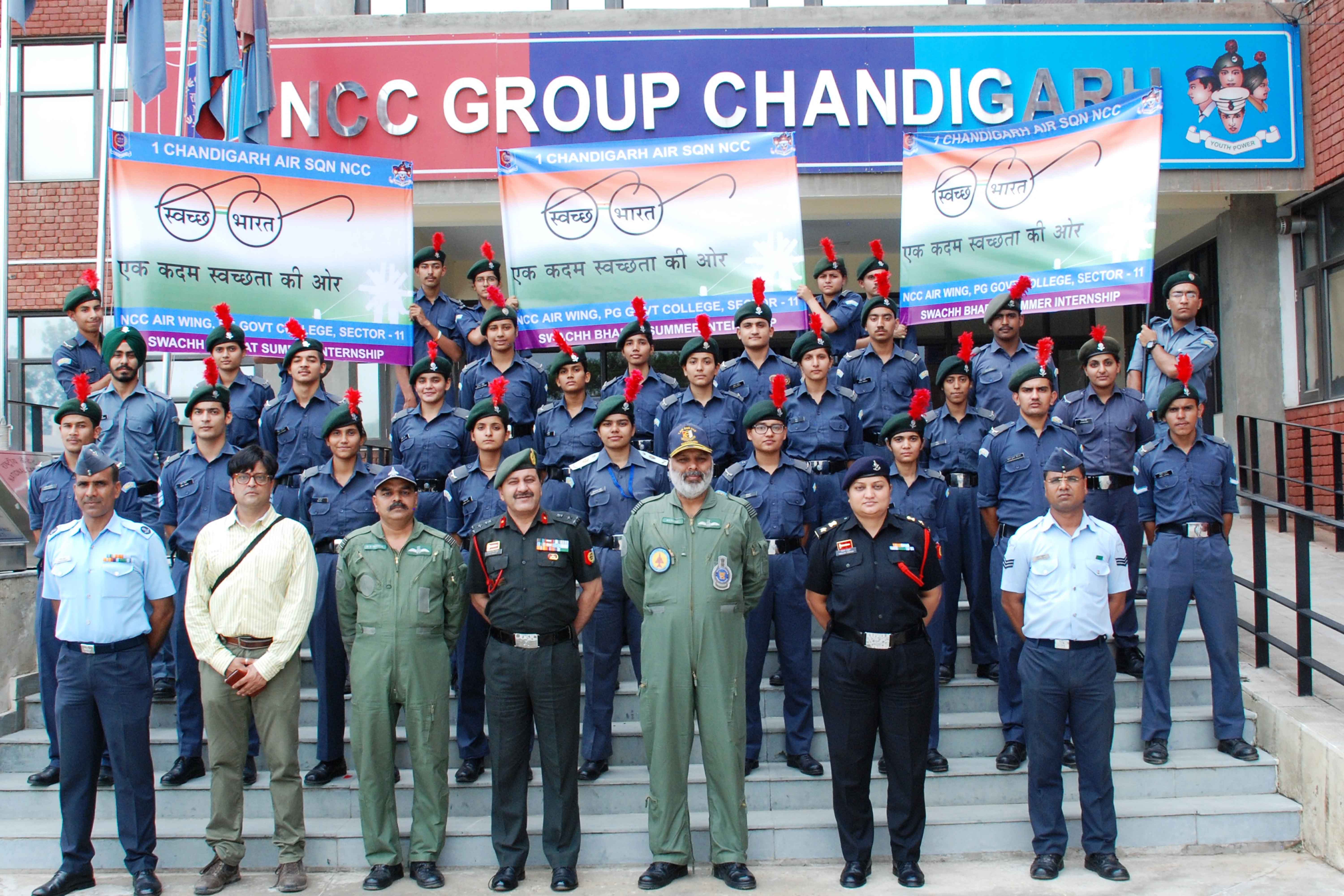 Three  teams comprising of 30 volunteer NCC Cadets including 10 Girls with their team leaders namely Cadet Warrant Officer Somalica Sharma, Cadet Amit Ramola and Cadet Shiva Vasan, along with officials of Chandigarh Air wing NCC was flagged off to Village Behlana by revered Group Commander NCC Chandigarh, Brigadier RS Thakur for 100 Hours of Swachhata' awareness campaign. The program aims to, Develop the skill and orientation of youth for sanitation related work, Bring youth across the country an opportunity to make a significant contribution to the swachhata revolution and Integrate youth in the community service in rural areas in the run up to the 150th birth anniversary of Mahatma Gandhi,said Wing Commander M R Pandeya, CO Airwing NCC Chandigarh.
The Cadets would undertake various activities like Behaviour change of people to use toilets, Information, Education and Communication (IEC) &Human Resource Development (HRD) activities .The reward and recognition for the cadets is that All participants will be given a Swachh Bharat Internship Certificate on completion of their internship and its approval by the parent institution, curriculum credits will be given to interns whose internship reports are found eligible to get credits by parent institution. The Best 3 interns/ teams will be recognized at college, university, state and national levels. Their awards will be: [a] College Level: Shields / cups and special certificates
Cash Awards : [i] Cash Awards in addition to certificates University Level: Rs 30,000, Rs 20,000, Rs 10,000 along with appropriate certificates
[ii]State Level: Rs 50,000, Rs 30,000, Rs 20,000 along with appropriate certificates
[iii]National Level: Rs 2 lakh, 1 lakh, Rs 50,000 along with appropriate certificates.
Dr.Rakesh Thakur and the NCC Air Wing Cadets of PGGC-11 Chandigarh as a  team would like to usher in a new cleaner healthy and hygiene tomorrow for the residents of Behlana in particular and for City Beautiful in general.