MOVE AIMED AT DOING AWAY WITH THIS UNHEALTHY PRACTICE
URGES GOI TO COME OUT WITH A FARMER FRIENDLY SCHEME TO EFFECTIVELY COPE UP WITH THE MENACE OF STUBBLE BURNING
LAVASA LAUDS THE EFFORTS OF THE STATE GOVERNMENT FOR CREATING AWARENESS AMONGST THE FARMERS ABOUT THE ADVERSE IMPACT OF STRAW BURNING
CS LISTS PATH BREAKING INITIATIVES TAKEN BY THE STATE GOVERNMENT IN THIS REGARD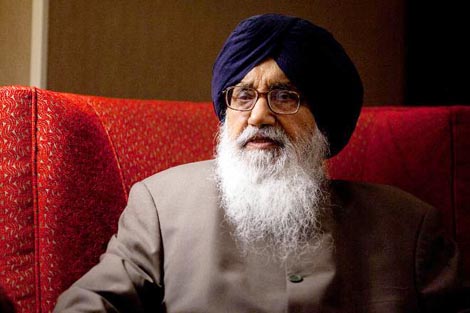 NewZNew (Chandigarh) : In a move to get rid of menace of straw burning in the state, the Punjab Chief Minister Mr. Parkash Singh Badal today announced to incentivize each village and district with a financial grant of Rs 1 lakh and Rs 1 crore, which were free from the stubble burning across the state.
Addressing the gathering on the inauguration of workshop jointly organized by Ministry of Environment, Forest and Climate change, Government of India (GoI), Central Pollution Control Board and Punjab Pollution Control Board here today, the Chief Minister said that this decision has been consciously taken to curb the practice of stubble burning, which was not only health hazardous but equally detrimental to the fertility of soil. Mr. Badal further said that he fully realized that merely resorting to punitive measures to end this curse would not yield any positive results unless the people were properly motivated to give up this anti-environment and pollution causing phenomena.
The Chief Minister called upon the Centre, state governments, agriculture scientists, environment experts and farmers to join hands for putting this unhealthy practice with multi dimensional problems affecting the human health besides creating ecological imbalance. At the same time he also called upon the farmers not to go for a mad race for sowing one crop after another just to reap maximum profits rather they should be enlightened enough about the disastrous effects of stubble burning, which had far more harmful implications thereby putting the very existence of human life in peril. Mr. Badal further said that of the farmers were all keen to grow crops in quick succession they should be properly trained to make use of the latest agriculture implements and machinery which would not only enable them to get the straw mixed into the soil thereby enhancing the fertility of soil besides not resulting in killing of soil friendly insects.
The Chief Minister called upon the GoI to come out with a farmer friendly scheme to effectively cope up with the menace of stubble burning by giving liberal incentives on such farm equipments and machinery adding he said that the state government was already giving subsidy on the purchase of such farm machinery to the farmers to encourage them to stay away from the menace of straw burning. Striking a positive note to create mass awareness about the ill-effects of stubble burning, Mr. Badal confidently said that the day was not far off when Punjab would lead the entire country in getting the state free of straw burning as it had already created a niche by accomplishing several feats in agriculture advancement like ushering in green revolution in mid 60s thereby transforming our country from food deficit to food surplus nation.
Speaking on the occasion, Secretary Ministry of Environment, Forest and Climate Change, GoI, Mr. Ashok Lavasa lauded the initiatives of the state government for creating awareness amongst the farmers about the adverse impact of stubble burning on the very survival of the mankind. He also assured the Chief Minister of extending all possible help and assistance to the state in its endeavor to make Punjab a 'stubble burning free' state.
Sharing his views, state Chief Secretary Mr. Sarvesh Kaushal said that the path breaking initiatives taken by the state government under the stewardship of Chief Minister in this behalf were extremely praise worthy. He said that Punjab had already taken a lead in making judicious use of its biomass by using it as a feed in bio-mass based power projects, fuel in form of briquettes in the brick kilns, inputs for paper making and others. Mr. Kaushal also apprised that the Union government has sanctioned Rs 6 crore for the installation of plant for producing Ethanol from Paddy Straw at Hoshiarpur.
In his opening remark Additional Secretary Ministry of Environment, Forest, GoI and Climate Change and Chairman Central Pollution Control Board Mr. Sushil Kumar said that this workshop would go a long way in sensitizing all the stakeholders about the gravity of stubble burning and urged all the eminent environmentalists to take a call on this issue in the larger public interest.
Meanwhile Additional Chief Secretary (Development) Mr. Suresh Kumar, Secretary Science Technology and Environment Mr. KAP Sinha, Prof. and Head Soil Sciences PAU Ludhiana Dr. HS Thind, Secretary Punjab State Farmers' Commission Dr. Balwinder Singh Sidhu and progressive farmer Mr. Vikram Ahuja also shared their inputs during the technical sessions on the different aspects of stubble burning in order to evolve a consensus for formulating a viable policy in this behalf.
Prominent amongst others who attended the workshop include Chief Parliamentary Secretary Mr. GS Babbehali, Secretary Rural Development Mr. A Venuprasad, Secretary Power Mr. Anirudh Tiwari, and Chairman Punjab Pollution Control Board Mr. Manpreet Singh Chattwal.