ROLLS ON RED CARPET TO WELCOME NRIs DESIRABLE OF INVESTING IN STATE
LISTS SEVERAL PATH BREAKING INITIATIVES TAKEN BY THE STATE GOVERNMENT FOR WELL BEING OF NRIs
PARTICIPATES IN PRAVASI BHARTI DIWAS AT GANDHINAGAR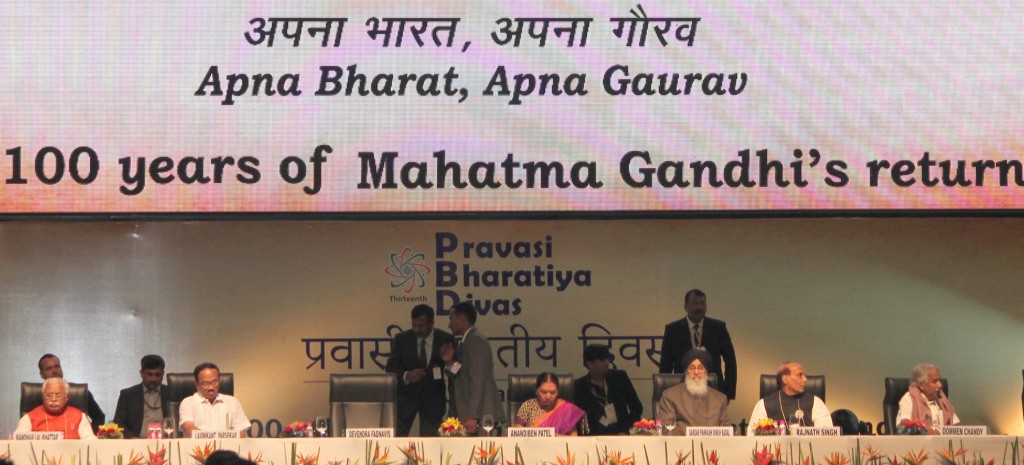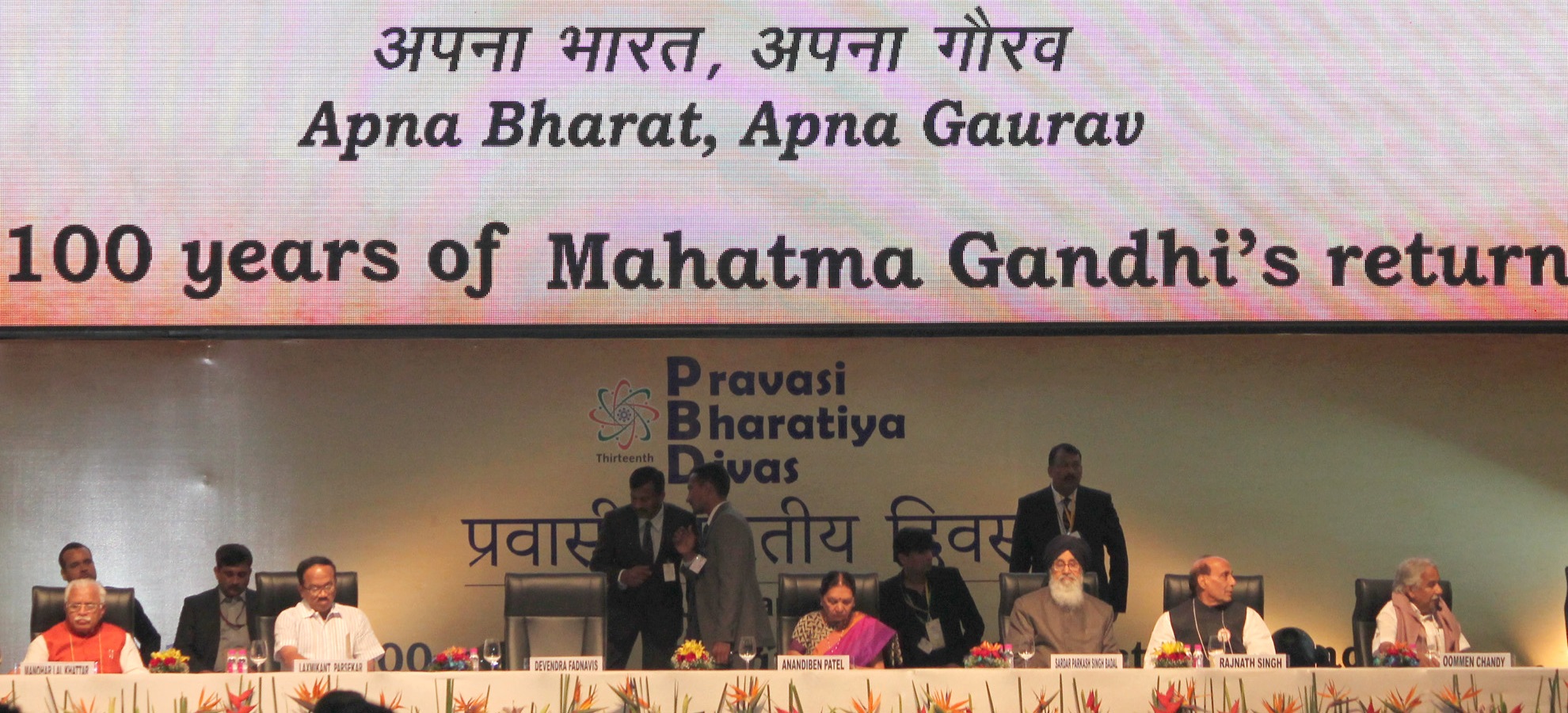 NewZNew (Gandhinagar/Gujarat) : The Punjab Chief Minister Mr. Parkash Singh Badal today called upon the NRIs especially the Punjabi diaspora to make huge investments in the state as the Punjab Government has already   taken out- of- the- box initiatives to ensure hassle free and entrepreneur friendly climate.
Addressing the NRI brethren at Gandinagar on the three day Pravasi Bhartiya Divas, the Chief Minister lauded the enormous contribution and vision of Prime Minister Mr. Narendra Modi, who created an ambience of investment in the country with the path breaking steps to make India as the best investment destination. He said that it was a matter of great pride for us that all the NRIs irrespective of caste, color, creed and their geographical location have proved their mettle in every aspect of life by the grace and blessings of Almighty. Probably, we Indians in general and Punjabis in particular are the only community in the world which can undertake any daunting task by the dint of their hard work, sincerity and commitment, added Mr. Badal.
Recalling the socio-cultural ties of NRIs with India-the soil of their origin, the Chief Minister said that this platform was not merely restricted to wooing them for making investment here rather it was obligatory on their part to contribute in the overall development and prosperity as they had emotional ties with their motherland. Mr. Badal said that he personally feels that NRI brethren must contribute enormously in the promotion of education and healthcare services besides strengthening economic and social ties, which was all the more important for our future generations, who were gradually being detached from their roots. Laying a red carpet for the NRI brethren to invest in Punjab, Mr. Badal said that the state government has taken several path-breaking initiatives for the sons of the soil who have migrated to other countries. He said that to help NRIs in getting their urban properties evicted in an easy and quick manner amendments have been made in Punjab Urban Rent Control Act for eviction of multiple properties for multiple times. Likewise, Mr. Badal said that for saving Punjabi youth from migration related frauds and harassment, the Prevention of Human Trafficking/Smuggling Act has been enacted.
The Chief Minister also said that to safeguard NRI's and daughters of Punjab from marriage related frauds, the compulsory Marriage Registration Act has been enacted. Similarly he said that for facilitating and expediting the registration of NRI marriages the power of marriage registration has been given to DCs, District Revenue Officers, Tehsildars and Naib Tehsildars. In the same manner, Mr. Badal said that to facilitate quick disposal of embossing of Power of Attorney made by NRIs, the powers for stamping/embossing of power of attorneys has been given to Deputy Commissioners for properties falling under that district; to Divisional Commissioners for properties falling within that division and to Financial Commissioner Revenue for properties falling under more than one division.
Listing some other path breaking initiatives, the Chief Minister said that for ensuring strong bond with the motherland, Punjab has given 10% reservation for NRIs in allocation of residential and industrial plots. To recognize NRI status of Punjabi NRI's and to provide them various facilities like discount/ reservation etc. at various shops, Malls,   Hospitals, Schools, Jewelry Shops etc. a scheme of issuing NRI Privilege Card has been started. Likewise, he said that for ensuring protection against undue harassment, Punjab Government has put a check on registration of unwanted FIRs Against NRIs by making it mandatory for SHOs to first get approval from DSP Or Superior Officer. He said that the state government was working on legal measures to be taken including coordinated efforts from concerned departments to help the legal conclusion of cases related to proclaimed offenders. Likewise, Mr. Badal said that 15 NRI Police stations have been set up across the state to exclusively deal with the matters related to these sons of the soil.
The Chief Minister also said that NRI property watch scheme initiated by Punjab Police adding that Special Civil Court for NRIs has been made functional at Jalandhar and efforts were also being made to set up similar courts in other districts.  He said that for appointment of Honorary NRI Nambardars, rules have been amended and 38 Nambardars have already been appointed. For the first time, NRI Journalists have been given Accreditation facility and also benefits of Free Accidental Insurance cover adding that a new policy to give advertisements to NRI media has been framed. "As a single window system, a website cum grievance redressal system has been started by the state government" he added.
Earnestly appealing the NRI brethren to play a far more constructive role in the overall development and prosperity of their homeland, the Chief Minister said that the state government has set up first of its kind Punjab Bureau of Investment Promotion (PBIP) headed by the CM and Deputy Chief Minister Mr. Sukhbir Singh Badal as its co-chairman to facilitate investment and create industrial friendly ambience in the state. He said that the state government has envisioned Punjab to emerge as the most favoured investment destination not only in the country but across the globe also. Mr. Badal informed the gathering that Punjab was the first state to move from Single Window System to One Stop Clearance Regime in which a single officer was empowered to give clearances for all concerned departments due to which the business proposals were processed without any delays or hassles.
The Chief Minister said that when Punjabis set their minds on something, they go beyond all limits to achieve that and now Punjabis have destined to emerge as a leading state on the industrial map of the country. He said that Punjab was the easiest place to do business, has robust infrastructure and abundant skills and enterprise, responsive and above all accountable & transparent governance. I was eagerly looking forward for a day when the majority of NRI, especially the youth settled abroad voluntary chose to make India especially Punjab as their abode of dreams and for this our government is fully committed to cherish their aspirations for making their living as comfortable and pleasant as abroad, he added.
The Chief Minister was accompanied by Cabinet Minister Jathedar Tota Singh, Principal Secretary NRI Affairs Mr. Sanjay Kumar and NRI Commissioner Mr. B Purusartha.