Punjab CM, Capt. Amarinder Singh inaugurated ITC's integrated food manufacturing and logistics facility at Jhalthikriwal village. Sanjiv Puri, CEO and Executive Director- ITC Ltd was also presented during occasion.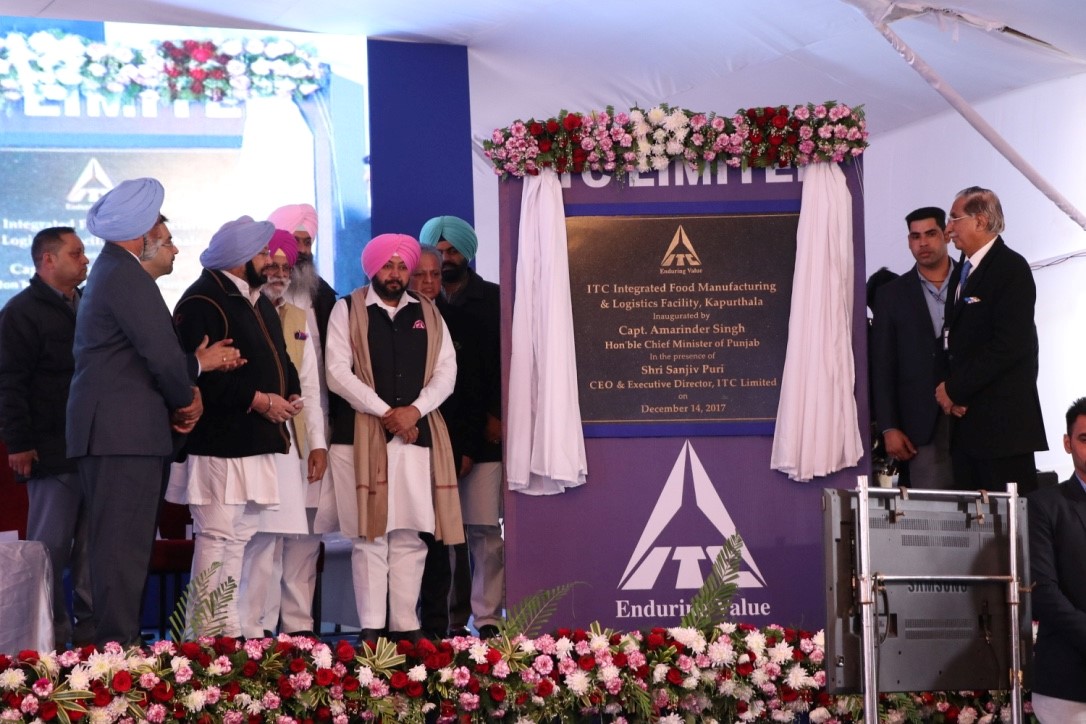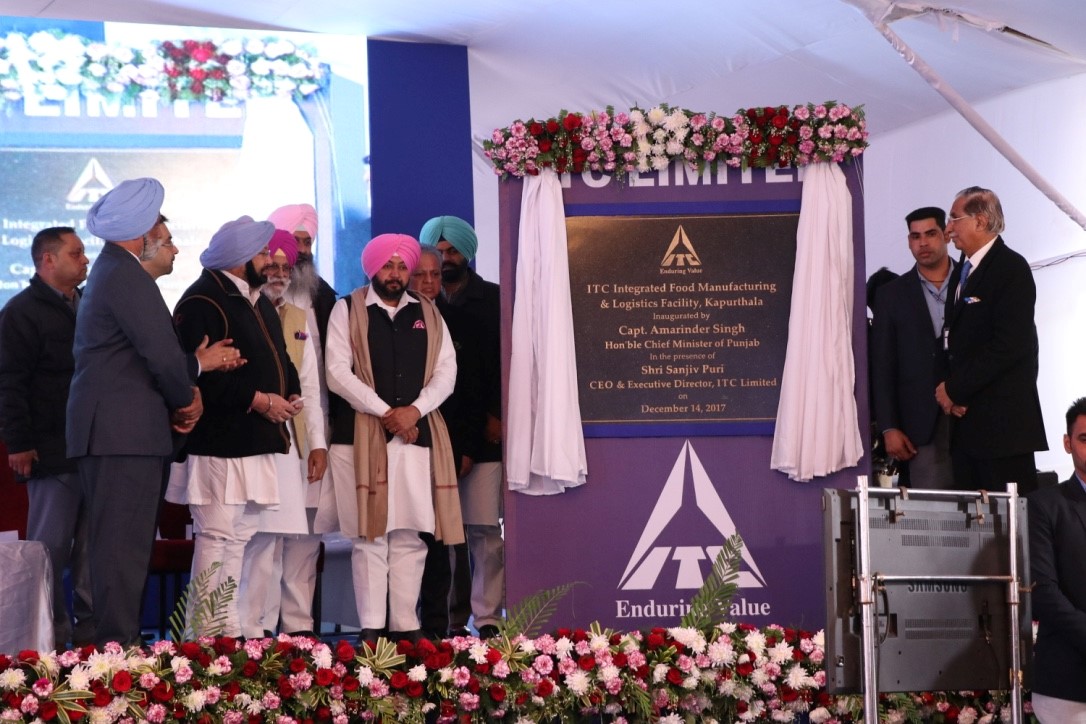 Spread over nearly 71-acre of land, this state-of-the-art food processing facility entails an initial investment outlay of Rs 1,500 crores which will create large scale livelihoods across sustainable agri-value chains. This world-class facility will manufacture ITC's popular food brands such as 'Aashirvaad', 'Bingo!', 'Sunfeast', 'YiPPee!' and 'B Natural' among others.  
Sanjiv Puri said , we are extremely pleased to announce the commencing of operations at ITC's state-of-the-art Integrated Food Manufacturing and Logistics Facility at Kapurthala in Punjab. It is my firm belief that this landmark project will deeply contribute to strengthening the state's robust agrarian economy by enhancing its food processing and allied sectors. The project will strengthen ITC's multidimensional interventions in the state, particularly in the field of agri-development and farmer empowerment, whilst generating large scale livelihood opportunities across sustainable value chains in days to come."
ITC's investment in the food processing sector in Punjab will add significant value to the State's agricultural potential. ITC believes that the food processing sector, being at the intersection of agriculture, industry and services, can make a multi-dimensional contribution to the State's economy by enhancing the competitiveness of the food value chain, adding value to manufacturing and helping create sustainable livelihoods along the entire value chain.
This facility will also include a wheat mandi which will enable ITC to procure directly from farmers, reducing transaction costs, improving efficiency and thereby raising farmer incomes. With ITC's progressive foray into different segments of the Food Processing Industry, the Company will, in the future, also explore the procurement of fruits, vegetables and milk from the State in addition to the current sourcing of wheat. Already, the Company's B Natural fruit juices brand has a special variant named after a Punjab fruit, Punjab Da Kinnow for which it sources locally from the State.
ITC Limited, with its diversified business portfolio, has a growing presence in Punjab. A number of co-manufacturing units have already been set up for producing ITC's world-class range of food products. ITC subsidiary, Technico, which is the largest producer of early generation seed potato in India, is engaged in extensive agri development programmes in the state.
In addition, ITC is making a meaningful contribution to the tourism sector in the State. One property under ITC's WelcomHeritage brand has opened recently in Amritsar and two more premium hotels under ITC's WelcomHotel and Fortune brands are on the anvil. ITC's FMCG products already reach out to around 1,50,000 retail outlets across the state; supporting significant livelihood opportunities. The Company is also scaling up its CSR interventions in the Kapurthala district with focus on Skilling, Health and Sanitation, Sustainable Agriculture and Soil & Moisture Conservation, which will continue to empower local communities.
 ITC subsidiary, Wimco, is engaged in promoting agro-forestry in Punjab for 4 decades; creating sustainable livelihoods and de-risking farmers' incomes with alternative sources of remuneration.
In a short span of time, ITC's Foods Business has grown to be the third largest in the country with a turnover of over Rs 8,000 crores. The Company's Foods business is today represented in multiple categories in the market – Staples, Spices, Ready-to-Eat, Snack Foods, Bakery & Confectionery, Juices & Beverages, Dairy, Chocolates, Coffee.
Many of ITC's world‐class Foods brands are market leaders in their own segments. 'Aashirvaad' is the number 1 branded atta, 'Sunfeast' is the leader in cream biscuits, while 'Yippee!' and 'Bingo!' are the second largest players in instant noodles and Finger Snacks categories, respectively. ITC's Foods brands delight millions of households with a wide range of differentiated, value-added products developed by leveraging ITC's in-house R&D capabilities, deep consumer understanding, knowledge of preferred Indian tastes, agri-sourcing & packaging strengths, and a robust distribution network.