ASSERTS THAT SOME FORCES WERE HELL BENT UPON DISTURBING THE HARD EARNED PEACE OF PUNJAB
PATS PUNJAB POLICE FOR TIMELY NABBING THE CULPRITS OF GURDASPUR FIRING
TERMS ATTACK ON BSF OFFICER AS UNFORTUNATE
SLAMS JAKHAR FOR MISLEADING PEOPLE ON COMPENSATION ISSUE
PAYS VISIT TO SHIV SENA LEADER ATTACKED YESTERDAY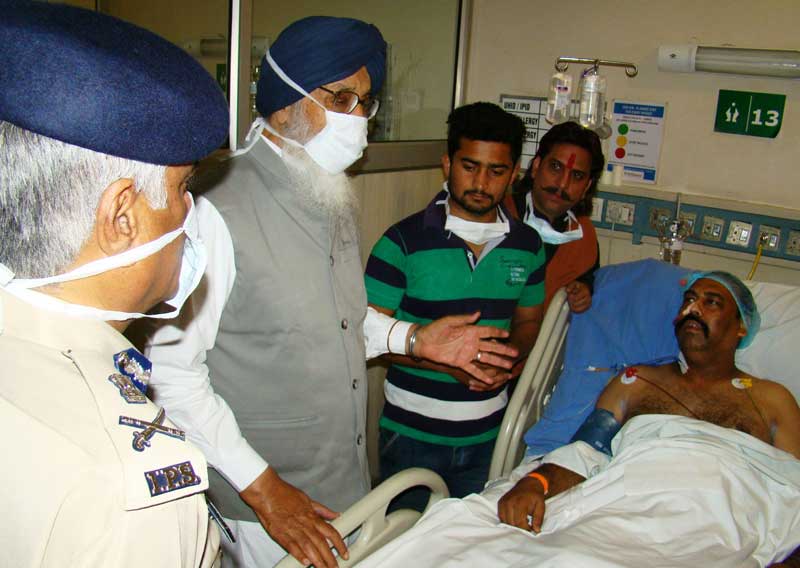 NewZNew (Amritsar) : Asserting that some forces inimical to the progress and prosperity of the state were hell bent upon disturbing its hard earned peace, the Punjab Chief Minister Mr. Parkash Singh Badal today said that the SAD-BJP alliance government was fully determined to crush the ugly head of such forces.
Interacting with the media persons after enquiring the well being of Shiv Sena leader Mr. Harvinder Soni here today, the Chief Minister said that the state government has always accorded top priority to maintain peace, communal harmony and brotherhood in the state. He said that along with ushering in an era of unprecedented development in Punjab, our government has been successful in creating a congenial atmosphere in the state despite of a hostile international border. However, Mr. Badal said that some forces, both from within and outside the country, which were vary of state's progress have been since long conspiring to derail the ongoing development of the state by indulging in disruptive acts. "But the state government was duty bound for upholding the ethos of peace, communal harmony and amity at every cost and we will leave no stone unturned for this noble cause" he added.
Condemning the attack on Shiv Sena leader on Sunday, the Chief Minister, while patting the Punjab Police for timely acting against the attackers, said that the state police have once again upheld its glorious tradition of performing its duty diligently. He said that the Police investigations from accused have revealed that attack on Shiv Sena leader was merely an act by some individuals. Mr. Badal said that these youth were not associated with any group and had attacked Shiv Sena leader individually.
When asked to comment on recent attack on Border Security Force (BSF) personnel from across the border, the Chief Minister said that it was highly unfortunate. He said that the Government of India (GoI) was fully aware of the entire incident and the Union Home Minister had also announced that an adequate action would be taken in this regard.
Replying to another query, the Chief Minister slammed the leader of opposition Mr. Sunil Jakhar for misleading the people on the issue of compensation to the farmers. He said that Mr. Jakhar was not aware of the ground realities and was just issuing statements to score brownie points before media. "A responsible person like Mr. Jakhar must verify all the facts before leveling any sort of allegation" added Mr. Badal.
The Chief Minister was accompanied by Director General of Police (DGP) Mr. Sumedh Singh Saini.