WRITES TO PM AND RADHA MOHAN SINGH FOR UPWARD REVISION IN THE NORMS
UNDERSCORES NEED FOR DULY COMPENSATING THE FARMERS IN THIS HOUR OF CRISIS
NewZNew (Chandigarh) : Expressing concern over the major losses caused to the crops due to recent rains in the region, the Punjab Chief Minister Mr. Parkash Singh Badal today sought the personal intervention of Prime Minister Mr. Narendra Modi for upward revision of the compensation to the affected farmers at a rate of Rs 10,000 per acre.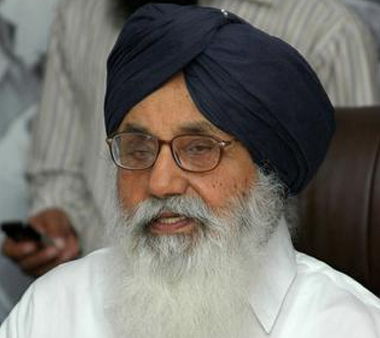 In separate letters to Prime Minister and Union Agriculture Minister Mr. Radha Mohan Singh, Mr. Badal apprised them about agony and pain of a large number of farmers who have suffered heavy losses due to sudden and erratic changes in weather. He said that Punjab and its neighboring states have experienced widespread rains over the past few days adding that average rainfall was about 42 cms on March 1 and 2. Mr. Badal said that although rains at this point of time should be good for the standing wheat and other Rabi crops, but unfortunately intensity and frequency of rains coupled with high velocity winds and hailstorms have caused substantial damage to the crops and impaired livelihood of a large number of farmers.
The Chief Minister apprised both the leaders that initial reports indicated that cultivated area over 7 lac acres has been affected and the damage was much higher in the case of vegetables and other horticulture crops. He further said that at this stage Rabi 2014-15 crops were almost ready for a good harvesting season and the farmers have now incurred almost full input cost in raising these crops. Mr. Badal bemoaned that in cases where farmers would not be able to harvest or their crops yield was reduced, they were likely to lose nearly a full season and resultantly suffer serious damage to their livelihood.
Flagging up the case of giving due compensation to these farmers, the Chief Minister underscored the need of fully compensating them not only for their input costs but also for loss of their livelihood to enable and prepare them for sowing of Zaid and Kharif 2015 crops. He further said that in order to effectively compensate the affected farmers, the relief norms need to be adequate adding that the present norm of Rs 3600 per acre for 100 per cent loss was too inadequate as it does not even provide for the input cost of farmers. "We need to ensure compensation for some minimum possible cost of living also to make up for the loss of livelihood to the farmers" added Mr. Badal.
The Chief Minister urged Mr. Modi to duly compensate the farmers whose standing crops have been affected due to recent heavy rains coupled with high velocity winds and hailstorms. Mr. Badal also requested the Prime Minister to ask the Ministry of Agriculture, Government of India to revise the existing norms to provide for a minimum compensation of Rs 10,000 per acre to the affected farmers.