A condolence meet to pay tribute to slain journalist-activist Gauri Lankesh was held today at Press Club, Sector 27 Chandigarh. The meeting was organized by National Media Confederation (NMC), Punjab & Chandigarh. It was supported by Chandigarh Press Club, Citizens Awareness Group and Women Welfare Trust.  Members from the media fraternity and supporters from various walks of life marked a presence at the meet.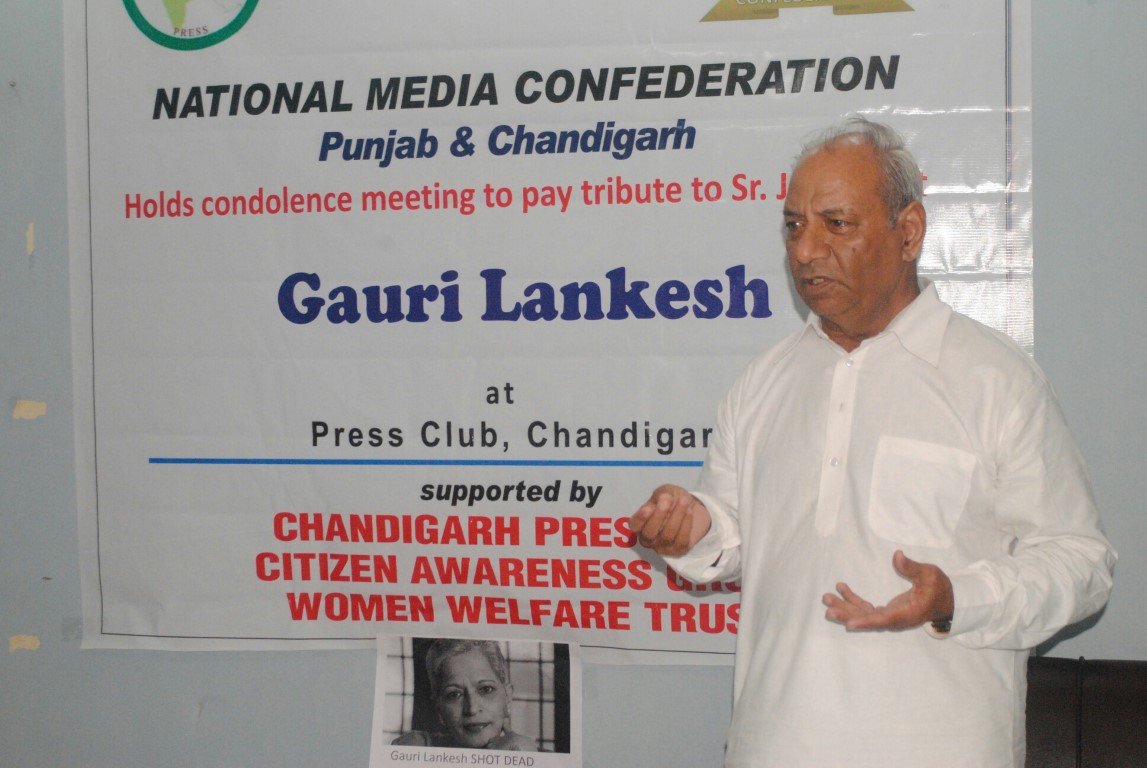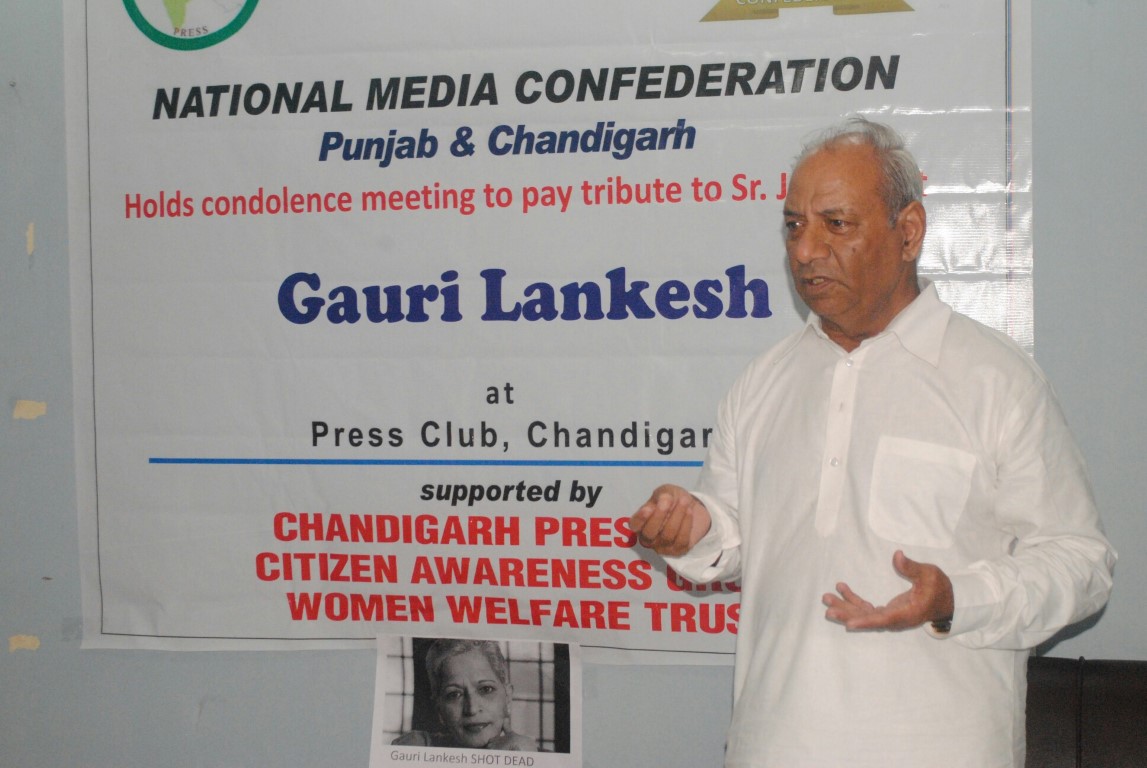 At the meeting Deepak Kumar Dhingra, President of Chandigarh Management association (CMA) gave a brief history on the excellent work done by Gauri Lankesh with a special emphasis on her being the staunch critic of right wing Hindutava politics and her advocacy for the freedom of the press.
The President of the NMC, (Pb& Chd chapter), Surinder Verma said, "The killing of journalist Gauri Lankesh has raised alarms about the state of Freedom of Expression in the country. She had been dedicated to the cause of upholding the democratic values of the country. This murder is an assault on democracy. Ideological differences should lead to debate not physical violence. Ideas are bulletproof and thoughts cannot be suppressed through murders. The instance demands greater assertion of freedom of expression by everyone. The best way to react to this incident is by asserting our fundamental right to speech and liberty".
 Adding to it, Jaswant Rana, President, Press Club, Chandigarh said, "She had been exposing politicians and superstitions. Many more journalists should take up the cause Gauri Lankesh was fighting for and they would find ample support from us. Her assassination must be thoroughly investigated and the perpetrators brought to justice. Apart from this, request the concerned authorities to ensure security of journalists".
Gauri Lankesh, who was the editor of a weekly Kannada tabloid magazine Lankesh Patrike, was killed after being shot at least three times. She was shot by a helmet-wearing assailant while entering her home in Bengaluru.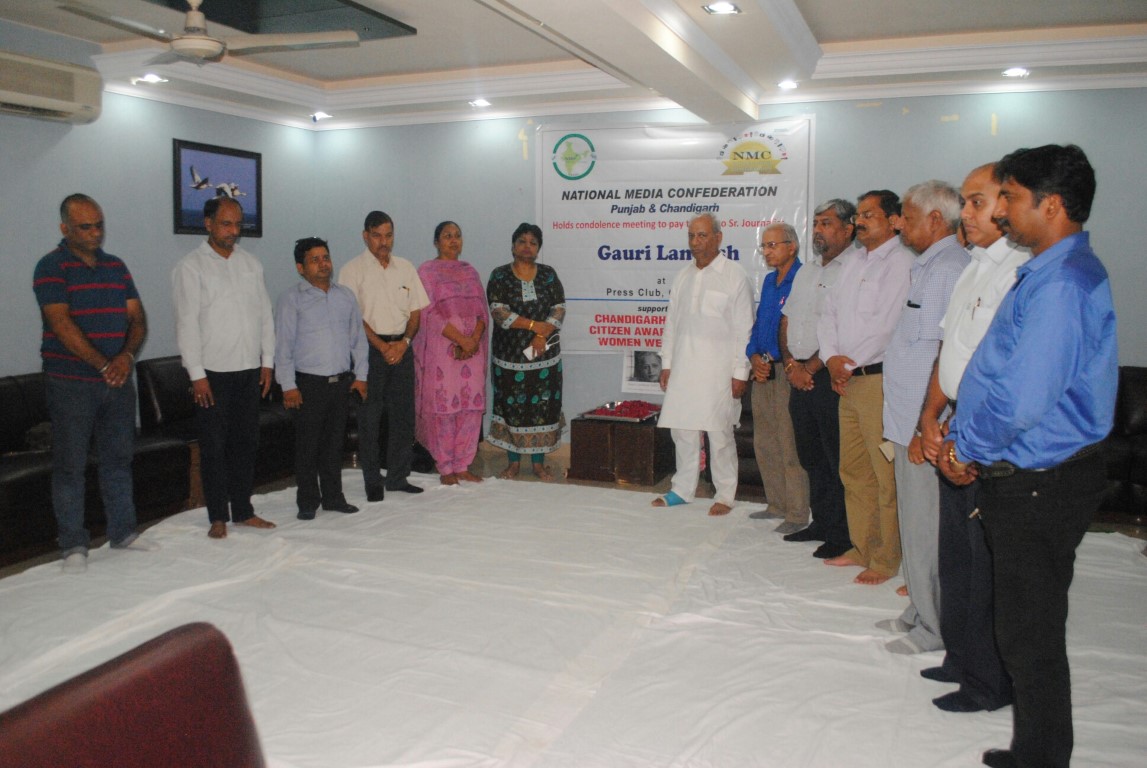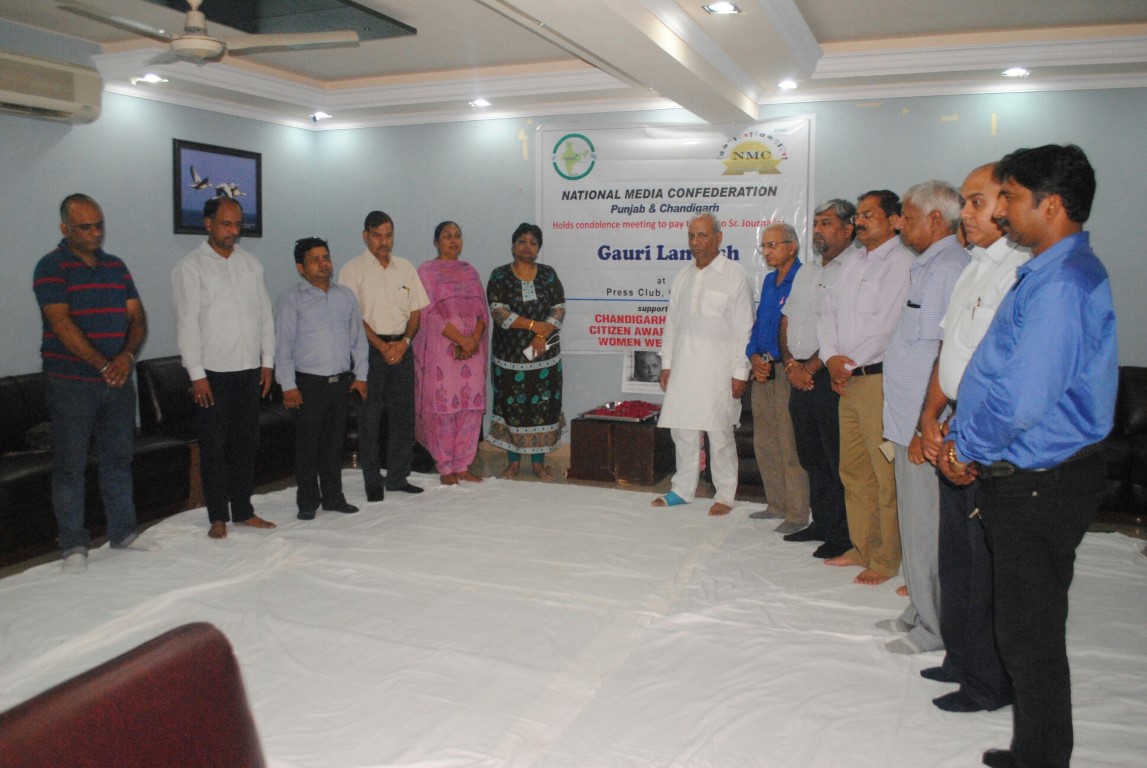 At the meet Saurabh Duggal, Varinder Rawat, Rajeev Ranjan Roy, Bhupinder Singh, Parvesh Kumar, Parveen Kumar, Pradeep Sharma, Sushma Khanna, Kiran Dhariwal, Mamta Dubey, Rakesh Malhotra, Jyoti Tandon were also present at the meet.
National Media Confederation (NMC) is an evolving league of media associations, media companies, media houses, journalists of all specializations, media organization managers of all specializations, support staff of all classes including freelancer journalists, photo-journalists, designers and all others directly associated with media.