Sukhbir Badal describes congress a leaderless and visionless party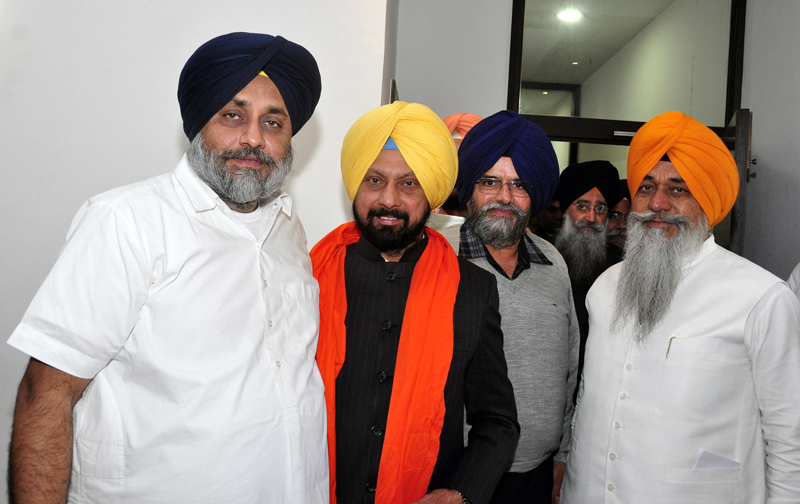 NewZNew (Chandigarh) : Punjab Congress Party today suffered a severe jolt with former Congress MLA as well as ex member of Punjab Public Service Commission – Dr. Satwant Singh Mohi joining the Shiromani Akali Dal along with his supporters in the presence of SAD President and Deputy Chief Minister Punjab Mr. Sukhbir Singh Badal.
Welcoming Dr. Mohi into the SAD fold SAD President S. Sukhbir Singh Badal described this development as another stamp of approval on the pro-people, pro-State and pro-development agenda of SAD under the visionary leadership of Punjab Chief Minister S Parkash Singh Badal. He said recently the electorate of Punjab had given a clear verdict in favour of SAD-BJP alliance in civic polls, which asserted that people were in favour of development oriented politics and programs of ruling combine. He said the results of assembly, parliamentary and civic body polls have proven that the Congress is an issueless, leaderless, visionless and outdated political outfit and it has no future in the state. He said several senior Congress leaders including MLAs have made up their mind to come into the SAD fold and they would be inducted in the party at the right time.
Assuring incoming leaders and their supporters would be facilitated with due respect and responsibility in the SAD, Mr Badal said SAD-BJP government was committed for overall development of state.
While joining SAD Dr. Mohi said he had switched over after prolonged discussions and deliberations with supporters and general masses. He said he had observed that the SAD was taking every community along with it, particularly the weaker sections and that this was one of the main reasons why he had quit the Congress. "I want to work for the down trodden", he said adding he was influenced by the people friendly policies of Akali Dal and development initiatives taken under the visionary guidance of S. Parkash Singh Badal. He alleged that infighting in the Congress has demolished the party in the state as well as country.
Mr Shaginderpal Singh Sunny Aulakh of Patiala, who accompanied Mr Mohi on the occasion, also spoke about the abilities of the Congress leader and detailed how he had been disillusioned by the Congress and had decided to join the SAD. Prominent among others present on the occasion included Mr Sharnjit Singh Dhillon Irrigation Minister and Jathedar Dyal Singh Kolianwali Chairman Punjab Agro Foodgrains Corporation.