NewZNew (Chandigarh) : Internet has become an important part of everyone's life. The rise in number of internet based applications has increased the need for speed and data. The monthly data consumption of an average user has increased by 100% in last 2 years to 27 GB. It is expected to double in next one year. Keeping this in mind Connect Broadband plans to invest heavily in network. This increase in data usage is fuelled by the speed of internet and the number of applications that are available for connect customers. In order to cater to future needs of customers, Connect Broadband has invested heavily into creating the all "New Connect Xpressway", which will allow huge amount of data to flow uninterrupted providing great internet experience to the users.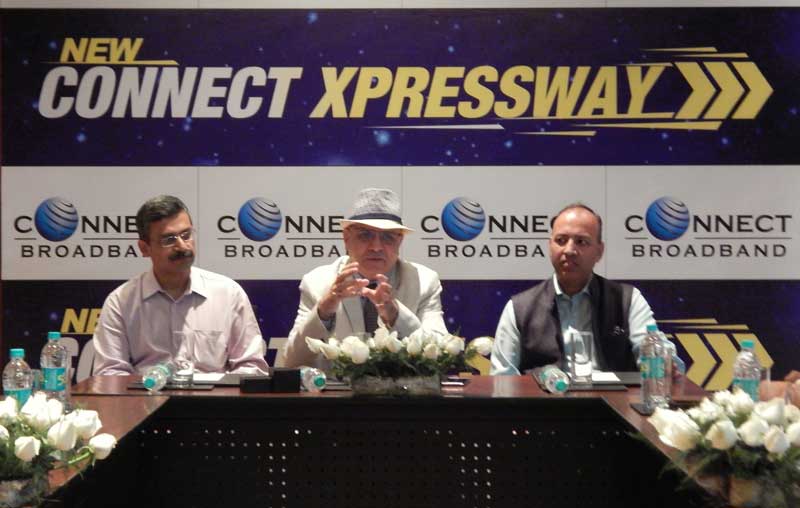 The company has invested Rs 118 crores in creating this network. It includes up gradation of optical fiber network that enables transmission at high speed. Connect Broadband has sourced the equipment from international players to build this futuristic express way. The company has invested in latest transmission equipment, DWDM, ring upgradation, NOC equipment etc. The Xpressway enables users to access applications simultaneously on small and large screen devices seamlessly without buffering. To take an analogy it is like a superfast car commuting on a dedicated express way without any block in speed.
Speaking on the occasion Mr. Arvind Bali, Director and CEO Connect Broadband and Videocon Telecom said, "Customer experience is the foremost thing for us. With explosion in internet applications we have taken the onus to strengthen our network to ensure that digital India keeps moving at a fast pace".
The penetration and the number of Smartphone users have increased to a great extent over the past few years. Percentage of mobile phone users using Smartphone has increased from 21% in 2014 to 30% in 2016. This percentage is expected to hit 40% by 2019. Since the penetration is increasing we have multiple users connected to a home Wi-Fi connection. With each user accessing internet from his device there is need for higher bandwidth to provide that seamless experience. Connect Broadband is providing speed as high 100 Mbps on its Fiber to Home network to make this experience great.