Pandit ji launches e-book and app in Chandigarh
NewZNew (Chandigarh) : Pandit GD Vashist who represents Lal Kitab Amrit and his motive is to dig out all the problems of life "bas ab dukh or nahi" was in Chandigarh, SCO 28 – 29 – 30  first floor sector – 9 D madhya marg chandigarh to meet his disciples where he talked Remedies and Solutions, which not only solve current problems, but also ensure future happiness & prosperity by improving your destiny.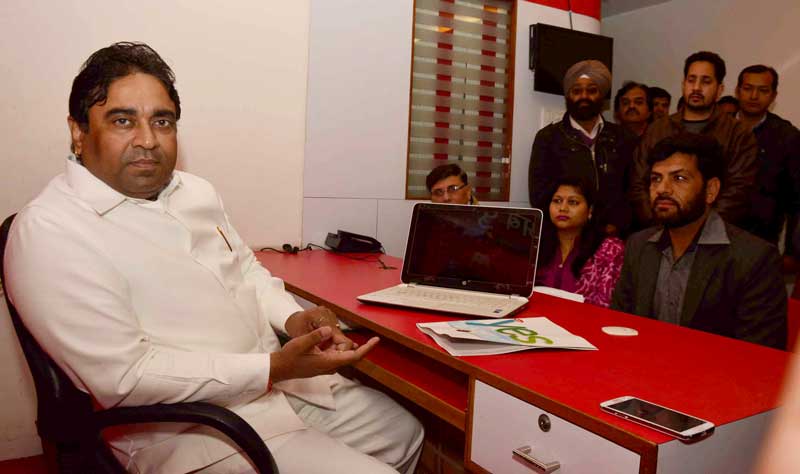 His enthusiastic, engaging and exuberant nature, made him an ideal networker internationally and a central focal figure within the astrological community.
He has also launched his app and e-book i.e., Yes I can change, which deals with solving the professional and personal life problems simply by entering the personal details i.e., name, date of birth, time of birth, birth place etc. The app works with very simple techniques that are assured to change the life of the people and give respite from all the sufferings. It also provides general remedies for work related problems and quarrels at home.
Pandit ji said, "We all have problems in our lives at one time or other and we have solutions to all of them which can be found by ourselves in his book " Yes I Can Change" after putting in his lifetime hard work and experience for all those people who want to give a new meaning to their life which help in living a smooth and trouble free life by predicting the future.
Pandit Ji takes free of cost sessions on regular intervals for the people and by applying Astro science knowing their date, place and time of birth and forecast their future happenings and accord them quick remedies.
This is the most exhaustive, comprehensive study and report of almost each and every aspect and period of your life, which can not only change the course of your life, but also serve as an indispensable guiding force for the rest of your life.
While interacting with the media Pandit GD Vashist Said, "Life is a continuous process and no one knows about future happenings or what are the problems he is going to face, but every problem has a solution in it and being happy os the ultimate solution to every problem. Being happy is similar to being healthy.