newznew (Chandigarh) : Bangladesh has evacuated at least 350,000 people as Cyclone Mora lashed coastal areas on Tuesday, officials said, causing havoc in refugee camps set up for Rohingya Muslims who have fled violence in neighbouring Myanmar.
Cyclone Mora struck the island of Saint Martin and Teknaf in the coastal district of Cox's Bazar, where some 200,000 people were evacuated to shelters. In Chittagong district, about 150,000 people were evacuated.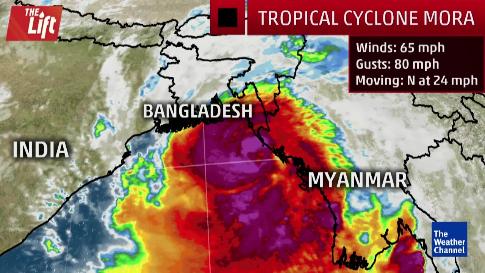 Things you should know about the cyclone:
Officials in Chittagong reported winds gusting up to 135 kph (85 mph), and said low-lying coastal areas were flooded by a storm surge with waves 2 metres (7 feet) high.
The country's (Bangladesh) two main seaports in Chittagong and Mongla have suspended container handling, and river transports across Bangladesh have been suspended, reported the CNN.
The Indian Navy on Monday had said that it has kept its Eastern Fleet ships at the highest level of readiness to render assistance to Bangladesh if required.
The cyclone was expected to weaken in Bangladesh by late morning as it moved inland towards India where authorities have warned of heavy rain in the northeastern states of Tripura, Mizoram, Manipur, Nagaland and Arunachal Pradesh.
The Mizoram government has issued a warning and has advised people to take precautions and preventive measures as it is expected that the cyclone could cause landslides and floods.
The cyclone formed after monsoon rains triggered floods and landslides in Sri Lanka, off India's southern tip, which have killed at least 180 people in recent days.
In the eastern Indian state of Bihar, 24 people have been killed in recent days, either by lightning or in collapsed dwellings.