NewZNew (Bathinda) : The state technical education department and Punjab State Council for Science and Technology held a debate competition on energy efficiency and conservation at the Government Polytechnic College Bathinda. Bureau of Energy Efficiency (Government of India) and Punjab Energy Development Agency (PEDA) is running energy efficiency and conservation campaign under which such competitions are being held in all the polytechnic colleges of states that have been decided into four zones.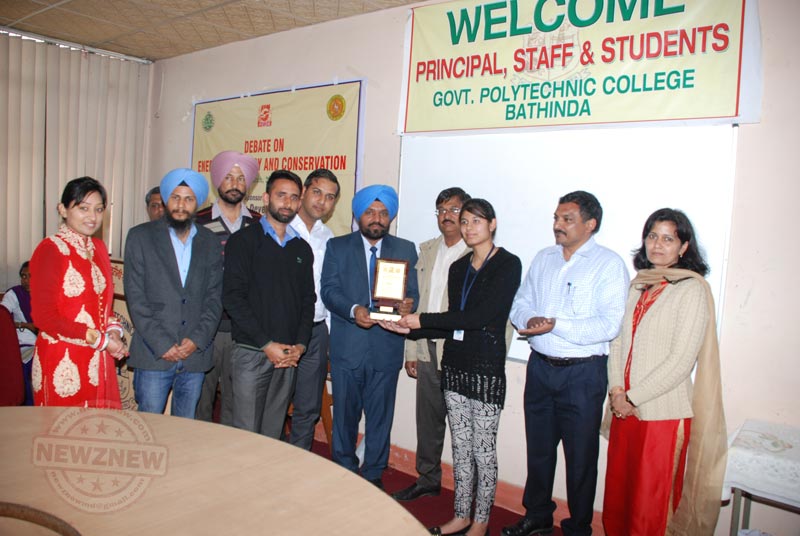 The Bathinda zone competitions were held at the Government Polytechnic College Bathinda wherein students of polytechnic colleges from Bathinda, Mansa, Sri Muktsar Sahib, Ferozepur and Fazilka participated. In this competition Harpanth Kaur from SBSSTC Ferozepur secured first place, Aditya Arora from Government Polytechnic College Bathinda secured second place and Ankur Kumar from Government Polytechnic College Bathinda got third position.
College principal Mr Yadwinder Singh started the event. Welcoming the guests and students at event, he thanked the Punjab State Council for Science and Technology (PSCST) and technical education department for conducting this event.
Laying emphasis on conserving energy he said that developing country like India needed lot of energy and as common man we can contribute towards country's development by conserving energy. He motivated the students to take an initiative from their own home and educational institutions and set examples for conserving energy. District manager, PEDA Mr Rajesh Bansal and Madam Bhanu Chakwalia from PSCST were present as the chief guest at event.
The judges at event were associate professor Giani Zail Singh College PTU Campus Dr Rajesh Gupta, process engineer Mr Ranjit Singh from PSCST and time keeper was Mr Om Prakash. Local coordinator Madam Anuja Gopal said that 20 students of the zone participated in this event.
Principal Yadwinder Singh distributed prizes to the winners. He said that the winners would participate at the state level competition.