newznew (Chandigarh) : Chandigarh based corporate trainer and a mother of two, 37 years Deepti Mahat continues to bring Chandigarh on top in glamour world as she crowned Mrs North 2017at Mrs India North – 2017 contest which was held at New Delhi last month. Contestants participated in the Pageant organised in two categories- Mrs India North below 40 and Classic Mrs India North-2017 for above 40 years. The event was hosted by Mrs Deepali Phadnis, Director, Mrs India Pageants and Productions Pvt Ltd, who are also credited for hosting Mrs World, Mrs Asia International and Mrs Planet.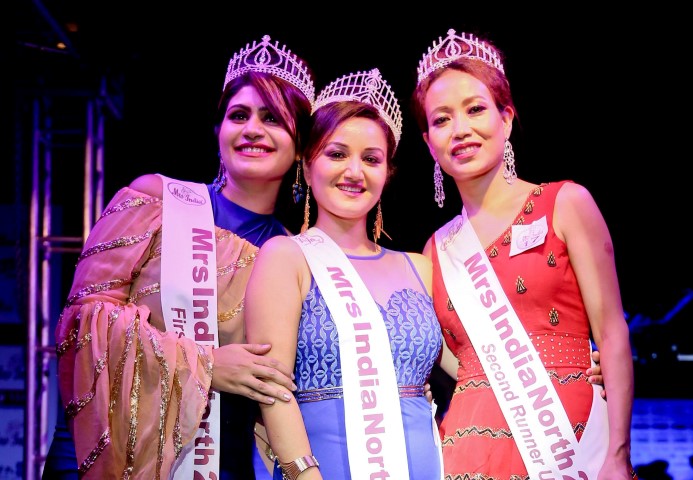 Deepti represented Chandigarh and Himachal Pradesh to win this title. First runner up position was bagged by Mrs Prachi Agarwal from Chhattisgarh while second runner up position was bagged by Mrs. Duyu Meena from Arunachal Pradesh.
Auditions were held in January this year at New Delhi followed by semi-final where Mrs India North-2017 was crowned. 37 contestants competed in Talent Round, Fitness Round and Interviews. They were also put through various training sessions and workshops on etiquettes, SWOT analysis, Skin & Hair care, choreography, Odissi dance and the like besides making their profiles in Photo and Video shoots. Grand Finale witnessed scintillating performance by all contestants which took the eyes and hearts to another world.
16 contestants were selected as Finalists, who were put through a Question-Answer round. They were made to formulate and articulate reply to one question posed to everyone. Finally, winners were announced and crowned in serene Mrs India North 2017 in two categories Mrs. India North 2017 (Below 40 Years of Age) and Classic Mrs India North 2017 (Above 40 Years)
Mrs. Deepti Mahat is happily married to a police officer, Vishal Mahat, for 10 years and the couple is blessed with two daughters – Angel & Alysa. By profession, Mrs. Deepti Mahat is a dedicated educationist with close to 15 years of work experience in the education industry. She is known for her contribution in charting success stories of hundreds of students as well as Working professionals. In her career journey, she has donned various roles. She is a renowned career counsellor, corporate trainer, marketing manager, teacher trainer, content developer, communication specialist & soft skills trainer.
Her journey in the glamour world has just begun and she is gearing up for Mrs India Finale which scheduled for June 2017
Mrs Deepti Mahat is able to manage family, profession and modelling because of strong faith in her abilities, support extended by her husband and parents, and trust of her friends. She loves challenges because it keeps her going on. Deepti says, "Whenever I feel that my life has become monotonous / is going in a single line (no matter how much comfortable or luxurious life I live), I challenge myself by adding another task. This is the reason for my success."
Her future plans are to indulge in events and activities to empower women and work for other social cause associated with children. Right now, her focus is to win the national title, be Mrs India and go further to represent India in international pageant. Mrs India finals will be held in June 2017 and she is gearing up to make all her near and dear ones proud of her.